Which American leader carries a little Hanuman figurine in his pocket? When India's field marshal Sam Manekshaw passed away recently, who praised as a "legendary soldier, a patriot, and an inspiration to his fellow citizens"? And which US politician put up appeals in Hindi and Malayalam on his campaign website? If you answered Barack Obama to all three questions, you are either an Indian, a diehard Obama supporter or both.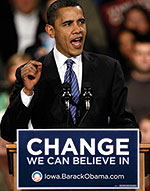 So widespread was the support for the Democratic presidential nominee among the three million strong Indian Americans during the US elections that an Obama advisor remarked: "You can't swing a dead cat in the Obama camp without hitting an Indian-American." A study co-authored by Karthick Ramakrishnan (see Pravasi Bharat, page 20), an associate professor of political science at the University of California, Riverside, says over 60 per cent of Indian Americans solidly backed Barack Obama, while only 14 per cent backed Republican John McCain.

It's a not too difficult to parse why Indian Americans—who are considered the second most powerful lobby in the US after the Jewish groups—are so Obamastruck. While they have witnessed the rise of Indian political heavyweights such as Louisiana Governor Bobby Jindal and Minnesota state ­senator Satveer Chaudhry, and cheered emerging ones like Ashwin Madia, it's Obama election as the 44th president of the US that has given them hope.

---
As freedom faces challenges in many parts of the world, his example is even more relevant. This enduring legacy is one of the great gifts of India's revolution.
—Barack Obama on Mahatma Gandhi
---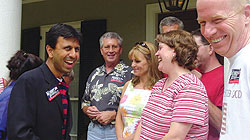 If Obama can win the highest office in the US against all odds, so can many overseas Indians. This is the overwhelming feeling of overseas Indians in the aftermath of the election of the first African American as the next US president. Sant Chatwal, a major fundraiser for the Obama campaign, said this victory gives him the hope to aspire for the highest office in the US.

Jindal, who is moving into the upper echelons of the Republican Party, has already raised hopes of an Indian American reaching the White House in the future, and the strong support of Indian Americans who were working for the Obama campaign means Indians believe they can also organise a similar all-out effort for one of their own candidates.

Undoubtedly. South Asians for Obama (SAFO), launched by Indians in Washington DC and Los Angeles, claims

---
So widespread was the support for Obama among the 3 million strong Indian Americans that an advisor remarked: "You can't swing a dead cat in the Obama camp without hitting an Indian-American"
---

South Asian American volunteers played an active and important role in canvassing and
get-out-the-vote efforts that led to Obama's decisive victory in Iowa.

Shamlal Puri, a London-based author and journalist, says now one can imagine a Sikh from Southall becoming the prime minister of Britain. Many British Indians, like Keith Vaz, a native of Goa, have been active MPs for decades and also served as ministers. Now the time has come to move up the political ladder, he added.

After last month's election of eight Indians to the Canadian parliament, and after several Indians serving as ministers there, the Obama victory shows the way to the office of the Canadian prime minister in the not too distant future.

In Southeast Asia, especially in Singapore, India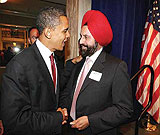 ns have already occupied the highest public offices including the office of the president. Overseas Indians view this victory as yet another achievement for their global community.

There is a popular joke in America that Indians are Democrats when they arrive in the US, but they switch to the Republican party as they become affluent. C.S. Sivadas, an Indian doctor from New York, who has voted Republican for over 40 years, voted for Obama. He agrees there's an element of truth in the joke but says there was a compelling reason for switching sides. "I belong in the top 5 per cent of wealthy Americans but not for a moment did I believe my two girls had a chance at the highest jobs in the US. With Obama as US president-elect, a glass ceiling has been smashed not only for African Americans but for all Indian Americans and overseas Indians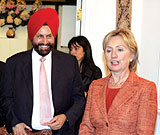 ."

Elsewhere in the world, there are no glass ceilings. The cap of Indian success stories has many feathers. Wherever it has been able to find its feet, the diaspora has also been able to wing its way to the heights of success. Currently, the ruling elite (see list) from among the Indian diaspora include Anerood Jugnauth (President, Mauritius), Sellapan Rama Nathan (President, Singapore), Bharrat Jagdeo (President, Guyana), Anand Satyanand (Governor General, New Zealand), Ramdien Sardjoe (Vice President, Suriname), Navinchandra Ramgoolam (Prime Minister, Mauritius), Lenny Saith (Minister and Acting Prime Minister, Trinidad and Tobago). There are others who have tasted high power not too long ago, like Basdeo Pandey (former PM, Trinidad and Tobago) and Mahendra Chaudhary (former PM, Fiji). Numerous others have held deputy prime ministerial and ministerial positions world over, and continue to do so, especially in Malaysia.

WHERE THE DIASPORA HAS RULED
Anerood Jugnauth, Mauritius
Current President. He has in the past had the longest run as PM of his country, a job he held for 16 years
S R Nathan, Singapore
Of Tamil descent, he is the sixth and current President of his country
Bharrat Jagdeo, Guyana
President since 1999. Youngest head of state of Caricom countries. Entered politics at 13
Ramdien Sardjoe, Suriname
The former Speaker of became Vice President in 2005. Also chairman of Progressive Reform Party
Anand Satyanand, New Zealand
Lawyer, judge and ombudsman, he is the first Indian to hold post of Governor General
Navinchandra Ramgoolam, Mauritius
The current PM is the son of Seewoosagur Ramgoolam, the father of the nationNavinchandra Ramgoolam, Mauritius
The current PM is the son of Seewoosagur Ramgoolam, the father of the nation
Lenny Saith, Trinidad & Tobago
Has held top ministerial berths, including trade, industry, tourism and energy
Basdeo Pandey, Trinidad & Tobadgo
PM from 1995-2001, he is chairman and interim leader of opposition United National Congress
Mahendra Chaudhary, Fiji
The first Indian to be ­elected Fiji PM was deposed by coup. Heads Fiji Party
Swaraj Paul, United Kingdom
Caparo Group founder is a member of House of Lords, with title Baron Paul of Marylebone
Ahmed Kathrada, South Africa
Anti-Apartheid leader and African National Congress member of parliament
Samy Vellu, Malaysia
Longest serving president of Malaysian Indian Congress. Has held the position since 1979