PUNJABI DIASPORA
US
CHIRINJEEV KATHURIA of PlanetSpace has formed a new consortium with Boeing and aims to compete for a $3 billion commercial re-supply services contract to ship cargo to the International Space Station after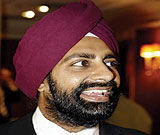 2011 when NASA proposes to decommission its current shuttle programme. Kathuria, 42, chairman of PlanetSpace says his team brings together technical innovations leveraging over 50 years of relevant experience using flight qualified US built shuttle solid rocket motors, Athena launch ­vehicles, proven space vehicle technology and ­on-orbit operations.

THE ASSOCIATION of American Medical Colleges will no longer ban turbans at MCAT exam sites. MCAT—the Medical College Admissions Test—is an exam required for admission to US medical schools. AAMC previously had a ­policy stating that anyone wearing a head covering could be asked to remove it at the MCAT examination room.
"The prohibition was not specifically directed at turbans," said Joseph Keyes, chief legal officer. "It also applied to jackets, hats and baseball caps," he said.
AAMC's new policy applies to all head coverings worn for religious purposes, including yarmulkes, turbans and scarves.


UK
VINOD RAJDEV, a software professional, is suing his former British employer, Civica, for allowing his former colleagues to taunt him as a "terrorist" and an al-Qaeda "mastermind".
Rajdev's £50,000 suit claims the employees routinely called him a "Paki" and even framed on his desk mock-up photos showing him sitting next to Osama bin Laden in a cave with an AK-47 rifle beside him.
The 58-year-old alleges he was nicknamed "Shahbaz" after gay Pakistani contestant Shahbaz Chaudhry on Channel 4 reality show Big Brother 7.
Rajdev is claiming unfair dismissal, religious and race discrimination against Civica. The company denies his claims.
In legal papers submitted to Bedford Employment Tribunal, Rajdev, of Kingsbury, says the racist abuse began at Civica's Luton office in 2005, where he was a senior programmer and team leader. He eventually quit last November.
He identifies a colleague, Mark Davis, as the ring leader of the slanging team. When he complained against them, Civica bosses precipitated matters by taking projects away from him and handed them to more junior white colleagues, he alleges.
The Daily Mail quotes him as saying, "This was clear favouritism to white staff. I felt isolated and humiliated by these acts."
PUNJABI DIASPORA

UK
FOUNDER CHAIRMAN of J&H Sales International Ltd, Ranjit Singh Baxi, has been given the Asian of the Year Award at a ceremony in London organ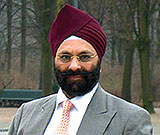 ised by the Asian Who's Who an international publication on leading Asians in the UK.
The award was presented to Baxi by Matthew Amroliwala and Riz Lateef of BBC News.
Baxi's company is one of the top companies in Europe and he is also President of the European Division of World Punjabi Organisations.
According to the citation Baxi's company operates across the US, Europe and Far East. In 2001 the company was given the Queen's Award for Enterprise (International Trade).
Baxi was also recently appointed president of the Paper Division of the Bureau of International Recycling, the trade federation that represents the recycling industry in over 70 countries.
Other awardees included Teji Singh, founder of international communications agency Sterling Media, for Asian Leadership in Harmony and Kamel Hothi, Asian Marketing Director of Lloyds TSB who was awarded for Diversity.

HILTON HOTELS has signed a franchise agreement with Londo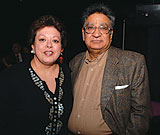 n-based NRI hotelier Joginder Sanger, to take on two of his hotels, The Court House and The Bentley.
The Bentley located near the Gloucester Road tube station is to be converted into a deluxe property under Hilton's Waldorf Astoria brand and The Court House, near Regent Street is to come under Hilton's Doubletree brand umbrella.
The deal with the Hilton Group is a franchise arrangement and the properties will continue to be run by the Sanger family.


Finland
RANBIR SODHI, 42, a night club ow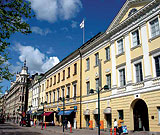 ner has become the first Indian to make it to the council of governors of Vantaa, a city of 190,000 adjoining Helsinki. Born in Dhuri, near Chandigarh, Sodhi was elected on the Social Democratic Party ticket, which is the leading party in Finland. He will serve a four year term on the 67-member council. Sodhi said his priority will be infrastructure development in Vantaa that has the biggest international airport in Finland that caters to Helsinki city, and is the fourth most populated city of Finland.