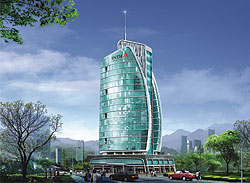 As a premier real estate company, Omaxe has undisputedly proved its mettle in the ever burgeoning real estate industry of modern India. By far, it is a huge name to reckon with in a generation of the most innovative real estate developers. The company's slogan "Turning Dreams into Reality" is epitomized by the translation through several projects throughout the country. Its endeavour to become the most progressive name can be seen through its various constructions; malls, commercial or residential projects, that defines excellence. Its vision of working towards making India a developed nation stands at the threshold of success; writes Yogesh Sood

Going strong 22 years after it was incorporated; Omaxe Limited has emerged as one of the most diversified infrastructure conglomerate with pan-India presence in real estate and infrastructure development. Growing by leaps and bounds, Omaxe now has a presence in 12 states across 40 cities in India. Among the realtors who have been quietly but steadfastly excelling towards delivering international standard architectural projects which are truly global, Omaxe takes pride in its innovation and technological prowess. Omaxe not merely existed but excelled in conspicuously distinct and internationally acclaimed markets. Omaxe Ltd. is one of the brightest stars in real estate's horizon. To its credit, the company has successfully delivered a vast number of projects ranging from housing projects to state – of – the art integrated townships, shopping mall cum Commercial complexes. The company's ultimate dream is to make the country's infrastructure simply world class. The company is currently working on 42 real estate projects-18 integrated townships including a Hi – Tech Township, 14 Group Housing Projects, 8 shopping malls and commercial complexes and 2 Hotel projects. The company posted consolidated net revenue of Rs. 1544 crore and net profit of Rs. 92.7 crore on consolidate basis in the Fiscal year 2010-11. As a premier realty major, Omaxe has undisputedly been forging ahead. The reason behind the company's phenomenal growth has been due to its unwavering commitment to quality, integration and value creation.

From a very humble beginning as a contracting company to being a listed entity, Omaxe has made huge strides in over two decades.

Undoubtedly, Omaxe takes pride in being a premier real estate development company which has successfully turned the dreams of the millions across the country into a reality.

The company's genesis goes back to 1989 when first generation entrepreneur and civil engineer Mr. Rohtas Goel founded Omaxe Builders Private Limited to undertake construction and contracting business and completed 123 projects till date for several reputed companies. The company's initial projects included Apollo Hospital, Coco- Cola, Pepsi, LG, Amity University, Samsung, Wave cinemas, Bennet Coleman and Co., Electrolux which helped the company gain recognition from a construction company to a premier organization that stands for quality and trust within the sector. In 1999, the company changed its constitution to a Limited company known as Omaxe Construction Ltd. Omaxe was the first construction company of Northern India to receive an IS0 9001:2000 certification. Finally, the company was rechristened as Omaxe Limited in 2006 and got listed on Indian bourses (BSE and NSE) in 2007. Crowned by its landmark IPO which was oversubscribed 68 times, the company is amongst one of the largest listed real estate development companies in India. True to its slogan "Turning Dreams into Reality", Omaxe has delivered over 63.67 million sq. ft since its inception; 30 million sq. ft of construction projects and 33.67 million sq. ft. of real estate projects.

The company diversified into infrastructure business in 2006 through its wholly owned subsidiary Omaxe Infrastructure and Construction Ltd. (OICL).

The inherent advantage of an established brand name, a strong presence in tier ll and lll cities and consistently strong financials made the transition easy. Since the company started its business as a construction company way back in 1989 and executed more than 120 projects, this experience made the transition all the more easy. In this vertical the company has bagged 14 projects, which comprise EPC contracts, Roads and bridges construction.

The company has over the years developed a strong leadership team under Mr. Goel. In 2010, the company forayed into Highway and Bridge construction. The company, through its dedicated and expert team of professionals has gained business expertise in operation, and maintenance of PPP projects, thereby ensuring timely completion of projects. OICL has been executing projects in States like Punjab, Uttar Pradesh, Orrisa, far – flung Cuttack and the hilly terrains of Jammu and Kashmir.

The company has constructed and handed over the township at Dariba, Rajasthan, awarded by Hindustan Zinc, Vedanta Group along with modern jails at Kapurthala and Faridkot. Among the major works that are under implementation includes Construction of AIIMS, Rishikesh, Manyavar Kanshiram Allopathic College and its associate hospitals at Saharanpur in Uttar Pradesh, Residential complex in Indore, Madhya Pradesh, Nagrota ( Jammu and Kashmir ) and Nashik (Maharashtra) for Defence, Personnel.

.