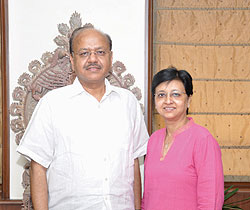 Corporate Social Responsibility—Mrs archana agrawal
INDRALOK TO INDRAPRASTHA
This was no ordinary play. 'Indralok to Indraprastha' not only received a thundering applause from the packed audience at the Siri Fort Auditorium in New Delhi, it also set one and all thinking. The play was part of a cultural evening presented by the Kalyanmayee, an organization of the Airports Authority of India Women Welfare Association (AAIWWA). The cultural evening was organized on the occasion of the AAI's 17th annual day. India Empire's Sanjay Kaw spoke to Mrs Archana Agrawal, AAIWWF president who also handles AAI's Corporate Social Responsibilty (CSR) activities
Caption:
Mrs Archana Agrawal, President, Kalyanmayee, AAI Women Welfare Association (AAIWWA) with AAI Chairman Mr V P Agrawal
How did Indralok to Indraprastha happen?
We have a cultural event every year. And each time we wanted to do something different. Last year, we thought of doing a play. But it did not happen. This time, we asked Pt. Birju Maharaj's disciple, Ms Vaswati Mishra, to present us some concepts. In one of her concepts, Lord Indra tells his wife "Ka Gati Kar Di (see what all has been done)?'' In reference to the state of affairs on Mother Earth. This particular line of Lord Indra became the takeoff point for our play… In our mind, heaven is a place that would fulfill all the desires of our life… And to get there, we should live righteous lives. But we live in the times of rampant consumerism, where greed and desire are virtues… and righteousness, a rabid idea inhibiting the minds of obsolete hermits. Our world has become the epitome of pleasure and clover. Would then, our planet be deemed the new Swarglok and the Gods descend here to make it their abode? In our play, we followed the Gods, as they transcended from Indralok to Indraprastha.

Please take us through the Indralok se Indraprastha journey?
The first doorway of the "Udankhatola'' is our Kolkata airport. Noticing a huge crowd gravitating towards Durga Puja, Indrani urges Vasudev to glide the "Udankhatola'' above the city to get her a view of the cultural extravaganza of the East. Impressed by the devotion of people for Maa Durga, she is encouraged to visit other gateways. Chitragupt had earlier met some Bollywood stars and is eager to see the film city. Even Godesses Menaka and Urvashi too want to visit the film city. But they are not given permission to land at the Mumbai airport. Then, the "Udankhatola'' is diverted to Chennai. Gods are mesmerized by the temples of south India—the elegant Meenakshi Temple, the grand Shri Ranga temple… and on the shores of Mahabalipuram, they watch the traditional folk dances of south India. Finally, they fly towards north India and land forcibly at Indraprastha. Here they encounter with different departments, including baggage clearance section, immigration and customs officials… They heave a sigh of relief when they enter the duty-free section. The joy of discovering new inventions on the Earth soon gets eclipsed by the greed to buy more and more…

Do you intend to take this play to other metros?
We can take the play to other places provided we get some sponsors.

Your functions are attended by well-known celebrities. Do you pay them?
Last year, Bollywood legend Dharmendra ji and badminton champion Saina Nehwal attended our function. This year, we had actor-turned-politician Shatrughan Sinha ji, film-maker Muzaffar Ali and Femina Miss India Earth 2011, Ms Hasleen Kaur. We were honoured to have civil aviation minister, Mr Ajit Singh, as our chief guest. And let me put it straight. We don't pay even a single penny to any celebrity. They feel proud to associate with our events because of what we stand for.

You are looking after AAI's CSR? Tell us about some of your CSR initiatives?
We have many CSR activities going on in different parts of the country. We have opened a new paper recycling unit in Delhi. The unit produces all the stationary for all our AAI offices. This simple technology-driven unit also provides jobs to many semi-skilled workers. There is not a single corporate which is running such a unit anywhere in the country.

Similar to the paper recycling unit, any other CSR initiative which is close to your heart?
There are many. But the one we started in Sikkim is very special to me. We set up a 24 x 7 medical centre in a span of one year. The centre has a fully equipped medical van. We also provided regular drinking water supply to the locals.

Why drinking water?
One of our officials told us that it would be extremely difficult for us to set up an airport in Sikkim because of socio-economic issues. So, we decided to go directly to the root of the problem. We were told that the land acquired by the state had many springs. After acquisition of the land, the locals would have no more access to these precious water resources. As a concerned organization, we set up ponds and provided water to each and every household. Now, we can easily construct our airport. It helps the economy, and the local population is with us.

Do you accept donations for your CSR activities?
No. We do not accept any sort of donations. The AAI earns about Rs 900 crore profit every year. Of this amount, about two per cent of the money is kept for CSR initiatives. But we are not pumping in the entire money for our CSR projects.

Yours is a huge organization. Are you spreading your social initiatives?
Be it sanitation, education or public health, we are already working in different areas. Our main idea is to take up good schemes only. And we prefer to launch our initiatives near our airports so that we can monitor which mouths we are feeding. The Oil and Natural Gas Corporation (ONGC) has also come forward with some social schemes. We are working on the details of these schemes.