Ask any wildlife enthusiast which is the most threatened animal of India. Nine times out of 10, the answer would be the tiger. This may be true on the face of it. The media's incessant focus on the highly endangered striped wonder is not without a reason. And the fact that the tiger is making a comeback is reason enough to root for it. But then, we tend to overlook another wonderful animal, as majestic as the tiger- and one which is facing severe threats to its existence but of different kinds. I am talking about the elephant.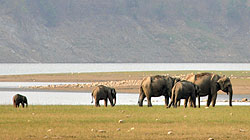 A tiger faces its biggest threat at the hands of poachers. Unscrupulous people who kill this beautiful cat for its various body parts, because it fetches a high price in the international market. I am sure a recent report flashed by news-agencies that a syndicate of tiger traders have given a `supari' (contract) of Rs 40 lakh to poachers to bag 25 tigers from the forests of Maharashtra would have shocked all tiger lovers. But today, I want to talk about an elephant because it's going through a different sort of existential crisis. Unlike a tiger, which is a territorial animal, an elephant doesn't stick to one territory for long. It likes to move long, often covers hundreds of kilometers in its search for greener jungles. In a nutshell, it is nomadic by nature.
Over the centuries, elephants have created distinct routes for themselves. And in many parts of India, the routes now are blocked or totally cut-off. It has happened due to one or several reasons: mushrooming of towns, illegal felling of trees and manifold increase in traffic passing through forest routes.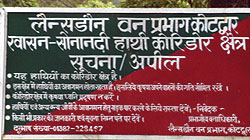 Elephants of Uttarakhand have always fascinated me. It could be because they move about in a beautiful landscape, whether in Corbett or Rajaji National Park. For the past three decades, whenever I could manage to get some time from my pressing engagements as MD of Raheja Developers, I have observed these giant wonders from close quarters, shot them (through camera, of course!) hundreds of time. They have been in this region even before my arrival on Planet Earth. For thousands of years, elephants have been moving from Corbett Park to the adjoining Rajaji National Park, and vice versa. This has been their established, traditional route.
But now, this elephant route in the beautiful hill state of Uttarakhand lays damaged at several places. Recently the forest authorities put up several signboards along the corridors, cautioning people to drive or move carefully as elephants might be crossing the road. One can see such signboards on Haridwar-Rishikesh Road, along the stretch of Haridwar to Kotdwar and from Kotdwar to Lansdowne. All these places either fall in or are at a kissing distance from Rajaji or Corbett Parks.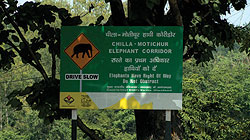 Of course I wonder if these signboards alone would ease an elephant's pain. The scenic Corbett-Kotdwar route is the first important stretch of land which elephants use for their long journeys. And here, I came across a crowning irony: On one hand is the city of Kotdwar. Busting at it seams, Kotdwar is like any other town trying to keep pace with the overall development of India.
But step out of Kotdwar's boundary, and the forest hugs you rather suddenly. Hardly three kilometers from Kotdwar on the route to Lansdowne, you come across the most important elephant corridor for elephants moving between Corbett and Rajaji National parks. Believe it or not, this corridor has now shrunk to just one kilometre! The situation is critical, trust me. If this patch of the corridor gets blocked for any unforeseeable reasons, than this centuries old elephant route of Uttarakhand will exist only in the forest maps of the state. And it's on this one kilometer stretch of corridor that the future of elephant in Uttarakhand hangs in a precarious balance.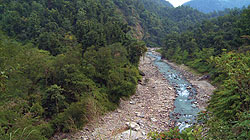 Vivek Menon is one of the leading authorities on Indian elephants. While he does see a ray of hope for the Uttarakhand elephant, he also sees the danger signs which are becoming bigger by the day…
Once the elephants cross over to Kotdwar forest range from the elephant corridor of Tooth Gadhera, life does not become easy for them. Even when they do manage to reach Rajaji National Park, fresh problems arise. The railway line passing through Rajaji National Park is the first obstacle the elephants face. And then, there is the state highway between Haridwar and Rishikesh, which neatly bisects Rajaji National Park. But then, here is a numbing reality: over 31,000 vehicles speed through Haridwar-Rishikesh road every day! …the road on which an elephant has the first right of passage.
In fact, the rampant developments on the route joining Haridwar with Rishikesh has virtually cut off the elephant s' movement from Dhaulkhand region of Rajaji Park to Chilla zone of the same park, and vice-versa. Similarly, Sunderkhal village has cut off the elephant's traditional route between Corbett Park and Ramnagar Forest Division.
A large number of resorts and hotels which have mushroomed around Ramnagar, on the edge of Corbett Park, have also curtailed the free movement of elephants. Only two decades ago, I would often large herds of elephants between Kaladhungi and Haldwani… sadly, I haven't spotted a single herd in last three years.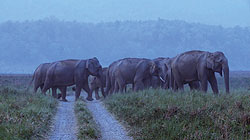 When you put a foot on somebody's life-line, the person or an animal is bound to react. An elephant, usually peaceful and minding its own business if left alone, is no different. Even in a forest, blocking an elephant's path can be dangerous. And if pushed hard, it can turn the tables on you at a lightning speed. In a recent episode of 'Wilderness Days', produced by Raheja Productions, we showed how a tusker near Rishikesh had turned rogue and killed 8 people in 2011 and how it took the forest department over three months to capture this particular killer elephant. This incident was a singular example of a gentle giant losing its cool when pushed to a corner.
Those among you who want to savor the true spirit of wildlife, and come face to face with the vital environmental issues, can tune in to our weekly programme 'Wilderness Days' (every Saturday, 11a.m. on DD National).
I do not think there is a quick-fix solution to the problem. In fact, there never is. Restoring the elephant corridor to its original status may not be possible.
And old story, which I read in my school days, comes to mind. After conquering the world, Alexander The Great returns to his hometown and visits his `guru', the great Greek philosopher Diogenes. True to his ascetic nature, Diogenes, with absolutely no worldly belonging, was living alone in a cave. As Alexander approached Diogenes, while blocking the only entrance of the old man's dwelling, he asked: "Sir, what can I do for you? Do you have any desire which I can fulfill?'' The sage looked at him and replied, "Stand out of my light.''
We can probably do one thing for the elephant. Stand out of its way. And ensure that we do not encroach further on its routes, either by foot or through bricks and cement.