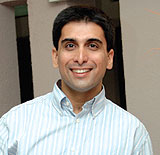 Mr Ashish Kapur, Managing Director, Yo! China & Dimsumbros
"India is a land of entrepreneurs"
He is the first one who introduced the largest world-class chain of Chinese restaurants in India. A graduate in electronics and telecom engineering from the prestigious McGill University in Canada, Mr Ashish Kapur quit his job in G.E. Capital in the United States to launch a chain of Chinese restaurants called "Yo! China" in 2003. A renowned entrepreneur in the food and beverage industry, Mr Kapur has recently created a unique Chinese fine dining experience in the form of the largest dimsum spread (37 varieties) teamed with fresh infused vodka beverages. In a freewheeling interview with India Empire's Sanjay Kaw and Farhana Khan, Mr Kapur spoke at length about his experiences in creating the global restaurants
How did Yo! China happen?
I was working with the G.E. Capital in the U.S.A. But I had a desire to set up a world-class restaurant chain in India. At that time in 2002, we had local food chains like Nirula's with regional presence only. So, I thought of opening a chain of restaurants like that of the Panda Group in the United States. We set up our first Chinese restaurant in Gurgaon in 2003.

Why did you choose the food sector?
We have roughly 350 million middle class people. Each person has three meals a day. That means we have a sector where one billion meals are consumed every day. And the largest category of this one billion meals is Chinese food as it is very aspirational because of our large young population.
---
---
How is Yo! China different from other restaurant chains?
There is no match to our quality food. Our restaurants are very trendy. We have display kitchens. We introduced the western concept of dimsum and combos as a special category. Our aim is to deliver high standard Chinese food in an international ambience designed to allow our guests to relax and enjoy. In short, we allow every diner to experience a "60 minute vacation''.

How far is the reach of your food chain?
We have 50 points in 14 cities all across the country. About 6 lakh people eat in our restaurants every month. And we deliver food to about two lakh homes and offices each month.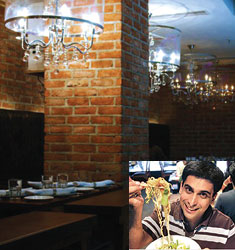 You have now launched Dimsum Bros. Tell us more about it…
We developed the idea of creating a unique Chinese fine dining experience in the form of the largest dimsum spread (37 varieties) teamed with fresh infused vodka beverages. Dimsum Bros. has been conceptualized to deliver to its customers an enjoyable dimsum experience through a well constructed authentic menu, magically paired with an innovative bar concept of fresh infused vodka concoction served in a chic lounge atmosphere that is relaxed and personal.

How you deal with your competitors?
The size of the food market is bigger than the competition. We are into constant innovation. We are opening at new locations with clustered growth. We are also setting up a training school for our staff. We have a base kitchen in Gurgaon which serves sausages to all our outlets.

Is your chain going to spread its wings in other countries as well?
We are planning to open our outlets in Dubai, Nepal and South Africa.

How is Indian food sector doing globally?
In Europe and many other countries, it is very mature in terms of concept and consumption patterns. But we are also doing very well. The sector is now growing tremendously in India.

You are an active charter member of TiE… Any business benefits you have had with TiE…
I found my first investor at a TiE meeting. The Managing Director of Matrix invested in us three months after the TiE meeting. India has also traditionally been a land of entrepreneurs, and TiE is fostering the spirit of enterprise.

What role you see that of NRIs in developing food sector better?
I myself was an NRI. It all depends what all they would like to do in India. Do they want to bring in international concepts? Or would they want to bring in a brand which is already established? Or, they'd want to launch a new brand altogether. These issues need a lot of detailing. Our NRIs have got the exposure in mature markets. But they do need to respect Indian sensibilities.

Is political climate good enough for your kind of business initiatives?
We are at a stage where politics does not affect our growth. We have a huge market. And there is a massive scope to expand this market. What is more important is that we should measure meal by meal experience of our customers. That keeps us going...

In one of your previous interviews you had remarked that "for a young business introspection is critical". Tell us more about it...
Yes indeed for young business introspection is critical. We have created a market for organized Chinese restaurants in India and hence had to experiment a lot. Every year it was critical to incorporate the learning fast as our growth doubled. The curve has definitely been steep!