Mr. Sushil Ansal, Chairman Ansal API, has been the guiding force behind the fast expansion and growth of Ansal API for the past four decades. He has been dedicatedly involved towards his vision of elevating lifestyles through sustainable housing and by building state-of-the-art realty and infrastructure facilities.His successful foray in the field of education vis-à-vis Ansal Institute of Technology (AIT), Sushant School of Art and Architecture (SSAA), Sushant School of Design (SSD) & Chiranjiv Schools are considered as benchmarks for quality education. These schools have carved a niche by offering educational programs and providing the best faculty and facilities to promote academic excellence for over two decades.

The Sushant School of Art & Architecture (SSAA) was established in 1989 and has been rated among the top architecture schools in India by British Council. The Ansal Institute of Technology (AIT) was founded in the year 2000.The institute was honored by HP for effective use of technology in teaching- learning.The niche achievement of this Institute has been the strong International collaborations with some of the top Universities of USA and Canada like, Clemson University, North Dakota State University, New Jersey Institute of Technology, Valparaiso University, Eastern Michigan University, Tarleton State University, McMaster University, University of Canberra & Deakin University.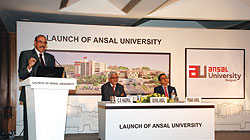 Located in a sprawling campus in the heart of Gurgaon, the campus of Sushant Group is a marvel in itself. The organization has a rich intellectual capital comprising of about 150 highly qualified and experienced faculty from diverse fields. Besides the regular faculty members, the institutes have a history of long standing academic relationship with eminent personalities like late. Mr. M F Hussain, Mr. Jatin Das, Sir Joshep Allen Stein, Mr. Mario Botta, and many more from various fields.

The Establishment of Ansal University (AU)
The Chiranjiv Charitable Trust (CCT) is proudly embarking on the next stage in the evolution of these world-class institutes, with the creation of Ansal University under the Haryana Private Universities Act, 2006.
Ansal University will offer multiple specializations and courses for students. The Alumni of this University will have an option to select courses across the core disciplines of Technology, Management, Architecture and Design. Students will benefit from merit-based scholarships, credit-based continuous evaluation, fieldwork balanced with studio and lab work, compulsory modules for soft skills and languages, and strong collaborations with universities abroad.

The Vision of the University
The Ansal University will be dedicated to providing an advanced quality of education with a futuristic approach for students drawn from around the world in the disciplines and professions that have the greatest bearing on the future of India and the World.
AU will provide a stimulating teaching and learning environment, where the best teachers and researchers apply innovative pedagogical techniques and encourage young minds to explore the frontiers of research.
We at AU will create an environment that is competitive as well as cooperative. We aim at developing Centers of Excellence that bring the cutting-edge to all fields, benefitting society as a whole and especially the poor and underprivileged.

The Schools of Studies
The University has established the following eight Schools of Studies:
· Sushant School of Art & Architecture
· Sushant School of Design
· School of Engineering & Technology
· School of Management Studies
· School of International Studies
· School of Computer Applications
· School of Applied Science
· School of Humanities & Languages

All the Schools will provide education from graduation to doctoral levels.
The university will adopt internationally accepted best practices of teaching-learning process like Industry focused contemporary curriculum and multiple specializations, Emphasis on learning by doing (through live projects), Trans-disciplinary open choices, Special projects for incubating entrepreneurship,Mr. Sushil Ansal, Chairman, Chiranjiv Charitable Trust and Ansal API have been nominated by the Governing body as the first Chancellor of the Ansal University.
.