LIFE IN THE USA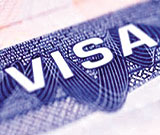 STEM Graduate NRIs Hopeful of Quick Work Visas
Working in a Fortune 100 company in the US, Upender Dwivedi (name changed), an NRI holding H1 visa, still feels helpless. He secretly nurses a dream to start his own venture.

"But I don't have a green card and on an H1, I can only be a passive participant if I start a company," he says.

After sulking for long, he now sees light at the end of the tunnel in the form of Startup Visa. If a Bill introduced in the US Congress comes through, it is not just those from outside the US, but foreign students with a STEM (Science, Technology, Engineering & Maths) degree could have a green card on their graduation day if they have the requisite qualifications.

They, however, need to create at least five fulltime jobs (other than close kin) in two years. The Government could hold the right to revoke such visas if milestones are not met. Introduced in the US Congress, Startup Visa Act of 2011, by Senators Mr John Kerry and Mr Richard Lugar, an updated version of the Startup Visa Bill from last year, has generated huge interest in the NRI community, both high-net worth individuals and H1 holders.

"Till now, this process has been incredibly difficult and has been stifling the creation of new companies and the corresponding job creation that these companies provide," an NRI, who doesn't want to be named, has told the media.

Mr Jay Pullur, Chief Executive Officer of Pramati Technologies, says it means a lot to those who want to go to the US to work on their entrepreneurial projects.

The new proposal has quoted much more "realistic thresholds" than last year's Bill. The minimum investment has been lowered to $1,00,000.

Those who have completed a graduate level degree in science, technology, engineering, math, computer science are eligible to apply as long as they have either an annual income of $30,000 or assets of at least $60,000 and a qualified US investor agrees to invest at least $20,000. This opens up the Startup Visa to students after they graduate, which is a big thing, the NRI says.

Mr J.A. Chowdary, a The Indus Entrepreneurs (TiE) and Chairman of human resources development firm TalentSprint, says this Act would help the US generate more jobs, besides inviting investments into the economy.
---
PUNISHMENT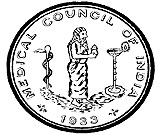 MCI talks tough, suspends two doctors
The Medical Council of India (MCI) in May asked the West Bengal Medical Council to suspend the registration of two doctors for three months for their alleged lapses in treating NRI doctor Kunal Saha's wife Anuradha, who died in 1998.

"The recommendation to cancel the registration of physician Sukumar Mukherjee and dermatologist Baidyanath Halder is binding on the state council," an MCI official told the media.

Apart from the two, Saha had also lodged a case against a third doctor, Abani Roy Chowdhury, who died during the hearing.

"The ethical committee has noted that the treating doctors, i.e. Sukumar Mukherjee and Baidyanath Halder, had acted in good faith. But they did not follow the standard protocol. We are also not oblivious of the fact that the treating doctors are senior citizens, aged more than 70 years... The ends of justice would be met if their names are removed for a period of three months from the register of the state medical council concerned," Saha read out from the recommendation.

State council registrar Dilip Ghosh said: "Once the recommendation comes, it will be placed before the commission."

Mukherjee said he would plead with the MCI against the cancellation of the registration. Halder's family said he would not speak on the issue.

Anuradha was admitted to AMRI Hospitals, Dhakuria, in May 1998 with toxic epidermal necrolysis, a severe form of drug allergy. She was shifted to Breach Candy Hospital, Mumbai, where she died.

Saha had alleged that his wife had been given a wrong drug in Calcutta that led to her death.

"The recommendation reveals the sordid state of healthcare in Bengal. At the same time, I must say it's a lenient order and I want more severe punishment," Saha said over the phone from the US.
---
AUCTION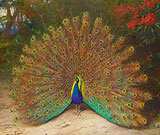 Bonhams to sell Peacock painting by Thornburn
An outstanding private collection of 15 works by Archibald Thorburn will feature in the next 19th Century Paintings auction at Bonhams New Bond Street, London on July 13, 2011. The undoubted highlight is the magnificent Peacock and Peacock Butterfly which is estimated to sell for £80,000-120,000.

It is a fine painting of the National Bird of India, which is believed to symbolise beauty, grace and integrity. In Hinduism, the peacock is portrayed as the image of the God of thunder, rains and war. Some believe that when the peacock displays its tail it is an indication that rain is imminent.

At 87.5 x 111.5cm this is one of the largest of Thorburn's paintings, and it shows a large peacock proudly displaying his extravagant plumage, in contrast to the delicate and beautifully detailed peacock butterfly in the foreground. Hugh Gladstone wrote in Thorburn's obituary in the Scottish Naturalist, January 1936, "of all his pictures...the most daring was a gigantic one...of a peacock in full display in front of a red rhododendron in full bloom; a gorgeous sunset and woodland as the background...I remember the whole as a riot of colour...both magnificent and accurate." Thorburn later recalled how he had nightmares of endlessly painting the 'eyes' on the peacock tail feathers.
---
POLITICS

Eight Indo-Canadians elected to Canadian Parliament - Two become Ministers
Six Indo-Canadians were elected to the Canadian Parliament on the conservative ticket and two others got elected on the New Democratic Party (NDP) ticket. The total tally of Indo-Canadian MPs has reduced from 9 to 8 in these elections. Interestingly all 5 sitting Indo-Canadian MPs from the Literal Party lost and all 4 sitting Indo-Canadian MPs from the Conservative party won.

The winners are Nina Grewal, Tim Uppal, Deepak Obhrai, Devinder Shorey, Parm Gill, Bal Gosal from Conservative and Jasbir Sandhu & Jinny Sims from NDP.

Among prominent Indo-Canadians who lost were former Federal Health Minister and first Indo-Canadian Premier of British Columbia Ujjal Dosanjh, beauty queen Ruby Dhalla, Five time winner Gurbax Malhi, Navdeep Bains and Sukh Dhaliwal.

TWO BECOME MINISTERS
| | |
| --- | --- |
| | |
| Bal Gosal | Tim Uppal |
Among the ministers appointed by Prime Minister Stephen Harper are first time MP Bal Gosal and Tim Uppal. Gosal representing the Toronto constituency of Bramalea-Gore-Malton is minister of state for sport. A Sikh from Mukundpur village near Jalandhar, 50-year-old Gosal, who is an insurance broker by profession, had defeated Sikh stalwart and six-time MP Gurbax Malhi. Malhi himself had created history in 1993 by becoming the first Sikh turbaned MP in the western world.

Tim Uppal, a 37-year-old Canadian-born turbaned Sikh from Edmonton, was also made minister of state for democratic reform. This is Uppal's second term in the Canadian parliament.

However, what shocked many in the Indo-Canadian community was the omission of senior-most MP Deepak Obhrai from the ministry. A six-time MP from Calgary, Obhrai was a parliamentary secretary in the outgoing ministry. Many community leaders, who had pushed his name for a Cabinet berth, were disappointed with his omission.

It is the first time that there will be two Indian faces in the Canadian cabinet. Former health minister Ujjal Dosanjh of the Liberal Party was the last Indian face in the Canadian Cabinet from 2004 to 2006.
---
INDIAN ARRIVAL IN WEST INDIES

PIOs commemorate Indian arrival dates in the Caribbean region
During the months of May and June, several former British colonies of the Caribbean region commemorate Indian Arrival Day in the respective countries. During the period 1834 through 1920, Indian laborers were brought to several former British colonies worldwide to work in plantations. While some returned to India upon completion of the indenturedship contracts, many remained and their descendants are successful positioned in many prominent aspects of society including academics, politics, professional, business, agriculture, sports and civic organizations.

Indians were indentured in fourteen different colonies in the Caribbean Basin / South and Central America as follows: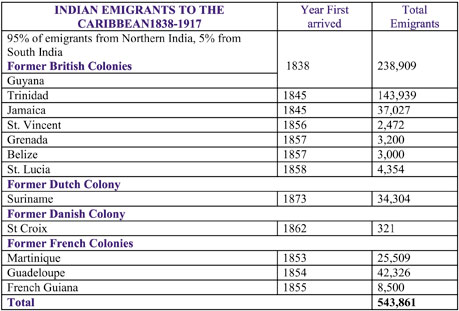 ---
NRI INITIATIVE

Preserving the dead
Over 50 lakh NRIs from Punjab have been facing a peculiar family problem back home. Their inability to take part in the last rites of their family members, for sometimes they are practically unable to reach their village on time to join their family here in the mourning.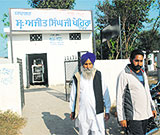 A mortuary at Doaba
A group of NRIs lately joined hands to build mortuaries in the Doaba region of Punjab in order to facilitate preservation of bodies till they are able to come back to perform the last rites.

"At times they need to preserve a body for over a week," said Satnam Channa, former secretary of the NRI Sabha at Jalandhar. In the last year over a dozen mortuaries have come up which are being exclusively financed and managed by the NRIs.

While some of them have been donating private landfor raising mortuaries, others have taken space at the government hospitals to construct one. In Bundala village, near Jalandhar, for instance, the NRIs have upgraded the mortuary at the government hospital and installed the cooling system in it.

"They do not mind allowing non-NRIs to make use of it, if need be,"said Satnam.

A formal permission is taken from the state government for the purpose and the NRIs make their investment without any right to claim the building, said a senior official in Jalandhar. He said the NRIs had also deployed cremation vans for the purpose at various villages, which would take care of the body in the absence of any family member being around.

Sometimes, he said , the parents of an NRI would be too old to undertake the responsibility of handling a body. "In that case a deputed staff would take due care to preserve the body till the NRI arrived", he added.

At times, he said, mortal remains are also kept at the mortuaries.