Marriage & Family
The early Punjabi immigrants consisted of males who came as sojourners to make money and return to live a life of comfort back in India. They lived together to save money, worked in groups and moved from place to place in search of work. Many of them were young and unmarried while others had left their wives behind. They could not go back for a visit nor could they sponsor their spouses from India as changes in the Immigration laws enacted in 1917 barred legal immigration from India. Several of them married Mexican women while those with college or university education generally married American girls despite the law in California which prohibited marriage between different races.
In the beginning, marriages between Punjabis and Mexican women aroused concern, some leading to controversies. Many marriages were successful but several experienced conflicts regarding raising of children, supporting issues and causes pertaining to the immigrants such as donation to temple, Gadar Movement, and sending money back home. Some marriages ended in divorce for various reasons and in a few cases, marital conflicts ended in the murder of the spouse. Prof Karen Leonard of U.C. Irvine has written extensively about Punjabi-Mexican families in her book "Making Ethnic Choices". After the passage of Luce-Cellar bill, a few Indians went back to marry while some others sponsored their wives and children whom they had left behind years ago.
With the liberalisation of immigration laws, a large influx of Indian professionals started migrating to America, only a few with their spouses. The vast majority of students and immigrants went back to marry while a few found brides in the US. "Desi" children as they are called, born in America, have faced duality between their parents' culture and the host culture and are torn between being Indian and being American. When the time came for marriage, the children were pressured or persuaded to get spouses from India, many with disastrous results. Now the community has become large, over 3 million strong, the preference is to find a suitable mate in the US.

Culture, Religion, Meditation and Yoga
Culture is an all inclusive term. Customs, traditions, performing arts, cuisine, religion and belief systems are varied and different, yet they are integral part of composite culture of India. In almost all parts of the globe where Indians have gone and settled, there is awareness of India's culture, be it in the form of yoga, meditation, music, fashion, or food, it is widely known and accepted.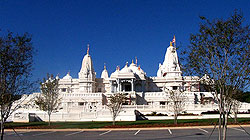 At the beginning of twentieth century, when Indians started coming to the United States, there was a low tolerance for the Indian immigrants. The Bellingham Riots in the state of Washington on September 5, 1907 epitomized the racial prejudice of the American people against Indians at that time. However, the majority of the immigrants from India kept faithful to their religious roots, some with a keen passion and continued to practice their faith by doing meditation or holding prayers privately at their homes.
Since the 1970s, the United States has increasingly become a religiously diverse nation and with the steady growth of the Indian American community, the building of temples became a desirable focus of the Hindu and Sikh groups. In 1976, the first Hindu temple, Sri Venkateswara temple, was built in Pittsburgh. Since then, millions have been spent on building Hindu temples and meditation centers in virtually every city in the United States. These institutions have helped maintain and promote Hindu religion, Indian philosophy and culture.
In 1893, more than a century ago, Swami Vivekananda introduced Hinduism to Americans when he came to address the World Parliament of Religions in Chicago. He made a lasting impact on the delegates and for the next four years, he lectured at major universities and retreats. This generated a significant interest in Vedantic philosophy. He also started the Vedantic centre in New York City. After Vivekananda left the US, other religious leaders came to spread Hindu religion and philosophy. In 1920, Paramahansa Yogananda came as India's delegate to the International Congress of Religious Leaders in Boston. He travelled widely and lectured to large audiences in the US and in 1925, made Los Angeles as his base of operations by establishing an international headquarter for Self-Realization Fellowship (SRF). Today, there are seven SRF centers in California where Yogananda's meditation and yoga techniques are taught on a regular basis.
Bhagat Singh Thind who came in 1913 as a student, started delivering lectures on Indian philosophy and metaphysics. During his lectures, discourses and classes to Christian audiences, he frequently quoted Guru Nanak, Kabir, and others. He wrote many books and had thousands of American followers but did not convert any of them to Sikhism. He died in 1967 but his son David has established a website www.bhagatsinghthind.com to promote and propagate books and the philosophy for which Dr Thind spent his entire life in the US.
Yogi Bhajan who came to California in 1969, founded Sikh Dharma International (SDI), a non-profit, religious organization and used it as an effective vehicle for spreading the teachings of the Sikh Gurus. He established Guru Ram Das Ashram in Los Angeles where his followers have been congregating regularly. He was an inspiring teacher and taught "Kundalini Yoga, the Yoga of Awareness." Prior to his death in 2005, he had thousands of his followers embrace Sikhism.
Maharishi Mahesh Yogi brought Transcendental Meditation (TM) to the US in 1959, through which he claimed to provide "a way for the conscious mind." Maharishi Mahesh Yogi's organisation with assets of about $300 million, is based in Fairfield, Iowa, where it operates the Maharishi University of Management.
Bhagwan Rajneesh, known as Osho, had a very large following in the US. In 1981, Rajneesh came to the United States on a tourist visa. His followers purchased a ranch in Oregon and named it Rajneeshpuram but ran into legal battles with their neighbours relating to land use. Rajneesh's ownership of many Rolls Royce luxury cars was an irritation for the locals. In 1985, Rajneesh was arrested and charged with immigration violations and forced to go back to India. He died in January 1990 but many of his followers still meet at various centers as also in Pune, the headquarters of Osho organisation.
Jiddu Krishnamurti's Krishnamurti Foundation, headquartered at Ojai near Los Angeles, California, promotes his philosophy through his books, CDs and tapes. Many more mystics and yogis from India brought ancient Indian philosophy and yoga to America and found fertile ground for spreading their message. Sri Sri Ravi Shankar is the `new age' guru and has many centers all over the world.
Several faith-based movements such as Bochasanwasi Shri Akshar Purushottam Swaminarayan Sanstha (BAPS), Chinmaya Mission, Sathya Sai Baba organization, Ramakrishna Mission, and ISKCON have also large following. Some target the Indian diaspora while others spread their message to Americans.
Yoga, once an elusive practice, has now surged in popularity and its impact is everywhere: in movies, television, advertising, and schools. Several studies have shown that yoga reduces back pain, relieves stress and improves overall health and has become as mainstream of an exercise as walking. Many Americans have incorporated yoga routines as an essential part of their work out routine. America is now dotted with yoga studios providing easy access to everyone, including business executives and Hollywood celebrities who practice this ancient Indian art form. Bikram Choudhary has earned fame and fortune by teaching yoga to Americans by opening hundreds of heated yoga studios all over the world. There are many more yoga experts and teachers who have gained prominence in this multi-billion dollar industry. Swami Ramdev is currently the most celebrated yoga teacher. His following runs into millions through his TV programme and outdoor classes. There are entrepreneurs who publish yoga magazines and yoga books, produce TV shows and make DVDs, manufacture yoga clothes, artifacts, furniture and furnishings, foods, tea, even yoga energy bars, and hundreds of products and services.
There are many religious festivals celebrated with great enthusiasm by different ethnic groups from India. The annual observance of Diwali demonstrates the rich history and traditions of the Hindu and Sikh faith and provides an occasion for the followers to remember their many blessings and celebrate their hope for a brighter future.
In 2007, Diwali Mela at Dallas Cowboys Stadium in Texas was a celebration of epic proportions. Hosted by the Dallas Indian Cultural Society, over 50,000 people from Dallas, Houston, Austin, San Antonio, Arkansas, Oklahoma and New York came to see performance of a professional Ram Lila group, hear Bollywood singers and witness the burning of Ravana's effigy. It was a mammoth event, unique without parallel in the US.
In 2003, the US President agreed to the long-standing demand by the Indian community and celebrated Diwali at the White House in the presence of several invited Indian community leaders. Since then, Diwali festivities at the White House have become an annual tradition which also shows the growing clout of the Indian American community in the US.