PUNJABI DIASPORA

CANADA
ARUBY DHALLA, MP, who has been in the spotlight recently for being seen in a video in steamy scenes, then accused of mistreating her two nannies, has now been posted on a new list of the '50 Most beautiful' Canadians. The list is topped by singer Shania Twain.
Dhalla, 35, who is the only Canadian of South Asian descent on the 'beautiful' list was also rated Canada's second sexiest MP and the world's 'third hottest' female politician!
Dhalla, who is the three-time MP from Toronto's Brampton-Springdale constituency, faces the allegations by her two Filipino nannies that they were underpaid, overworked and forced to do non-nanny jobs while they were employed briefly at the MP's home here in February 2008.
One of the nannies has also said that Dhalla took away her passport and birth certificate and didn't return them in what has been described as Canada's nannygate.

US
PREET BHARARA, a congressional staffer instrumental in investigating the Bush administration's firing of federal prosecutors, was nominated by president Barack Obama for US attorney in Manhattan.
Bharara, 40, had been recommended in February by his boss, senator Charles Schumer, to head the prestigious position in the Southern District of New York. He has served as chief counsel to the New York Democrat.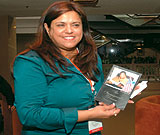 ANU PESHAWARIA, of Washington, who once represented India at Wimbledon as a young tennis star, has written a book called 'The Immigrant's Dream' that cautions Indian parents eager to marry their daughters to NRIs not to fall for the US and its dollar bait.
Peshwari says parents do not investigate enough about the potential groom or his family and that she meets deserted women whose parents she wishes had made detailed enquiries.
She says the stories in her book can serve as warnings.
At the launch, celebrated Indian police officer officer Kiran Bedi and consul general of the New York consulate were among guests.
"There's no point in talking about problems and not look for the solutions. When it comes to inter-state marriages, there should be an international law which all the countries must adhere to," she says.
Peshawaria dedicates an enormous amount of time and energy to successfully defend the familial, legal, and human rights of the women and children involved, often without pay.

UK
SATHNAM SANGHERA has won the Mind Awards Book of the Year for his book, The Boy with the Topknot, a memoir of coming of age in 1980s Britain.
The book details how, while balancing his life with the expectations of his traditionalist parents, his world changed after a discovery about his family's mental health.
Said Blake Morrison, one of the panel members: "When writers from ethnic minorities write honestly about the world they grew up in, they're sometimes accused of betrayal and disloyalty, as Philip Roth and Monica Ali have found. But Sanghera's is a loyal and loving book, which couldn't have been written without the support of his family."

DAVINDER GHAI, 70, who moved to Britain from Kenya in 1958, has challenged the refusal of a local council in Newcastle to allow him to be burned on an open air pyre when he dies, according to his Hindu religion.
The London High Court denied his plea saying the burning of human remains other than in a building is an offence, which the vast majority of Hindus in Britain do not consider essential to discharge their religious obligations.
The UK government said others in the community would find it abhorrent that human remains be cremated this way.
Ghai was allowed to appeal to the House of Lords but told he had little chance of success.

AFGHANISTAN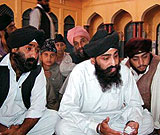 SIKHS DRIVEN out of their homes in Afghanistan's Orakzai tribal region by the Taliban have taken shelter at Gurdwara Punja Sahib, Hassanabdal, one of the holiest Sikh sites in Pakistani Punjab. The Sikhs are forced to either pay Jaziya, a tax imposed on non-Muslims, or face the consequences.
Over 1500 Sikhs have so far moved from militancy-hit areas of Pir Baba, Buner, Maidan, Lal Qila and Islam Dara of Lower Dir to safer places.
GUJARATI DIASPORA

CANADA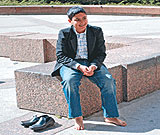 BILAAL RAJAN, an eighth grader from Toronto, Canada, went barefoot for a week recently. Not because he couldn't afford shoes, but because he wanted to realize what it is like for others who can't. He called it the "barefoot challenge," and invited others to join in the campaign.
This should be no surprise to those who have been following the short but remarkable life of this social entrepreneur who, right now all of 12 years old, kicked off his first fundraising when he was four — yeah, that's not a typo — and to date has been a UNICEF ambassador for Canada. He has spoken extensively and raised millions of dollars for a variety of causes.
Rajan recalled when he was four when it all started. An earthquake had just struck Gujarat in 2001.
Rajan decided to do something about it. "A simple thought went through my mind. I was eating a clementine (orange) at the time, so the simplest thing to do was to sell them."
Rajan sold the oranges in the fridge. He went door to door and he ended up selling eight more boxes and raised $350.
"And it was that small start, that small spark, really that lit a huge fire. And since then I have been able to raise $5,000,000," Rajan said.
In 2004, Rajan founded the Hands for Help Organization (www.handsforhelp.org) to heighten awareness of youth issues and raise millions of dollars to help kids in need all over the world.
"My main goal is to have one million young people get involved in their communities over the next three years," he said at that time. His book, "Making Change: Tips from an Underage Overachiever," provides a step-by-step guide to young people about how they can make a difference.


UK
MRINAL PATEL, faces a one-year jail term for providing a false address to get her son admitted to a leading state school. Patel, 41, is the first person in the country to be taken to court for school application fraud, and faces upto a year in prison or a £5,000 fine if found guilty of using a false address to circumvent rules intended to ensure children to go schools within a certain catchment area.
Patel said she was living at the address at the time she made the application last year.
"Early last year I had some problems with my marriage so I moved in with my mother. I had left my husband and had no intention of coming back so I put down my mother's address as my own," she said.
MUSLIM DIASPORA

MALAYSIA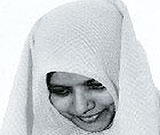 AN INDIAN woman has been sentenced to death by a Malaysian court for killing her husband and secretly burying him in the garden of
their house five years ago.
Reyaz Ahmed Maruf, a businessman, was strangled to death in his bedroom and was then buried in the garden in the case initially dubbed as the "curry murder trial" as reports suggested that Reyaz was drugged before he was murdered.
High Court judge Zaharah Ibrahim sentenced Maruf's Indian wife Shahmin Bano Mohammed Farooque and her cousin Javeed Akhtar Abdul Waheed to death after they were found guilty of murder.
Judge Zaharah said she found the defence had failed to raise a reasonable doubt in the prosecution's case, adding that she would provide the grounds of judgment in due time.
The victim's children told the court that their father was strangled with a piece of wire and buried in a shallow grave in the garden.
In her defence, Shahmin claimed that she was not involved in the murder and accused Javed, a man called Ayub Khan and another unidentified person of killing her husband.
GOA DIASPORA

US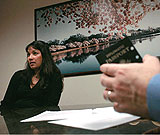 SABRINA DE SOUSA, an India-born former US ­government employee, accused by Italy of participating in a CIA-organised kidnapping of a militant Egyptian-born cleric, has sought diplomatic immunity to quash any prosecution.
Italian officials charge that De Sousa, 53, was one of 26 US agents who grabbed Hassan Mustafa Osama Nasr, known as Abu Omar, in Milan in February 2003 and flew him to Egypt.
De Sousa said she was ordered not to travel abroad because of the fear of arrest, preventing her from visiting her mother in India and siblings in Europe. De Sousa quit her federal job in February.
De Sousa says she repeatedly asked government agencies why diplomatic immunity had not been invoked and was forced to sue because she did not get a satisfactory response.
"This is a political thing that needs to go away once and for all," she said of the prosecution.
She said the Italian prosecution raises important concerns for government employees overseas. "If you're going to fight this war on terror, are you going to protect your people?" she asked.