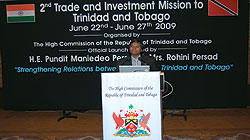 There is a new buzz about Trinidad and Tobago in India. This is the marked change from the past when very little, apart from cricket, was known about your country in India...
When I came here in 2004, there wasn't a real focus on trade. Incrementally, over time and with promotions, we have created some mind space. Trinidad and Tobago is a small country in the consciousness of Indian business. Yet, some major investments have been made, mainly by Essar Group (USD 1.8 billion steel plant), by ONGC-Mittal in a gas block, setting up of operations by Bank of Baroda in 2007, shooting of Bollywood films. There are now increased numbers of trade fairs that have helped create awareness, especially about the opportunities that Trinidad and Tobago offer to small and medium businesses.

Apart from the trade fairs, a number of high-level trade delegations are also being mounted from both ends…
That is correct. In March 2007, we had the first ever trade mission to India mounted by the then Minister of Trade and Industry in our country. In June 2008, we took the first ever trade mission from South Asia to Trinidad and Tobago. The mission created a lot of awareness and interest, so much so that the Confederation of Indian Industry decided to host a Caribbean conclave based in our country. The CII is now joining the second trade and investment mission being hosted by us between June 22 and 27. The Federation of Indian Export Organizations (FIEO) is also joining us. A recent development is the decision of the Federation of Indian Chambers of Commerce and Industry (FICCI) to focus more keenly on the Latin American and Caribbean regions. These organizations are seeking to promote more aggressively in that region, where as in the past no such interest was shown.

When did you decide that you would go in for the Second Trade and Investment Mission?
We decided on launching it as soon as the review of the first Mission was completed in August 2008. We launched the second Mission in December 2008 and marketed it across the countries of accreditation and within India in Delhi, Bangalore, Mangalore, Mysore, Chennai, Ahmedabad, Lucknow, Kolkata, and Mumbai.

What are the gains you expect from the second Mission?
This year the world situation has changed a lot following the financial crisis. Our focus last year was purely to attract investment in areas that we have targeted as a country. This year because of the altered scenario in which traditional export markets for Indian businesses are facing recession, we find Indians willing to explore new markets. We have tied our Trade and Investment Mission with the TIC (Trade and Investment Convention), the largest trade show in the Caribbean. While investment is still a focus, given the current situation, we are positioning Trinidad and Tobago as a country of choice for those markets.

Can you please elaborate on what essentially would mean a country of choice?
Many companies are still not familiar with the region. I have encouraged them to come and visit and use the second Mission for an exploratory purpose. From that will follow an understanding of the region, and more opportunities will show up. As a start these companies could look at supplies, some may start to set up an agency, but the main thing is to get a sense of the opportunities that the Mission will create.

What are the gains from the first trade and investment mission mounted in June 2008?
There have been a number of gains. That mission was the largest ever to Trinidad and Tobago from Asia. It really helped break an established mindset that doing business with Asia was not easy. So, therefore, this time things have turned easier, there is greater recall among Indian industry. It has helped place Trinidad and Tobago immediately on the mind and a situation in which you talk Caribbean as the preferred destination.
Also, MoUs wee signed between FIEO and the Tunapuna Chamber of Commerce which will assist in fostering closer b2b connections. A number of FIEO members have taken a decision to set up a local company by the name of Indo Caribbean Trade Centre in that region. Another MoU for cooperation in information technology has been signed between the STIC Group in Delhi and the Tobago House of Assembly. These are all documented results. Besides, companies have established business contacts and are doing trading, and mutually benefiting each other.

Trinidad and Tobago is essentially a high-end tourist destination. What are the possibilities of Indian investment in the tourism and hospitality sector?
At Tobago, the Cove complex is being promoted for investments. We are encouraging Indian hoteliers to look at hotels, an area that provides a large spectrum of opportunities. As for tourism out of India, it will remain a high-end tourist destination.

Connectivity to Trinidad and Tobago from India remains an issue, and high flight costs remain a concern…
You are right. Air India has direct flights to the Delhi-New York sector. There are flights through U.K., but the problem is about costs. We are still looking at a minimum of Rs 80,000. We have plans to go in for a services agreement between the two countries, but then again volumes have to justify direct connections.

But connectivity in terms of cultural exchanges has been at an all time high…
Yes. We had the Steel Bands come in to India for the very first time, in 2004. They were followed by the Chutney and Bhojpuri singers. In 2007, when the first trade delegation came to India led by the then Minister of Trade and Industry, we had the occasion to showcase Limbo, Soca and Calypso before Indian audiences. The Indian Centre for Cultural Relations has been regularly sending cultural troupes during the Indian Arrival Day and during Deepawali. Food festivals have been held in India. National Institute of Fashion Technology has recently signed an agreement with the University of Trinidad and Tobago for developing high-end fashion. Experts from India have been sent to develop temple architecture and design. Also experts have visited Trinidad and Tobago from India during Ram Lila to develop drama.

Apart from trade and culture, delegations from Government and Parliament have been on the rise…
Yes, they've been. We had the visit by a delegation led by the then Indian Vice President in 2006, followed by the visit of Parliamentarians led by the then Speaker of the Lok Sabha. We have had visits made by the Minister of Overseas Indian Affairs and the Minister of State for External Affairs and by secretary-level delegation from the MOIA. From our country, we've had delegations led by a Minister of Trade and Industry, Minister of Sports, Speaker of the House as part of a Parliamentary delegation, Leader of the Opposition.

As an accredited High Commissioner, you have been promoting Trinidad in other countries as well. What is the response?
Unlike India with whom we have a strong historical connect, and therefore some measure of recall for Trinidad and Tobago, in other countries a great deal more has to be done to create awareness. That awareness has helped us in taking delegates to the first trade and investment mission from Bangladesh and Singapore. This year too we have a large contingent from Bangladesh, and for the very first time from Sri Lanka. Also, following the interactions that the delegates from Singapore had last year with our country, there has been a greater Government-to-Government bilateral involvement.

Do you see business interests run in your country by people of Indian origin and NRIs taking a keener interest in the Indian market? Any role of the Indian High Commission in Port of Spain that you see in this area?
I see that situation. You see before the financial crisis businesses in Trinidad and Tobago would have no reason to look beyond the CARICOM itself. Now things are changing, and there is interest in new markets. The next project is to mount a delegation to India. It would be interesting to see how many such businesses come to India. Part of the role of the Indian high commissioner at Port of Spain will be to bring in investment to his own country. He may wish to promote TT businesses to invest in India.

What kind of major businesses out of Trinidad and Tobago are being promoted in India?
Lake Asphalt of Trinidad and Tobago that has the world's largest deposits of asphalt (LATT) has done a marketing promotion here. Angostura is keen on this market. There are some other companies that have shown interest, and we are working with them. Also, energy cooperation is an area that can be developed more.