CUBA A CHARMING LAND
One of my favorite places I've visited is Havana, Cuba. On my way home from Costa Rica, I spent a week in Havana. The colors, the music, the beautiful men and the cars! I love vintage and antique cars and own a couple myself. — Megalyn Echikunwoke
Megalyn Echikunwoke, the American actress, is quite on the money about Cuba, except there is more to this scenic Caribbean nation than what she found in Havana. There is a rich history spread across the island to begin with, a string of several magnificent beach towns across the length and breadth of the country, including the 20-km long Playa de Varadero, ranked the second best beach in the world by no less than a leading global travel site. At the crossroads of Western and Latin culture, Cuba is blessed with an overflowing and rich tapestry of music, cuisine, dance, art and craft. Geo-politically, its uniqueness has stood the test of time.
On a FAM trip to Cuba in October 2023, international media persons including senior journalists, filmmakers, photographers, vloggers, YouTubers, influencers and a large posse of luxury and destination travel and tour operators, crisscrossed the length and breadth of Cuba, starting in the north in the capital city of Havana before foraying into different islands and cities with short, memorable stays. It was facilitated by MGM Muthu Hotels in partnership with the Cuban Government, Gaviota Tours, and Cubanacan. MGM Muthu Hotels is a hotels company that has originated from Chennai and is headquartered in Portugal. They have acquired several scenic resorts across Cuba (www.muthuhotelsmgm.com).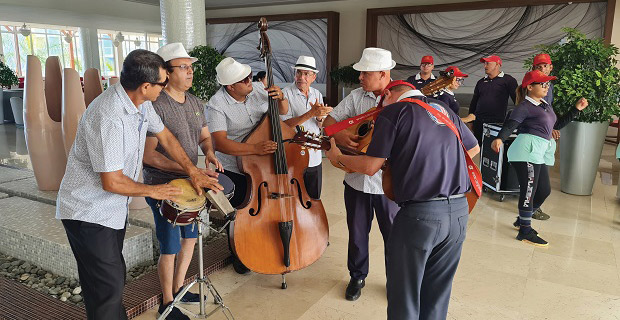 Welcome reception at a Gran Muthu Almirante Beach Hotel in Holguin
Among the major places we stayed and / or visited included the Cuban capital city of Havana (La Habana Province), the islands of Cayo Coco and Cayo Guillermo (all part of Ciego de Ávila Province in the Jardines Del Rey archipelago), town of Moron (Ciego de Ávila Province), the island of Cayo Paredón Grande and Camagüey town (both a part of Camagüey Province), Guardalavaca (Holguin Province), Santiago de Cuba, the eponymous capital city of the province by the same name, and also the resting place of arguably the country's greatest son, Fidel Castro, and Varadero (Matanzas Province).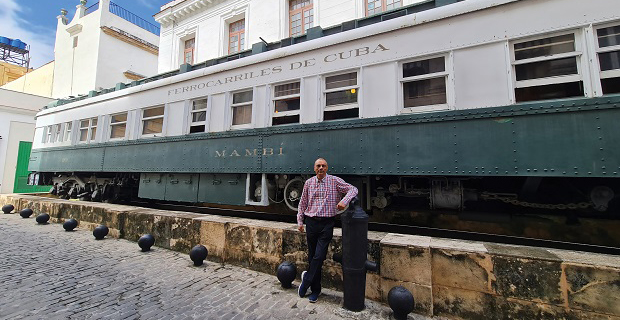 A bogey of the nationalized Cuban railways that was originally built and run by the Hershey Company of US in which at least one American President had taken a ride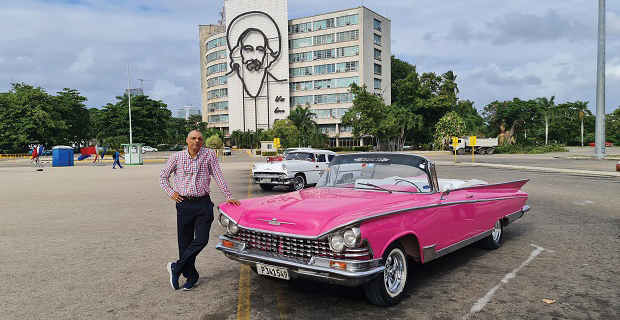 In front of a 1950s Buick at the Revolution Square in Havana
It was unquestionably a fascinating experience, a priceless opportunity to soak in some irresistible charm and beauty. One can safely say that Cuba is a place that is worth a visit for every global traveler, and for businesses, it may just be the right time to invest in the hospitality sector. The rum, pina colada and the cigars are world famous. Cuban cuisine offers a delightful fusion of flavors inspired by Spanish, African and Caribbean heritage. We were deeply touched by the generous and world class hospitality of the MGM Muthu Hotels in the country (see pictures later in the story). Increasingly, Hollywood and Bollywood directors are finding suitable locales in the country for film shoots. Terence Cardoz, an international film location specialist who was a part of the FAM group, says, "I found locations in old Havana amazing for any kind of music video. Honey Singh has already shot one in Havana. And many years ago, Ek Tha Tiger was shot in the Cuban capital."