GOPIO IN MAURITIUS
The Garland Ceremony commemorating Mahatma Gandhi took place at Gandhi Square in Riviere du Rempart, organized by Gopio International and Gopio – Riviere du Rempart in collaboration with Universal College and Ideal College. The event was graced by the presence of esteemed dignitaries on October 2, 2023.
During the ceremony, GOPIO President Mr Mookhesswur Choonee and the Secretary Mr Bhuruth Dinand reflected on Mahatma Gandhi's visit to Mauritius in 1901. They emphasized the profound significance of Gandhi's visit to Mauritius, asserting that it played a pivotal role in shaping the nation's struggle for independence. Gandhi had stayed with the Beejadhur family in Riviere du Rempart during his visit, and it was here that he imparted valuable advice to the indentured labourers. He encouraged them to prioritize education for their children, recognizing the transformative power of knowledge. Mr Daven Utchanah delivered a moving address centered on the life and teachings of Gandhi, emphasizing the profound values and principles that shaped his legacy. Mr M. Choonee also participated in the garland ceremony at MGI.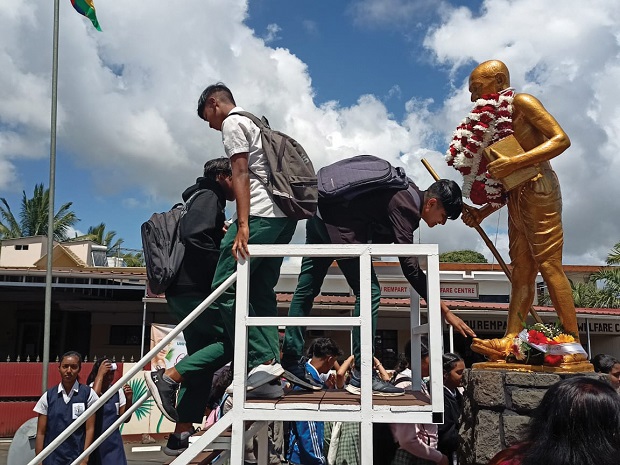 In 1901, a technical issue forced Gandhi's ship, en route from South Africa to India, to make a stopover in Port Louis. During this unplanned visit, he learned of Mauritian businessmen through his South African and Gujarat contacts. The Muslim community at Taher Bagh warmly welcomed him, and he also paid a courtesy visit to the then Governor of Mauritius. Gandhi made it a point to explore rural areas and sugar camps, where many indentured labourers lived. Witnessing their hardships, he encouraged his friend, who had studied law in England, to come to Mauritius and advocate for the labourers in court.
Despite the challenges, Gandhi managed to resolve most of these cases between 1901 and 1911. Subsequently, he departed for Fiji Island to address the cases of Girmityas. Gandhi Ji admired the communal harmony among Hindus, Muslims, and Christians in Mauritius, often mentioning the island during his morning satsangs after prayers. Mauritius celebrates its independence on the 12th of March each year, the same day Gandhi initiated his salt march in India. His legacy is celebrated with numerous institutions, organisations, and streets named in his honour across the island.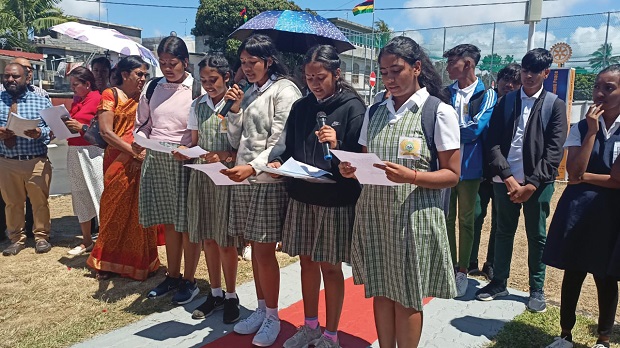 On the international stage, the United Nations has designated the 2nd of October as the International Day of Nonviolence, coinciding with Gandhi's birth anniversary. Gandhi instilled many enduring values in the people of Mauritius during his stay, leaving an indelible mark on the nation's history and character.
The students and educators of Universal College came together in a harmonious song, while the talented students from Ideal College recited a beautiful poem dedicated to Gandhi, honoring his legacy. The ceremony concluded as students along with the guests, respectfully paid their homage to Mahatma Gandhi by touching his feet and seeking his blessings.