INDIA AND COSTA RICA
Celebrating 202 Years of Independence and 53 Years of Diplomatic Relations
On September 15th, 2023, Costa Rica celebrated 202 years of independence, a milestone that is accompanied by the celebration of 53 years of diplomatic relations between India and Costa Rica. Since 1970, when diplomatic ties were established, the countries have collaborated closely in areas of mutual interest that have deepened our bonds of friendship.
India and Costa Rica have in common being coastal countries, rich in biodiversity and with a talented and culturally diverse population. Both also share vulnerabilities to climate change, rising ocean levels and development and security challenges (political and digital, for example). In addition to their strengthened bilateral agenda, India and Costa Rica have recognized the potential of working together at the multilateral level to address the major challenges of our time, including the promotion and defence of democracy and human rights and the pursuit of a greener, more inclusive and resilient future.
As recognized during the recent India-LAC Conclave held in New Delhi in August 2023, the time has come for India to integrate more with Latin America, and Costa Rica presents itself not only as a stable and reliable partner in its own right, but as a strategic gateway to Central America and, more broadly, to Latin America and the Caribbean.
Country Profile:
Costa Rica, located in the heart of Central America, is renowned for its stunning natural beauty and commitment to environmental sustainability. With a land area of 51,100 square kilometers and a population o f 5.15 million as of 2021, this country hosts a diverse geography that encompasses coastal plains, rugged mountains, and lush rainforests. While Spanish is the predominant language, Costa Rica is also home to a rich tapestry of languages such as Mekatelyu, Bribri, and Jamaican Creole, reflecting its cultural diversity. The nation enjoys a high quality of life, with an impressive life expectancy of 77 years for men and 82 years for women. Its tropical climate divides the year into a dry season from December to April and a rainy season from May to November.
Pura Vida Feathers Exhibition in Mumbai attended by the CDA A.I. Ms Sofia Salas Monge (Aug 2023)
In 2021, Costa formally became a member of the OECD, the fourth member country in the Latin America and Caribbean region to join after Mexico, Chile and Colombia. Under the leadership of President Rodrigo Chaves Robles, Costa Rica's economy continues to flourish, with a GDP of 68.38 billion USD according to the 2022 World Bank report. Remarkably, the country boasts a literacy rate of 98%, highlighting its strong commitment to education. Additionally, Costa Rica's investment in health and education stands at 9.9% and 7.6%, respectively, showcasing its dedication to human development. One of its most notable distinctions is its dedication to peace, having abolished its military in 1949. Costa Rica's commitment to preserving the planet's biodiversity is reflected in the fact that it harbors 5% of the world's biodiversity. With a pleasant year-round temperature averaging 24°C, the official currency is the Costa Rican Colon, making it an inviting destination for both travelers and investors alike. Costa Rica truly stands as a beacon of environmental consciousness and prosperity in the heart of Central America.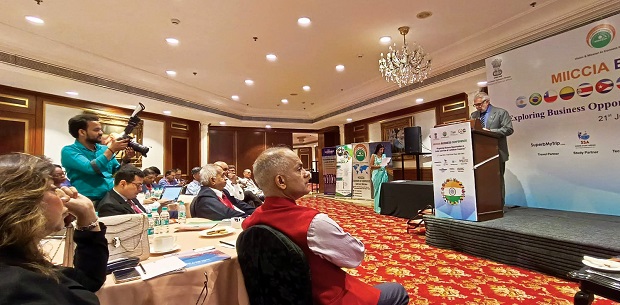 Amb Dr Claudio Ansorena Montero giving a presentation at the MIICCIA LAC Conference on exploring business opportunities (July 2023)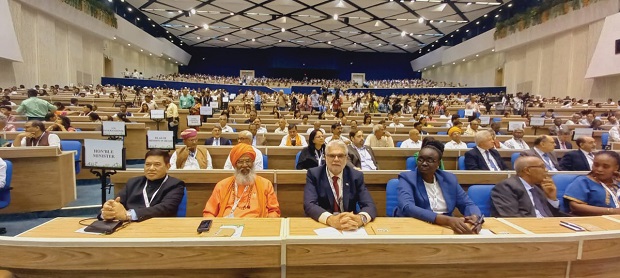 Amb Dr Claudio Ansorena Montero participates at the Environment Day hosted by the Government of India (June 2023)