Networking and connectivity are key factors for any organisation's growth in today's digital world. In this age of the internet and knowledge networking, it has become possible for communities to consolidate themselves through virtual networks cutting across geographical borders and reaching out seamlessly to their diaspora identities spread out globally. While the virtual networking of the communities strengthens the articulation of their identities in multi-cultural settings, it also provides a channel for managing diversities in specific socio-political situations. GOPIO plays a key role in the consolidation and articulation of the Indian cultural identity through virtual networking in a multi-cultural setting.
It was in this backdrop that Mr Prashant Gupta joined GOPIO as a volunteer in 1999—to lead the digitisation strategy for the organisation. The assignment was to design and develop the GOPIO website in keeping with modern networking requirements.
Mr Gupta understands that virtual networking of communities online can greatly aid in consolidating GOPIO groups cutting across geographical boundaries. Extensive use of internet can network, consolidate and mobilise communities around common economic and cultural concerns by organisations within the country of residence and internationally to focus attention on them. It has been used for the articulation and consolidation of diasporic community voices and their co-ordination to represent a wide range of interests. Such virtual community networks mediated by the organisations which consolidate and articulate issues of common concern to the community have opened up a novel channel for the management of identities and diversities.
In the year 2000, the website www.gopio.net was launched, and over the years the site has signed up representatives of the global Indian diaspora residing in more than 50 countries. Today, the e-mail version of the monthly GOPIO newsletter reaches every PIO/NRI location in the world as well as many influential Government officers and Members of Parliament in India.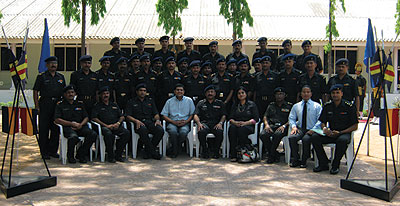 The next task assigned to Mr Gupta was to set up a GOPIO Chapter in Chicagoland. He rallied local diaspora leaders to form the Chapter entity in 2001 and became a founding secretary of GOPIO Chicagoland. Over the next few years, the Chapter membership grew, and helped introduce many locally relevant projects, including senior citizen homecare and scholarships for kids.
In 2003, Mr Gupta started GOPIO Connect — a development initiative to capture and understand key development needs in India where the NRI/PIO community could contribute. As founding Chairman, he built a database of major development projects in India at the time by working closely with various NGOs such as Chicago-based Health & Happiness, and established partnership with the India Development Coalition of America. He gave a number of public lectures in America on how to address education and water issues relevant to India.
During 2006-07, Mr Gupta relocated to India to be closer to his extended family after spending almost a decade in the US, but has continued his commitment to GOPIO. In January 2008, he led a think-tank GOPIO summit on education in New Delhi with keynote speakers, including Mr Sam Pitroda, Chairman, National Knowledge Commission, and Dr Y.S. Rajan, scientific advisor to the Prime Minister.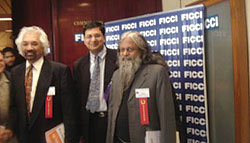 Professionally, Mr Gupta is a product strategist with more than a decade of experience in introducing new digital product ideas for global corporations—having worked for several years with Motorola's division in Chicago. At present he's with Microsoft. In India, he has done a few interesting digital experiments to address the needs of bottom-of-pyramid communities. In 2007, he launched India's first mobile version of Encyclopaedia Britannica, Oxford Dictionary, the complete Bhagawad Gita and many more books to help fill library gaps in rural India as part of a startup initiative. Later in 2010, he introduced a digital learning technology for an Indian Army portal – Project Kshamta (one of Microsoft's corporate social responsibility initiatives) to help improve the communication and IT skills of soldiers for better employability post-retirement. These soldiers come from rural backgrounds and are mostly high-school dropouts.
Mr Gupta has an MS degree in Engineering Management from the University of Florida, an MBA in marketing from Northwestern's Kellogg School of Management, and is a recipient of the Lt. Governor's Gold Medal at the University of Delhi, College of Engineering, and the IEEE Larry K. Wilson Award. He has been twice nominated as finalist for the MIT Global Indus Technovator Award.
Mr Gupta is married with two kids and lives near the Indian School of Business campus in Gachibowli, Hyderabad, Andhra Pradesh. He is a life member of GOPIO International and can be reached at pg1619@yahoo.com.
© Global Indian Diaspora — GOPIO Making an Impact | Published by: India Empire Publications