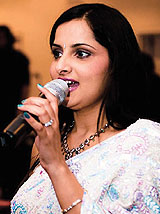 GOPIO Sydney North was launched in September 2008 and is now one of the leading charitable organisations in Australia's diaspora communities. Since it was established, the Chapter has been at the forefront of many community activities in Sydney. Its first president was Mr Harmohan Singh Walia who has done excellent work in the community. On his elevation to Area Coordinator in 2010, Ms Neeru Singh took over as President. Under her leadership GOPIO has moved into charity work in a big way, and a number of charitable programmes were executed in coordination with other chapters.

Ms Singh was instrumental in GOPIO Sydney North West chapter joining hands with the Indian community in Sydney to help underprivileged children in India by organising a musical night. Several schools in India lack basic infrastructure to deliver quality education. It was in this backdrop that GOPIO decided to assist such schools at the grassroots level. A rural underprivileged middle school was identified in Wara-Pohwindia village in Zira, District Ferozepur, Punjab. Funds collected at a community event held in October 2010 were spent to buy materials (warm clothes, shoes, socks, stationery, hand pump for clean water etc) for the students of this rural school.
Apart from helping the Indian community in Australia and launching charity projects in India, GOPIO ­Sydney North West also addressed several community problems associated with international ­students, seniors, local youth, health, small businesses, families and other community members. The range of services they provide include monetary help, counselling, ­business seminars, career guidance, transport and tourism for seniors, and helping victims of domestic violence.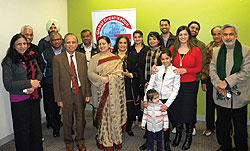 Besides her dedication in running the chapter well, Ms Singh has been involved in a bunch of other activities. For instance, she is leader of a student support service in which she and a team of volunteers are devoting their time to help international students. The services includes providing support in English language learning, resume writing and personal grooming. Ms Singh also acts as a mentor and counselor in order to motivate students, especially females who may be feeling homesick due to being away from their parents and family members.

Ms Singh also has several laurels up her sleeve. Between 1992 and 1998 she was an actor in India. She has also done modelling, hosted television shows, worked in television serials, choreographed dance programmes and acted in musical videos. In 1999 she moved to Australia with her husband and completed her studies. In 2005, Ms Singh restarted her acting career in an Indian play named Sale of the Millennium, which was staged at the Parramatta Riverside theatre. After a year, when the play ended, she started her career with the Australian Taxation Office.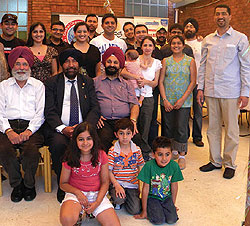 On June 4, 2011 Ms Singh was awarded the First Runner-up prize at the Mrs India Australia pageant—a beauty pageant for married women. Contestants were judged not only for their appearance but also according to their sense of style and personality. The event aimed to celebrate womanhood and recognise women's achievements across the world. The pageant was held in Sydney and was attended by more than 500 guests including Mrs World Australia 2009 Carin Hillman-Varma, June Dally-Watkins (1949 Model of the Year) and other dignitaries and members of the press.

The pageant had four rounds to judge the winner. In the first round, contestants introduced themselves while dressed in the traditional colourful dresses usually worn by different communities of India. Ms Singh introduced herself as an invincible woman who always remains positive. She said life for her was never dull, with her time spent working to support her family and caring for the young ones.

In the final round, the contestants answered questions put to them by the judges. Ms Singh spoke about the important role women play not only in their families but also professionally and socially.

Ms Singh performed consistently well throughout the pageant, which ultimately earned her the First Runner-up title.

Ms Singh is passionate about doing genuine charity work and helping the needy in our society. Ms Singh feels she has learned a lot in association with GOPIO and is a proud member of the GOPIO fraternity. She carries a positive working relationship with other GOPIO chapters and works in the best interest of the organisation.

Ms Singh and her husband come with fresh ideas and are keen on a long stint with GOPIO. While she juggles between the roles of wife, mother and full-time worker, Ms Singh finds time to plunge into ­Sydney's active social calendar. Whether it be Independence Day celebrations, Holi Mahotsav, Diwali night or any other charity function, she will be there representing GOPIO, taking it a step further each time.