DMIC ON TRACK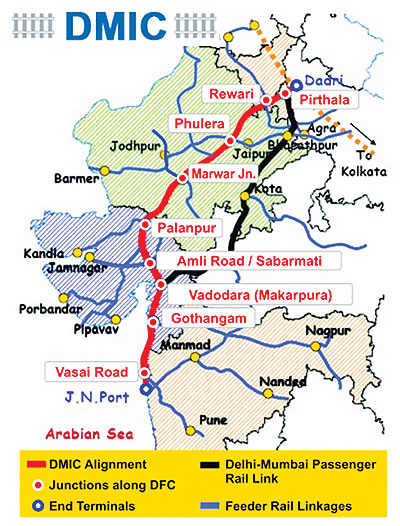 The Government of India has approved financial assistance of Rs 17,500 crore at an average of Rs 2500 crore per city (subject to a ceiling of Rs 3000 crore per city) for the development of the following seven DMIC industrial cities in the first phase:
1. Dadri-Noida-Ghaziabad Investment Region, Uttar Pradesh;
2. Manesar-Bawal Investment Region, Haryana;
3. Khushkhera-Bhiwadi-Neemrana Investment Region, Rajasthan;
4. Pithampur-Dhar-Mhow Investment Region, Madhya Pradesh;
5. Ahmedabad-Dholera Investment Region, Gujarat;
6. Shendra-Bidkin Industrial Park city near Aurangabad, Maharashtra; and
7. Dighi Port Industrial Area, Maharashtra.
The contribution of the State Government will be in the form of land.
---
REVENUES UP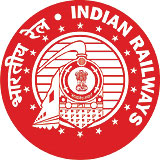 The total approximate earnings of Indian Railways on originating basis during April 2013 were Rs. 11009.17 crore compared to Rs. 9687.15 crore during the same period last year, registering an increase of 13.65 per cent. The total goods earnings have gone up from Rs. 6914.60 crore during April 2012 to Rs. 7637.35 crore during April 2013, showing an increase of 10.45 per cent. The total passenger revenue earnings in April 2013 were Rs. 2925.44 crore compared to Rs. 2384.87 crore during the same period last year, registering an increase of 22.67 per cent. The revenue earnings from other coaching amounted to Rs. 302.82 crore during April 2013 compared to Rs. 247.37 crore during the same period last year, showing an increase of 22.42 per cent.
The total approximate numbers of passengers booked during April 2013 were 689.48 million compared to 682.84 million during the same period last year, showing an increase of 0.97 per cent. In the suburban and non-suburban sectors, the numbers of passengers booked during April 2013 were 366.61 million.
---
PRESIDENT'S CALL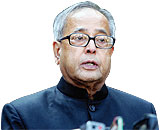 President Mukherjee
The President of India, Shri Pranab Mukherjee attended the fourth Convocation of Babasaheb Bhimrao Ambedkar University at Lucknow in May. Speaking on the occasion, the President said that education is a crucial element for national progress, human empowerment and social change. He said that the rising incidents of crime against women and children call for effective measures to ensure their safety and security. It also calls for arresting the moral decline in our society. He said that we must find solutions for bringing such degradation of values to an immediate halt. He stated that our universities, that possess the capability to shape the minds of the youth, should set the process of redefining our moral values in motion.
The President said that there is a need to change the mechanics of rendering education and the time for it is now.
---
SEZs DOING WELL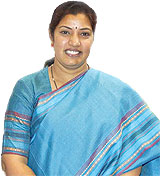 Minister Purandeswari
The fiscal concessions and duty benefits allowed to SEZs are in built into the SEZs Act, 2005 and Rules framed there under. These exemptions are uniformly applicable to all SEZs and are primarily in the nature of incentives for export and are consistent with the principles that guide export promotion initiatives of the Government in general. Since the enactment of the Special Economic Zones Act, 2005 and the attendant Rules in Feb 2006 a total of 577 SEZs have been approved, of which 389 have been notified as on 3rd May, 2013. Exports from SEZs have increased over ten-fold from about Rs. 34,615 crore in 2006-07 to about Rs. 4,76,159 crore in 2012-13. SEZs are primarily private investment driven. This information was given by the Minister of State in the Ministry of Commerce and Industry Dr. D. Purandeswari in a written reply to a question in Rajya Sabha in May.