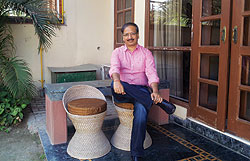 On industry-specific projects and infrastructure development…
The Government in U.P. has completed just over one year, and I've been in UPSIDC for 10 months. During this period, investments to the tune of Rs 18,000 crore in industrial areas of UPSIDC have taken place. This is the biggest ever that has come. More investments are forthcoming, particularly after the CII Summit in Agra earlier this year which was attended by all business houses under the leadership of honourable chief minister. The major investments that have come up are in the form of new units, as well as in the form of expansion of existing units. The one good thing about the investments is that they are percolating to areas like eastern U.P. and middle U.P. These investments by and large are non-NCR based, and to that extent they acquire a great deal of significance.

UPSIDC is the prime institution for the supply of land, and we've come up with three major sector-specific projects. The first one is the Plastic City at Auraiya where we have a MoU with Gas Authority of India Limited, the All India Plastic Manufacturers Association and the U.P. Power Corporation. A state-of-the-art Plastic City is coming up and plastic manufacturing units will find space there over 224 acres.

Second is the Mega Leather Cluster. As you know, tanneries of Kanpur wish to expand and shift away from Kanpur because of higher land prices in the city. Also the opportunity costs of shifting to alternative businesses are more. So we have to provide them space. Almost 20 per cent of the leather of all India is produced in Kanpur. So 300 acres for a Mega Leather Cluster at Sandila and another 600 acres for a cluster at Ramaipur in Kanpur have been acquired. A third mega cluster is coming up over 62 acres at Agra which will be a high value-ended looking at items like leather bags. Between them, the three clusters will invite investments to the tune of Rs 2,000 crore.

Another Rs 1,000 crore investment by the Birla Group at the Jagdishpur Food Park in the UPSIDC area is coming up. The Indo Gulf Fertilizer Limited, a Birla company, is expanding its capacity over there by investing Rs 4,500 crore. At Shahjahanpur, KRIBHCO is constructing an Agro-Processing Park with food chains and cold chains. This will see processing of fruits and vegetables that are being wasted, but do not get processed. There is plenty of opportunity here.

Another important development is that Amul is coming up with a 5,00,000 litres per day milk processing unit at Kanpur, and a similar one at Lucknow. Both are expandable up to 10,00,000 litres. Other units are being established at Varanasi. The total processing capacity eventually will be 50,00,000 litres per day. This will be among Amul's largest investments outside of Gujarat.

On industrial townships and expansion strategies…
One of the very large industrial townships that will be coming up is along the Delhi-Mumbai Industrial Corridor in the Greater Noida Extension area. Here, the Greater Noida Authority, UPSIDC and the Government of India will be involved in a joint venture. We are acquiring 2,600 acres for this project. While 600 acres will be developed by UPSIDC, the rest will be held as equity by the GoI. This will be a Japanese-funded ultra modern manufacturing township. The one developed by us will be known as the DMIC Chola Industrial Township, Chola being the name of the railway station right after Dadri. In the vicinity of Chola will run both the eastern (Delhi-Kolkata freight corridor) and western industrial corridors, and it will be a kind of junction. About 1,000 km of the eastern corridor runs through U.P. alone.

The DMIC corridor will reduce wagon turnaround time dramatically. Today, it takes about 14 days for goods to be trans-shipped from Kanpur or Lucknow to Kandla or a major western Indian port. With the coming up of the corridor, this time will be reduced to two days. This will increase efficiency of transaction, and time and costs involved. This will be a game changer for the state of Uttar Pradesh. These will provide great opportunities for investment.

Industrial vision...
As I mentioned, the two freight corridors are game changers for us. Besides, the GAIL and the Indian Oil Corporation are spreading secondary and tertiary pipelines in almost every district in U.P. Besides, two National Investment Manufacturing Zones will be coming up at Jhansi and in the Auraiya-Kannauj belt over 3,000 acres which have been identified by the UPSIDC. These two areas can absorb almost Rs 2,00,000 crore to Rs 3,00,000 crore in investments. Both can be converted into mega SEZs and FTZs. This could be the industrial vision for U.P. since they will add to the manufacturing base of the state. They will shift the employment structure, shift people from agriculture to industries.

With a younger work force in place and the National Skill Development Mission going on, this will create demand for those skills.

Also, overall, power situation for industrial sector is no longer an issue. Industries pay well, and all power companies are running after them. Power to industries is continued and assured. Over the next two years, another 3,000 mw will be added.

On restoring the old glory of Kanpur, once the Manchester of the East…
One of UPSIDC's ultra modern industrial townships known as Trans Ganga, three kilometers away from the new barrage of Kanpur is coming up. It will combine the planning of Chandigarh, Noida and Gurgaon. It will have high value end manufacturing only. Basically service sectors, BPO, financial sector, electronic goods, auto components, very select textile industries will be found here. One of the characteristics of Trans Ganga is that it will have glass buildings. There will be a great deal of structural control, and no one can deviate from the initial planning of the township. Access will be controlled through smart card. All houses will be back facing so that there is no turning of the frontage into a shop or showroom, like is the case in many parts of India. Maintenance will be in private hands. This township developed over 1,300 acres has every possibility of restoring the old glory of Kanpur.

On involving Overseas Indians…
We have a very good policy for the larger investors, such as Overseas Indians. Any investment that is worth more than Rs 2,000 crore will be taken up on a case-by-case basis by the state Government. If the industry feels that it wishes to discuss matters such as taxation, impediments, availability of land, electricity, they are free to come up with a wish list. We can sit together and sort things out. Apart from Chola and Trans Ganga, we have the Greater Mathura township over 700 acres on the national highway and Tronica City just north of Delhi. These are attractive propositions.