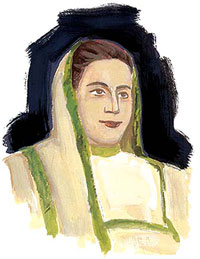 The Paris Indian Society was founded in 1905 at Paris by Madam Bhikaji Rustom Cama, B.H. Godrej and S. R. Rana. The organization was started as a branch of the Indian Home Rule Society founded by Shyamji Krishna Varma in London in 1905 to secure Home Rule for India and to carry out propaganda to attain society's objectives. Shyamji Krishna Varma had also purchased a house in 1905 in London, which became known as India House, ostensibly a residence for Indian students but used for revolutionary activities.
Several Indian nationalists, who were associated at various times with Krishna Varma's India House during its short existence, also were part of the Paris Indian Society. The society developed close links with the Socialist Party and Russian socialists in exile in Paris. Cama attended the International Socialist Conference at Stuttgart in 1907, where she unfurled the first Flag of India. It was no small achievement that an Indian woman in a colorful sari, hoisted the tricolor flag of India in the presence of a thousand representatives from several countries.

Madam Cama, V. D. Savarkar and Shyamji Krishna Varma had designed the tricolor flag with green, saffron, and red stripes. The middle saffron color stripe had "Vande Mataram" written in Hindi, which meant "salutation to Mother India." The original flag raised by Cama in Stuttgart is now on display at the Maratha and Kesari Library in Pune.

After Stuttgart, Madam Coma went to the United States and carried the flag during her travels to various places where she spoke passionately against the British rule. She continued championing the cause of India's freedom and talked about British efforts to oppress the voice of Indians who protested against tyranny and despotism of the British.

Bhikhaiji Rustom Cama was born Bhikai Sorab Patel in 1861. Her father was Sorabji Framji Patel, an influential member of the Parsi community and well known in the city. He was a lawyer by training and a merchant by profession. Bhikhaiji was married to Rustom K. R. Cama, a lawyer. She got involved in several social activities. During Bombay's plague in 1897, she worked tirelessly to save plague victims. In that process, she herself caught the deadly disease, but miraculously survived. She was left very weak and her family sent her to Europe in 1902 to enable her to regain her health.

Madame Cama's political career started in London in 1902. She became private secretary of an important Indian dignitary, Dadabhai Naoroji who was an elected member of British Parliament from 1892-1895. Through him, she came in contact with several Indian patriots and European Intellectuals, sympathetic to the Indian cause. She began speaking against British rule and later on played a dominant part in the cause for India's freedom movement.

In 1909, Madan Lal Dhingra, a Punjabi revolutionary, studying in England, assassinated Sir William Hutt Curzon Wyllie, political aide-de-camp to the Secretary of State for India. Dhingra was a freedom fighter and his killing of a high-ranking official was hailed as one of the first acts of revolution in the Indian independence movement in the 20th century. However, his action led to the arrests of some key activists associated with India House including V.D. Savarkar. Several student activists moved to Europe or the United States.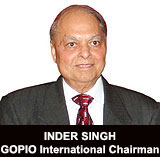 Paris Indian Society became the refuge and hub of Indian revolutionaries who fled England. With the closing of India House in London, Paris Indian Society became the center for radical Indian nationalist and revolutionary activities outside India. The Society started holding regular meetings and sought to train its members in skills necessary for revolution. Madame Cama also brought out the Journal Bande Mataram to "reflect a vigorous revolutionary policy." The first issue of Bande Mataram was published on September 10, 1909 with Har Dayal as the editor of the magazine. She also financed another revolutionary journal Talvar published by Virendranath Chattopadhyaya (brother of Sarojini Naidu) in memory of Madanlal Dhingra. The magazines were smuggled into India through the French colony of Pondichery.

In 1910, the British Government requested Cama's extradition but French Government refused to cooperate. With the outbreak of World War I in 1914, France and Britain became allies, and all the members of Paris India Society except Cama and S R Rana left the country. In January 1915, the French government deported Rana to the Caribbean island of Martinique, and Cama was interned in Vichy France. After the war, Cama returned to her home in Paris.

The British had banned her entry into India because of her revolutionary activities. She remained in exile in Europe until 1935. She was gravely ill and paralyzed by a stroke that she had suffered earlier that year. She petitioned the British government to be allowed to return home. She agreed to renounce her seditionist activities. She arrived in Bombay in November 1935 and died nine months later, aged 74, on 13 August 1936.

Several Indian cities have streets and places named after Bhikhaiji Cama, or Madam Cama as she is also known. On 26 January 1962, the Indian Posts and Telegraphs Department issued a commemorative stamp in her honor.

Copyright © Inder Singh, 2013
—Inder Singh is Chairman of GOPIO, Global Organization of People of Indian Origin. He was GOPIO President from 2004-09. He was NFIA president from 1988-92 and chairman from 1992-96. He was founding president of FIA, Southern California. He regularly writes on Indian Diaspora. He is the author of The Gadar Heroics, a book published in June, 2013 on Gadar heroes. Inder Singh can be contacted by telephone at 818-708-3885 or by email at indersingh-usa@hotmail.com..