The Punjabi Cultural Society of Chicago (PCS) kept up its tradition of participating in the McDonald's Thanksgiving Parade held on Thanksgiving Day on State Street in downtown Chicago in a blustery cold. The freezing weather did not deter PCS and thousands of spectators who lined up along the parade route to watch and cheer during the event.

The parade was televised live on WGN Channel 9 and WGN America. It was also streamed live on the internet for worldwide viewing. Celebrating its 80th year, the McDonald's® Thanksgiving Parade is Chicago's premier holiday event. PCS was a part of more than 100 spectacular contingents proudly marching the parade route north on State Street from Congress to Randolph.

"PCS has been participating in this parade since 2005. It gives our Indian community great exposure in the mainstream, and it shows our commitment to celebrate the American festivals, in solidarity with the American people," said PCS President Surinder Singh Sangha.

The PCS participation was organized by Surinder Singh Sangha, Pardeep Singh Deol, Vick Singh, Gurmit Singh Dhillon, Balwinder Singh Girn, Sunny Kular, Ronny Kular, Mohinderjit Singh Saini, and Rajinder Singh Mago with the help of many youth volunteers, including Harleen Kaur Saini, Bikram Singh Chohan, and Irnjyot Kaur Sanghera.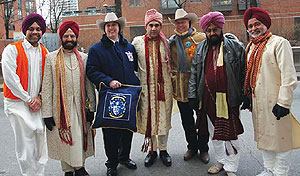 THEME
"The theme of the PCS float and its contingent was an Indian Punjabi wedding procession (Baraat), which included the bride and the groom in traditional Punjabi wedding outfits, the baraatis in festive ethnic costumes, Punjabi Dhol (drum), amplified Bhangra music and street dancing," said Rajinder Singh Mago, PCS Board of Governors.

University of Illinois at Chicago and DePaul University Bhangra troupes led the PCS float with Punjabi folk dances choreographed to Bhangra music blasting from the float to thousands of cheering spectators lined up along the State Street.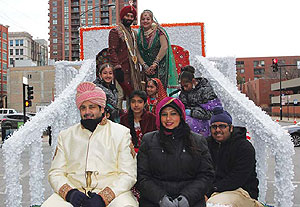 Mona and Manjeet Bhalla were the bride and the groom, newlyweds Jaswant and Yasmin Sodhi were another couple as best man and bridesmaid, Kevin Atwal and Ryan Singh played Punjabi Dhol, along with Twin Beats DJ Punjabi music to set the dancing mood and keep the crowd engaged.

"Once the parade was underway, we temporarily forgot about the freezing temperatures as we drove along State Street waving to the throngs of spectators that lined both sides of the streets. We waved and smiled, and danced along to the music. The crowd was bundled up to brave the weather, but seemed to wholeheartedly enjoy our colorful, lively procession," said Yasmin Rammohan Sodhi who was dressed up in her traditional Punjabi wedding reception outfit and jewelry under a heavy winter coat which she took off encouraged by profound cheers and applause from the crowd.

Over 350,000 onlookers cheered along the parade route while an estimated 3.75 million viewers watched from home to see the PCS float and walking unit, Bhangra dancers, gigantic helium balloons, marching school bands, majestic Arabian equestrian units, fabulous specialty floats, spectacular performance groups, national celebrities and local TV personalities, in addition to Santa Claus.

The Chicago Festival Association (CFA), a unique and exciting nonprofit organization in the city of Chicago, produced this McDonald's® Thanksgiving Parade.

PCS CHICAGO
Punjabi Cultural Society of Chicago (PCS) is a nonprofit 501 (c) 3 organization promoting education, good citizenship, community development, civic commitment and involvement, and preserving Punjabi culture, language, sports and performing arts among its community members and also mainstream Americans in the Midwest and beyond. PCS caters to this need both by directly organizing events that bring community members together from all over the Midwest region and by facilitating participation of its community members in mainstream activities.

—Compiled by Misha Singh
Restoring health in Chicago
In an award function organised by Asian Chronicle USA, Dr. Amarjit Singh, MD, past president of Indian American Medical Association of Illinois (IAMA) and trauma centre emergency physician was honoured with The Asian American Humanitarian Award 2013 and lifetime volunteer service medal of honour. The award ceremony was held at Sheraton Four Points Hotel in Schiller Park, Illinois on November 24, 2013. The ceremony was attended by more than 300 guests mostly Asian Americans residing in Chicago.

Asian Chronicle USA is a television program on public access cable broadcast in 90 suburban communities of Chicago land area. The program started in the year 1977 and is a work of love and service to the Asian-American community by professionally trained crew extending their services voluntarily.

Dr. Amarjit Singh was born to parents of Indian origin settled in Burma. Dr. Singh along with his family moved to India few years later. In 1977, he completed his graduation in medicine from Maulana Azad Medical College, New Delhi, India. After his medical degree Dr. Singh worked in Zambia, Africa and the United Kingdom prior to immigrating to the United States where he settled in Chicago. Over the past 20 years Dr. Singh has worked at the Cook County Hospital and St. Bernard Hospital and currently is an attending physician in the Emergency Department of Mount Sinai Hospital and Level 1 Trauma Centre.

Accomplishments
Dr. Singh has been volunteered actively in providing services to various medical professional organizations, the Asian-American community, and the local community at large. He has served as the President of Indian American Medical Association of Illinois (IAMA) in 2005. Dr. Singh was the convention treasurer of the 2013 National Convention of American Association of Physicians of Indian Origin (AAPI) held in Chicago. He is also the Membership Chair of Association of American Emergency Physicians from India (AAEMI).

Dr. Singh was also the Chairman of Punjabi Cultural Society of Chicago in the year 2011 and 2012. He has been a regular volunteer physician at the Sikh Religious Society community centre in Palatine, Illinois and IAMA charitable clinic, Chicago where he provides free medical services and consultations to the deprived patients on the weekend. Dr. Singh has participated in several teaching workshops in Burma and India, to share his medical knowledge and education with the medical aspirants. Dr. Amarjit Singh is married with 3 children, and lives in Burr Ridge, Ill.

The Asian Humanitarian Award is given annually by the Asian Chronicle TV channel to individuals and families that are consistent role models for others to emulate, extend numerous civic and community services in Chicago and their native countries projecting a positive image of Asians in America.