SPACE MAGNATE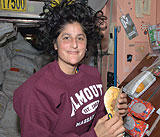 Sunita Williams
Sunita Williams holds a world record for the longest space flight by a woman but as a child the Indian American astronaut had never thought about voyaging into space ever. "I never envisioned to be an astronaut and had many failures, but ultimately I reached here," said Williams while interacting with students at the National Science Centre here.
Williams, has a total of 50 hours and 40 minutes of spacewalking time over seven spacewalks, the record for number of spacewalks for a female, and most spacewalk time for a female. So while she has "pretty much seen the whole of India" from space she is excited to explore more of the country.
---
YALE FELLOWS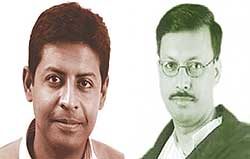 Abhik Sen (left) with Prodyut Bora
Abhik Sen, Managing Editor, The Economist Group, and Prodyut Bora, State General Secretary of BJP in Assam, have been selected as the two Indian representatives for 2013 Yale World Fellows Program.
About 16 people have been selected for the programme. Since 2002, the university has welcomed a group of exemplary mid-career professionals from a wide range of fields and countries for an intensive four-month period of academic enrichment and leadership training.
The Yale World Fellows Program is the university's signature global leadership development initiative and a core element of Yale's ongoing commitment to internationalisation.
---
"DISCRIMINATORY"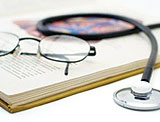 Calling a new Medical Council of India (MCI) entrance test adopted by some state governments as discriminatory to NRI students, several Indian community organisations in the US have sought its gradual implementation over two years. The new test requirement will hamper NRI students applying for medical and dental college admission in India as there are no test centres in the US, Europe and other countries with a large NRI population, the Global Organization of People of Indian Origin said in a media release.
About 2,000 NRI students apply to MBBS and BDS admissions in India every year. For the last 20 years, Indian medical colleges have been giving admission to NRI students based on NRI quota.
---
$ 12 B DEPOSIT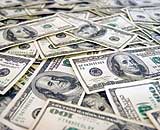 The bank deposits by non-resident Indians (NRI) in Kerala stood at Rs 62,708 crore ($12 Billion) till December 2012, bankers said. There are now around three million Keralites who work in foreign countries, close to 90 per cent of them in the Middle East countries. The deposits at the end of corresponding period in 2011 totalled Rs 45,937 crore. These figures were made public at the 109th meeting of the State Level Bankers Committee. Maximum deposits were done in the State Bank group, which attracted 40.58 percent or Rs 25,445 crore of the total deposits. The private sector banks aggregated a total NRI deposit of Rs 23.395 crore.
---
SPECIAL OFFER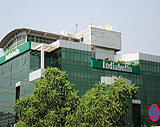 Indiabulls Real Estate, one of the largest listed real estate developers in India, has tied up with top Qatari lender Doha Bank to offer its non-resident Indian (NRI) customers an exclusive deal on properties in India.
Complimentary home loan eligibility checks, special offers on Indiabulls properties and exclusive promotion for Doha Bank Indian customers will be part of the special offer.
Indiabulls' deal with Doha Bank also offers mortgage loans to its NRI customers for acquiring properties in India, serving the growing demand from expatriate Indians for home loans and property acquisition in Indiabulls' housing projects.
---
BANKER SACKED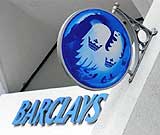 Barclays has sacked a senior private banker from its non-resident Indian (NRI) team for alleged misuse of client money. The banker Jagdish Kale joined Barclays Wealth in early 2010 and he was dismissed by the British bank last month. He is under investigation by the Commercial Affairs Department. "This case involves an isolated banker. We do not comment on ongoing investigations; however, we take matters that affect the safety of our clients' wealth very seriously," said a Barclays spokeswoman. Mr Kale declined to comment when contacted by BT on Monday. The spokeswoman also said the bank is working closely with the authorities and has hired a forensic team for its internal investigations..
---
BUYS STAKE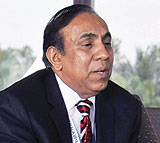 Mr Ravi Pillai
Ravi Pillai, a Bahrain-based non-resident Indian (NRI) businessman, bought a 4.49 per cent stake in the Thrissur, Kerala-based old generation private lender, Dhanlaxmi Bank. Mr Pillai, chairman of construction major RP Group, has spent Rs 25.2 crore for mobilising the shares. Earlier, NRI businessman M A Yusuf Ail had bought 4.99 per cent shares of another Thrissur-based lender, Catholic Syrian Bank (CSB).
The Reserve Bank of India had allowed Dhanlaxmi Bank to issue preferential shares to raise capital. Pillai has bought 4.2 million shares in the preferential offer. It is also learned that six groups would purchase around 8.5 million shares in the issue.
---
HIGH PRAISE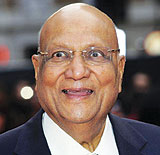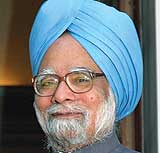 Lord Swraj Paul Dr Manmohan Singh
Throwing his weight behind Prime Minister Manmohan Singh, UK-based NRI industrialist Lord Swraj Paul today termed him "above several Prime Ministers of this country" and a man who works "very hard". Lord Paul, who is the Chancellor of two leading British Universities, was speaking at an Assocham and Rai Foundation event in honour of Massachusetts Institute of Technology (MIT) President L. Rafael Reif. "You will find him a great man who has worked very hard and perhaps is above several Prime Minister(s) of this country," he said.
Lord Paul, who leads the UK-based diversified Caparo Group, is the Chancellor of Wolverhampton and Westminster Universities.
---
HEALTH AWARD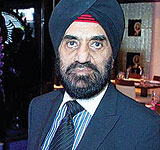 Mr Kartar Lalvani
NRI entrepreneur Kartar Lalvani has been conferred with the Healthcare Businessman of the Year Award 2013 at the Asian Business Awards ceremony in the U.K.
The founder-chairman of Vitabiotics, UK's largest supplier of minerals and vitamin supplements to the retail trade, received the honour from UK's Home Secretary Theresa May at a ceremony.
The Asian Business Awards, commended Lalvani, a chemist by training, for "creating Vitabiotics in the 1970s and overseeing the company's remarkable growth to become the UK's largest supplier of minerals and vitamin supplements to the retail trade."
---
NRG DEPOSITS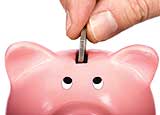 For the first time in six years, pockets of banks in Gujarat bulged with non-resident Indians (NRI) deposits in 2012. For the first time in six years, pockets of banks in Gujarat bulged with non-resident Indians (NRI) deposits in 2012. Reason may be either removal of interest rate cap by RBI or the depreciating currency or both, but with Rs 5,734 crore more, deposits increased by 22% with the banks during this period. The total NRI deposits with banks in Gujarat increased to Rs 31,179 crore by end of December 2012. NRI deposits contribute about Rs 3.48 lakh crore, i.e., 9% of total deposits in Gujarat, reveals a State-level Bankers' Committee (SLBC) report.

---
NOMINATED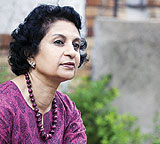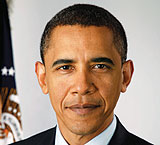 Ms Ranee Ramaswamy Mr Barack Obama
PRESIDENT BARACK Obama has sent a nomination for Ms Ranee Ramaswamy to be a Member of the National Council on the Arts for a term of 5 years. Ms Ramaswamy founded the Ragamala Music and Dance Theatre in Minneapolis, Minnesota in 1992. She has been popularising classical Indian dance in America. According to her bio posted on her website, Ms Ramaswamy has been a disciple of Alarmel Valli, one of India's greatest living masters. She has worked with celebrated artists such as poet Robert Bly, jazz musician Howard Levy and legendary composer-violinist L Subramaniam. Among her many grants and fellowships are 13 McKnight Artist Fellowships, a Bush Fellowship, and an Artist Exploration Fund grant from Arts International.
---
NEW BILL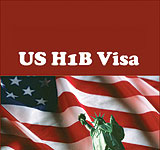 A top American Senator has introduced a legislation that he claims is aimed at eliminating fraud and abuse of the H-1B visa programme, but provisions of which would make it tougher for Indian-Americans to get this popular work visa. Among other things, the H-1B and L-1 Visa Reform Act of 2013 ensures that an H-1B application filed by an employer that employs 50 or more US workers will not be accepted unless the employer attests that less than 50 per cent of the employer's workforce are H-1B and L visa holders. The legislation, introduced by Senator Chuck Grassley, Ranking member of the Senate Judiciary Committee, makes reforms to increase enforcement, modify wage requirements and ensure protection for visa holders and American workers.
---
CM'S CONCERN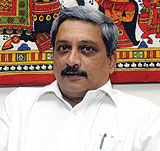 Mr Manohar Parrikar
Expressing concern that Goans settled abroad are disposing their ancestral properties for fear of encroachments during their absence, Chief Minister, Manohar Parrikar has said the Government would come out with a suitable legislation to protect the landed property of Goans working or staying abroad. Mr Parrikar has said that the Government will create hurdles via legal steps to prevent outsiders from buying agricultural land, and vowed to ban conversion of agricultural land for any other use, other than Government use. He was speaking at the launch of NRI Commission's Goa Welfare / Pension scheme for retired seafarers and dependent families at the Ravindra Bhavan, Margao.
---
ROBOTICS MAN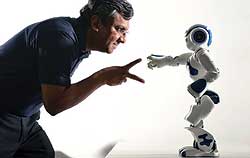 Dr Ram Ramamoorthy
An Indian academic in the UK has developed humanoid robots which use artificial intelligence to take on humans and learn opponents' strategy as they play and try to win the traditional 'rock-scissors-paper' game.
Dr Ram Ramamoorthy from Bengaluru led the team in developing the humanoid devices at the University of Edinburgh where he held a demonstration. Dr Ramamoorthy earned his undergraduate degree in Instrumentation and Electronics Engineering from the University of Bengaluru and then went to the University of Texas at Austin, where he was awarded his PhD degree. He arrived at the University of Edinburgh in 2007. He is now working in the School of Informatics.
---
INDICTED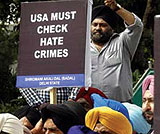 A federal grand jury in Seattle has indicted a man in Washington state on a federal hate crime charge relating to a racially motivated assault of a 50-year-old Sikh man.
Jamie W Larson appeared before a US magistrate judge after his arrest by the FBI, where he pleaded not guilty, the Seattle Times reported. He faces up to 10 years in prison if convicted under the Matthew Shepard and James Byrd Jr Hate Crimes Prevention Act, according to the Federal Bureau of Investigation (FBI). "Attacks such as this one, based on prejudice and racial hate, are contrary to who we are and violate the law," said US Attorney Jenny A Durkan. "Protecting the civil rights of all the members of our community is a top priority for our office."
---
SIKH ATTACKED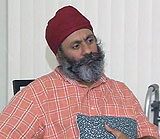 Mr Kanwaljit Singh
A Sikh man has been admitted to a hospital after being shot at several times by some unidentified attackers in the US state of Florida.
The victim Kanwaljit Singh, 46, was attacked by the truck-borne assailants near Daytona Beach. Accompanied by his son who managed to escape unhurt, Kanwaljit received multiple injuries in his thigh and torso and is currently undergoing treatment at a local hospital. "Although no clear motive (behind the attack) has been established, initial indications are this shooting was not a random act. There was no previous confrontation between occupants of either vehicle," Wayne Miller, Port Orange's Assistant Chief of Police was quoted as saying.
---
RANGLA PUNJAB IN CHICAGO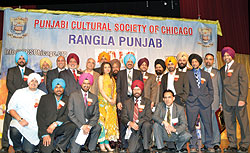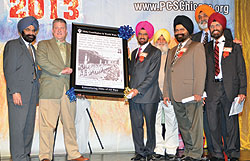 The Punjabi Cultural Society of Chicago (PCS) presented their flagship annual event "Rangla Punjab 2013" to celebrate Vaisakhi festival on Saturday March 30, 2013, at Copernicus Theater in Chicago. More than 200 participants rendered 29 delightful variety acts in a talent show attended by nearly 1000 guests.
Mrs. and Dr Bhupinder Singh Saini of Advanced Pain Management Clinics in Wisconsin were the chief guests.
Guest of honor Illinois State Treasurer Dan Rutherford said it was his eighth year attending PCS events. He was presented with an inscription commemorating the Punjabi Sikh soldiers from British India who gallantly fought alongside the allied forces during the two World Wars. Mr. N.J. Gangte consul at Indian Consulate office in Chicago also attended the event.
"It was a wonderful display of how Indian culture can be preserved in America. It was delightful to see children from age 5 and above performing on the stage while adults came together as a team to make it a greatly successful night. Such events are a major mechanism for cross cultural education and unity," said Northwestern University Evanston Professor Dr. Sanjay Mehrotra who is also Director of Health Care Engineering Center at Northwestern.
---
FBI TRACKING HATE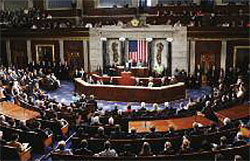 Over 100 member of the US House of Representatives have asked the FBI to track hate crimes against Sikhs, Hindus, and Arab-Americans as it does for other communities.
Over 100 member of the US House of Representatives have asked the Federal Bureau of Investigation (FBI) to track hate crimes against Sikhs, Hindus, and Arab-Americans as it does for other communities.
The call came in a letter to FBI Advisory Policy Board signed among others by Joe Crowley, vice chair of the Democratic caucus, Ami Bera, the lone Indian American member of the House and Tulsi Gabbard, the first Hindu American in the Congress. The board is expected to meet soon to review.
---
HIGH CHAIR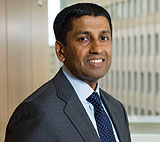 Mr Srikanth 'Sri' Srinivasan
The White House has urged the Senate to swiftly confirm Indian-American legal luminary Srikanth 'Sri' Srinivasan to what is "often called the nation's second-highest court", the US court of appeals for the American capital. Srinivasan, 45, became the first South Asian to be ever nominated to the circuit court by President Barack Obama last June. "The DC Circuit, as you know, is often considered the nation's second-highest court, but it has twice as many vacancies as any other court of appeals, and its workload has increased by over 20 percent since 2005," Obama's press Secretary Jay Carney has said. When confirmed, he'll be the first South Asian circuit court judge in history.
---
Hindu BLESSINGS FOR GRADUATES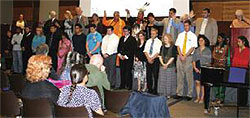 Religious leaders belonging to various religions and denominations blessing some of the graduating students at the "5th Annual Hindu Baccalaureate Service of UNR" on April 15, 2013
One of its kind in the world, the Hindu Baccalaureate Service (Dikshant Utsav) entered its 6th year on April 21 at the University of Nevada-Reno (UNR) in the USA. Organized by Universal Society of Hinduism in collaboration with UNR Diverse Organization of South Asians and UNR Interfaith Students Club, it will bless graduating class in the traditional Hindu style, complete with applying tilak (religious mark) on the foreheads of graduates. Besides keynote address by a distinguished Hindu monk from California, it will also include blessing prayers by Christian (various denominations), Muslim, Buddhist, Jewish, Baha'i and Native American religious leaders. Well known musician Jim Eaglesmith will chant a kirtan number in Sanskrit with audience following him in the chant. Renowned dancer L. Martina Young will deliver blessings through dance movement. Starting with 'Gayatri Mantra' (considered Hinduism's most sacred verse from oldest existing scripture Rig-Veda) recitation by Rajan Zed, President of Universal Society of Hinduism, and traditional lamp lighting before the image of Goddess Saraswati, patron of learning and the arts; it will include blessing of upcoming graduates with wisdom from Vedas, Upanishads and Bhagavad-Gita—all ancient Hindu scriptures. Sparks Mayor Geno Martini will be part of this blessing ceremony. Education in Hindu tradition has been deep rooted; Rajan Zed says and adds that after many important universities in ancient India, like Taxila, Nalanda, Sarnath, Amaravati, Banaras, Kanchi and Ujjain; great Indian universities also flourished in medieval period, like Odantapura (745 CE), Vikramasila (810 CE), Somapura (480 CE), Jagaddala (1090 CE).
---
SIKH CAUCAS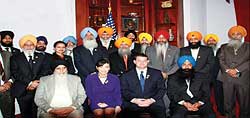 Jean-Mathieu Chabas (left) and Venkat Jonnala
In April, the Sikh Congressional Caucus was formed in the USA. The Sikhs started settling in India over 100 years ago. Thirty lawmakers signed up to be members of the Caucus at a Capitol Hill reception. Community members described the event as a milestone. The Sikh Caucus will join the Congressional Black Caucus and Congressional Hispanic Caucus organized along racial and ethnic lines. Democrat Judy Chu will co-chair the Caucus with Republican David
Valadao. The move to form the Sikh Caucus gathered momentum after a white supremacist and Army veteran Wade Michael Page killed six people and wounded four others in a shooting at a Sikh Temple in Oak Creek, Wisconsin, last August.
---
ZENKARS AWARDED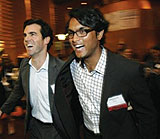 Jean-Mathieu Chabas (left) and Venkat Jonnala
Venkat Jonnala and Jean-Mathieu Chabas, founders of ZenKars, have won the 2013 Perlman Prize at the 2013 Wharton Business Plan Competition. ZenKars is an online model connecting used cars from corporate directly to consumers targeting a $600-billion market.
Awarded by the Wharton School of the University of Pennsylvania, the award also carries a cash prize of $30,000, according to a statement issued out of Philadelphia. "Their 'peaceful buying experience' for the buyer offers competitive prices, detailed vehicle information, convenience and warrantees," the statement said. Jonnala and Chabas, both second year MBA students, met via Facebook.
---
COMMUNITY HEROES FETED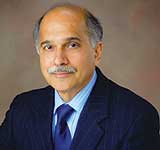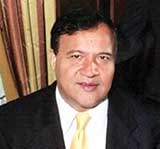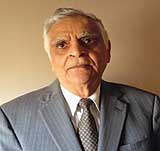 Professor Ramamurti Shankar Mr Rakesh Narang Mr Suresh Sharma
The Global Organization of People of Indian Origin (GOPIO)-Connecticut Chapter honors outstanding achievers of the Indian American community and those that provide service to the community and / or to India or the society at large. This year, GOPIO-CT has selected AmeriCares, the nonprofit global health and disaster relief organization that delivers medicines, medical supplies and aid to people in need around the world for the Service to India Award. In 2006, AmeriCares deepened its commitment to India by establishing a local presence in Mumbai. AmeriCares India responds to emergency medical needs and delivers medical aid to health care providers in 26 Indian states and union territories. The organization conducts on-site disaster preparedness workshops for emergency medical personnel and community-based health education programs for disease prevention. AmeriCares India continues to expand its reach with free mobile medical clinics that provide access to health care in the Mumbai slums.
Three Indian Americans are other award recipients. Dr. Ramamurti Shankar, John Randolph Huffman Professor of Physics and Professor of Applied Physics Yale University, New Haven will be recognized for his contribution to Basic Sciences. Professor Shankar has done some outstanding work in Quantum Physics and has written several books in physics and mathematics. Dr. Shankar joined Yale University in 1977 and has been a visiting professor at the Ecole Normale Superieure in Paris, and at Princeton, Berkeley and MIT. Professor Shankar works on the application of quantum field theory to particle, statistical and condensed matter physics in which he has over 100 publications. Mr. Rakesh Narang, President and Founder of Wire and Plastic Machinery Corporation, New Haven, CT will be recognized in Entrepreneurship and Business Acumen. His company is a leading global equipment supplier for the wire and cable industry. Mr Narang is a recipient of the Charles D. Scott Distinguished Career Award, which is awarded to individuals in the wire and cable field who have served the industry for a minimum of twenty-five years and have demonstrated outstanding professional acumen and personal attributes. Mr Narang is an active supporter of various Indian and other community organizations in the New York Tri-State area.
For Community Service, GOPIO-CT has selected Mr. Suresh Sharma, founder of Milan Cultural Association, Hartford, CT. Mr Sharma founded Milan to create visibility of Indian American community for mainstream America, with a passion for the first generation to leave behind for the younger generation a legacy not of diversified regionalism but of cultural heritage and unity in diversity, so that the younger generation feel proud to be Indians. Suresh also developed "P.G. BETTER LIVING," a free monthly e-magazine dedicated to synthesizing Eastern ethos, values and beliefs with the western lifestyle of adults, young and children as they seek to meet their personal, political, social, cultural, spiritual, health, financial and physical needs particularly their "pain points", to inculcate attitude of conscious, virtuous, peaceful and contended living.
---
PATH OF PEACE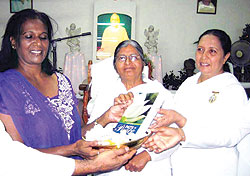 A long line of men and women dressed in white, the colour of purity for members of the Raja Yoga Centre in Trinidad waited for autographed copies of the book "PATH OF PEACE" after it was launched on Easter Sunday at the Brahma Kumaris Raja Yoga Centre, Pointe-a-Pierre Road, San Fernando.
The 225-page book written by Ariti Jankie traces the history of the Centre in Trinidad. Director of the Centre, Sister Hemlata Sanghi said that once she started reading the book she could not put it down. "It is well written, easy to read and flows smoothly. I thoroughly enjoyed it," she said. President of the Trinidad Chapter of the GOPIO Ena Maharaj said that the Path of Peace would light the way to lead our nation's children out of the darkness unto the light.