What is your take on the present political scenario in the country?
There is no strong leadership at the Centre. We desperately need mass leaders to run the country. If we have a weak government at the Centre, it is bound to have a negative impact on all the states.

Why Bihar has always been a talking point in Indian politics?
Bihar is a land of socialists. Here every citizen is aware of his or her rights. We are a politically conscious state. That's why we are worried about all the pressing issues concerning the entire nation. Also, Bihar has a strong political history. Mahatma Gandhi started freedom movement from Bihar itself. The Jai Prakash movement was also launched from Bihar in 1974. Even the Mandal Commission chairman, Mr B P Mandal, was from Bihar.


OVERSEAS AFFAIRS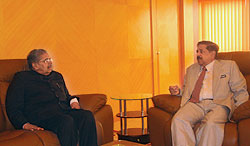 Mr Vayalar Ravi, Minister for Overseas Indian Affairs, held a meeting in Kuala Lumpur with Dato' Seri G.Palanivel, President, MIC and Minister in PM's Department, Malaysia, incharge of welfare of Indian community in Malaysia
---
FROM GOA WITH LOVE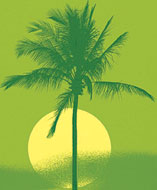 A sizeable population from Russia was present in Goa during the Presidential elections in Russia. The estimated visitors were about 5,000—during the entire tourist season, anywhere between 60,000 to 70,000 Russians are in this south-western Indian state.
As an advocate for the Russian consulate in Mumbai, Mr Vikram Verma decided to breathe new life into the Russian population. He suggested to the Consul that a voting centre be set up in Goa to facilitate postal ballots by the Russians in Goa. The Russian citizens had to give an undertaking that they would not be voting in Russia. "This was a historical first," says Mr Verma. Two Russian diplomats were flown down to assist in the election process.
Mr Verma feels that since India has a strong, wealthy and influential NRI community with an intellectual capital base, it should similarly be allowed to send in postal ballots. It would keep them better involved with India and its democratic processes.
Mr Nitish Kumar's roadmap has given Bihar a different identity. Your take…
Lack of leadership in the past had earned Bihar a bad name. Be it law and order problem, or fodder scam, Bihar was always hogged the limelight for wrong reasons. But Mr Nitish Kumar changed the profile of Bihar. He brought several schemes for the welfare of the poor. He was the first CM who reserved 50 per cent of seats for women in Panchayats. He gave reservations to women, OBCs, SCs, STs, backward castes and other socially and economically deprived sections of the society. He focused not only on constructive development but also human development. That's why his main focus has always been on promoting education and health sectors.

How can NRIs help Bihar become the most favourable destination for investments ?
The NRIs can help the state in various social sectors. They can set up schools, colleges, technical institutions, teaching institutes, healthcare centres and specialized hospitals. They can also contribute in a big way in the agriculture sector. By setting up agriculture-based units, they can help the farmers of the state immensely.

British High Commissioner Sir Richard Stagg has said that Bihar will have to shrug off its corruption tag if it wants large investments to flow in. Your take…
Our Government was the first one to bring in strong anti-corruption laws. If any officer has amassed wealth through corrupt means, we confiscate his property. Recently properties of several corrupt officers were sealed. Not only this. The Government also legislated the Right to Service Law. Today, one can get services like birth certificate, water and electricity connection, ration card etc. within a fixed time limit. If one is not provided any of these services, the officer concerned has to explain in writing. And strict action is immediately taken against the negligent officers.

The general law and order situation has improved in Bihar. But the state ranks second in dowry deaths and third in murder of children. Why?
The dowry deaths are because of the social problems. We have already started awareness programmes whereby we educate people to treat women with respect and dignity. Also, strict action is taken against those who indulge in cruelty against women. As far as murders of children are concerned, such incidents have been on rise all across the country. But we are seriously looking into this.

Back to foreign investments. Do you think the Government has done enough to attract foreign investments?
Today, Bihar has become a role model for other states to follow. We recently organized a two-day global summit to showcase our strengths to the NRIs. And we have got a very positive response from foreign investors. But it is the Centre which has not been cooperating with us. Had Centre been supporting us, things would have been much different.

Now, on political front. About 58 per cent of Bihar's population is below the age of 25. What is your party doing to involve this youth power in shaping the political climate of the state?
Our leader Mr Nitish Kumar himself is a product of the Youth Movement of the J.P. Andolan. That's why we gave a large number of tickets to the youth in both Assembly and Lok Sabha polls.