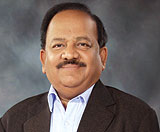 Dr Harsh Vardhan, MLA, Doctor, Politician, Former Health Minister, Delhi
"NRIs need a favourable political climate to invest"
Dr Harsh Vardhan, MLA and former health, education and law minister in the Delhi Government, is a presently a national executive member of the Bharatiya Janata Party (BJP). He is also former President of the Delhi Pradesh BJP. An ENT surgeon by profession, he's also the man who pioneered and fathered the pulse polio programme in India. He went on to author a book titled "A Tale of Two Drops''—an interesting and inspiring story of a trendsetting campaign for polio eradication in Delhi which became a model for the rest of the country. Talking to INDIA EMPIRE's Sanjay Kaw, Dr Harsh Vardhan said visualizing a polio-free India was not an easy task, that too in an era when there were hardly any mobile phones or internet services. The only thing which kept him going was his unconditional commitment to free India from the polio endemic. During the conversation, Dr Harsh Vardhan not only threw light on the pulse polio programme, but also on the prevailing political climate in the country and the way NRIs could be engaged in various social-sector schemes.
What inspired you to launch the pulse polio programme?
Before becoming a minister in 1993, I was elected as the president of the Delhi Medical Association. At that time, the trans-Yamuna area had the maximum number of polio cases in the world. So, I thought I should first start the programme in trans-Yamuna itself. Soon after I became a Minister and was invited to a conference at the Maulana Azad Medical College. It was here I came to know that there was a WHO strategy for eradication of polio. But nothing was being done to make use of this strategy. Back home, I could not sleep all through the night. Next day, I contacted the WHO. I made an in-depth study on polio. I was shocked to know that of the 3.5 lakh polio cases in the world, about 2 lakh cases were in India itself. That was the day I realized that if a country could provide a ballot paper to each and every voter on a single day, why was it not possible to provide two polio drops to every child in a single day in the entire nation.

When and how was the programme finally launched ?
After reaching out to almost each and every organization for a period of about 9 months, the programme was finally launched in Delhi on October 2, 1994. About 52,000 policemen, 90,000 school teachers, about 15 lakh students, 400 NGOs and a large number of Anganwadi workers were involved in the programme. We had set up about 4,000 centres all across the city. Each centre was manned by four persons.

How did you manage the funds ?
There were no funds as it was not a planned programme / scheme. Several bodies, including hospitals, generated a fund of about Rs 1 crore. There were individuals also who helped us. The Zee Group gave us advertisements worth about Rs 65 crore over the years.

When did other states launch this programme?
There is a long history behind this. On the advice of former deputy prime minister, Mr L K Advani, we decided to launch the programme in four other BJP-run states as the then Prime Minister, Mr P V Narasimha Rao didn't give me an appointment for over a year. But the then President, Dr Shankar Dayal Sharma, was very helpful. It was because of him that the then Union health minister, Mr A R Antulay called an all-India meeting of health ministers. I was given enough time to explain to the other ministers how the programme was launched in Delhi. It was at this meeting that the Government decided to launch a national pulse polio programme.

In your book titled "A Tale of Two Drops'' some veteran leaders have praised you a lot...
Yes. Former Prime Minister, Mr Atal Behari Vajpayee, described me as "Swasthyavardhan'' or the one who improves the health of the society. Leader of the Opposition in the Lok Sabha Ms Sushma Swaraj wrote: "Many mocked his ambition, while others criticized him for embarking upon a programme which the system was ill-equipped to carry out. The logistics involved in carrying out his mission were awesome." Also, Advani ji was all praise for me.

You have been national executive member of the BJP for about a decade and a half. What is your take on the prevailing political scenario in the country…
There is a lot of frustration in politics. We need more political and social movements. Our politicians should be involved in each and every activity which is good for the society. It is very important that they are more focused in achieving their objective.

How do you think NRIs can contribute towards the welfare schemes?
As an advisor to the WHO, I got a chance to visit at least two dozen countries. Everywhere I found that the NRIs want to contribute in one way or the other to this country. But the successive Governments haven't done enough to encourage NRIs to invest in the social sector. The NRIs are not short of dollars, but there has to be a political climate in their favour.