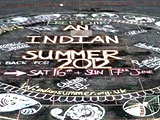 Two-Day Cultural Fest for NRIs
A Mini-India was created in the central area of Leicester when the competition of making the fastest, roundest and tastiest roti took place on 16th of June. The fest also included 'tabla' workshop and a carom tournament and the presence of auto rickshaw gave it a complete Indian look.
Thousands of Britons of Indian-origin and others participated in the two-day festival called 'An Indian Summer' (AIS) in the city's Cultural Quarter. The first such AIS festival was held last year, with organizers enlarging the scope of the event this year.
Located in the east Midlands, Leicester has a large minority of Indian-origin. Many members of the British Indian community arrived in the town in the early 1970s from Uganda, and have since rejuvenated the region's economic, social and cultural life.
The winner of the 'roti' roll-off competition is set to win the 'Roti Raja' award. According to the organizers, the aim of the event is to "break down the myths surrounding India and celebrate both the country and its people".
It does this "through an enthralling mixture of food, music, dance, literature, talks, exhibitions and games".
Peter Soulsby, leader of the Leicester City Council, was seen driving off in the passenger seat in an auto rickshaw, while large numbers attended Indian dance and music performances, exhibitions, and henna and 'champi' (head massage) sessions.
Organizer Bipin Anand said: "If anyone has been to a Mumbai bazaar they will know it is all about the hustle and bustle, with so many sounds and smells. This year is a big expansion. It is a great chance for a big mishmash of people - all ages and Indian and non-Indian people - to come along and sample the culture". The event attracted sponsors that included the Leicester City Council, BBC Radio Leicester, Arts Council England and the University of Leicester.
---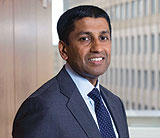 Indian-American nominated to serve US Court
US President Barack Obama has nominated an Indian-American legal luminary Srikanth 'Sri' Srinivasan to the Federal Court of Appeals. This judiciary position is the highest ever judicial appointment of an Indian-American in the US and a powerful reminder of the extraordinary strides the community has made while deeply integrating into American society. Born in Chandigarh and brought up in Kansas, Srinivasan, 45, is the Principal Deputy Solicitor General of the US. The nomination, which will have to be confirmed by the US Senate, puts an Indian-American in one of the most powerful positions in the American judicial system, since the US Court of Appeals sets legal precedent in regions that cover millions of people. Earlier Neal Kumar Katyal created history in becoming the first South Asian to be ever nominated to the circuit court and if confirmed, he will be just the third South Asian named to any federal judgeship.
Along with Srinivasan, the president also nominated Caitlin Halligan, to also serve on the same court.
"Caitlin Halligan and Sri Srinivasan are dedicated public servants who will bring their tremendous experience, intellect, and integrity to the US Court of Appeals for the District of Columbia Circuit," Obama said. "This important court is often called the nation's second highest court, and it stands more than a quarter vacant. Mr Srinivasan will be a trailblazer and, like Ms Halligan, will serve the court with distinction and excellence."
A White House statement said Srinivasan is a highly-respected appellate advocate who has spent a distinguished career litigating before the US Supreme Court and the US Courts of Appeals, both on behalf of the US and in private practice.
---

Shriti Vadera draws interest
The name Shriti Vadera is not well known outside Westminster. But mention it to many a civil servant in Whitehall and conversations stop dead. The Indian-origin economist, who worked closely with former Prime Minister Gordon Brown, has come under focus in the latest scandal that has hit British banks on 3rd July, forcing the top leadership of Barclays to resign for rigging interest rates.
Barclays Chief Executive Bob Diamond quits his job on Tuesday, the biggest scalp in a financial markets scandal that has also seen the chairman announce his intention to resign and sown the seeds for another investigation into Britain's banking sector.
Jerry del Missier, appointed only last month as chief operating officer at the bank, resigned hours after Diamond left. The resignations, which took effect immediately, come a day after Chairman Marcus Agius fell on his sword, too. However, Agius will leave the company only after a new chairman is found and will lead the search for a new chief executive. He will take on Diamond's responsibilities until a new CEO is appointed.
---

CID officer under lens for 'raping' NRI woman in custody
An NRI woman, who was arrested in a multi-crore land fraud case by the state CID, filed a police complaint on 14th July, alleging that she was raped in custody for five days by a CID police inspector and four others.
The complainant, a resident of Edison in US and native of Vadodara, also named a senior cop and an owner of a local daily in her complaint, stating that the duo instructed the police to sexually assault her.
The woman was arrested by the CID on May 23 along with four others from Vadodara for her alleged involvement in a fraud of Rs 150 crore. Her father, a builder in Vadodara, was also accused. Smita (name changed) filed a civil lawsuit in the matter and went on to fight the case till Supreme Court. The court ordered Rajkot trial court to dispose off the case in four months on January 23. In May, the verdict came in favour of her. As per her complaint, the trouble started after that as the duo tried to threaten her and her family members with death threats and even took her to meet influential persons in Ahmedabad. When nothing worked, the duo got a power of attorney holder Divyang Jha to file a case against her of cheating.
"A complaint has been received at Meghaninagar police station, in which an NRI woman has made serious allegations against CID officials. It is a sensitive case, and has been handed over to Women Cell headed by DCP (Zone V)," said DCP Neeraj Badgujar. "Investigation will be carried out under the supervision of DCP Parikshita Rathore," he said.
Talking to reporters outside the police station, the complainant woman said, "I was tormented by the police officials, abused, and physically mishandled."
The CID officials claim that the woman had earlier also alleged that another senior IPS officer had misbehaved with her. The woman received bail on July 12 and claimed that she suffered from mental shock and depression. "Surprisingly, she did not complain of anything of this kind during her medical examination at Sabarmati jail, or during the remand period," Rathore said.
She was sent to Sabarmati central jail after police custody. After consultation with her lawyer, she informed US consulate in Mumbai on June 20. She got bail on July 11 and went to Vadodara before coming back to the city and giving application. The senior city police officials transferred the probe to women police station and appointed Rathod as supervising officer.
---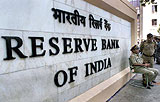 No additional rate to NRI staff members: RBI
The Reserve Bank of India has asked banks and financial institutions to follow the "guidelines in letter and spirit" for providing one per cent additional interest rate to its non-resident existing or retired staff members.
"On a review, it has now been decided that banks should not allow the benefit of additional interest rate on any type of deposits of non-residents," RBI said in a notification.
RBI may include raising the interest for NRI deposits, cutting down wasteful expenditures and unveiling a bond issue for overseas investors to improve capital inflows in the wake of the rout in rupee. The discretion given to banks to allow the benefit of additional interest rate of one per cent per annum as available to bank's own staff on deposits under foreign currency non-resident (FCNR) accounts stands withdrawn," it said. The central bank has also withdrawn similar discretion given to banks with regard to non-resident ordinary (NRO) and non-resident external (NRE) accounts.
"Accordingly, the discretion given to banks to allow the benefit of additional interest rate of one per cent per annum as available to bank's own staff on deposits under NRE/NRO accounts stands withdrawn," RBI said in a separate notification. Market analysts expect RBI to announce an increase in interest rates for deposits of Non-Resident Indians. They also expect government to announce a bond issue to attract inflows.
---

Stalwart NRI Businessman in UK road mishap
An 85-year-old Indian origin businessman described as a 'stalwart' for his work since arriving in the UK in the early 1970s from Uganda, died in a road accident in Leicester.
Kantilal Shah died on 11th July 2012 when he was hit by a lorry and a car as he crossed a road in the Belgrave area in the east Midlands town of Leicester, called 'Little India'. The accident happened near the shop he opened in the early 1970s, reports from Leicester said.
Shah, who set up his chartered accountancy company SPK Shah in the early 1970s, was described as one of the first of the Ugandan Asian businessmen to make his mark in the town, the Leicester Mercury, a leading local daily, reported.
Paying tributes to Shah, Uday Dholakia, chairman of Leicester Asian Business Association, said "Kantilal Shah was an outstanding man and one of the stalwarts of the Asian business community.His accountancy firm gave sterling service to many of the businesses in this area. He will be sadly missed."
Dharmesh Lakhani, owner of Bobby's restaurant and chairman of the Belgrave Business Association, said "People are in shock Shah was a much respected man. Any death is tragic but this is so sudden."
Two of the area's politicians, city councillors Rashmikant Joshi and Manjula Sood, added their tributes, the daily reported.
Joshi said "Shah was one of the people who made the Golden Mile what it is today by setting up his business there back in the 1970s.
---

NRI facilitates computer lessons for Vidarbha farmers
Moved by the plight of farm widows and their children in Vidarbha, Oman-based technocrat Krishnakumar Taori started a computer training centre at village Ghuikhed in July. The distressed persons would be taught free strategies for coping with the agrarian crisis.
Over 120 farmers, farmers' widows and youth have enrolled for a free computer training centre set up in a Maharashtra village.
Krishnakumar Taori, the group managing director of a construction company in Oman, is a native of the Ghuikhed village on the Yavatmal-Amravati border in the farmers' suicide-hit Vidarbha region.
"With more than 120 registrations, including farmers, widows and youth, they will be provided basic to advanced computer courses absolutely free of cost here," said Sanjay S. Dhotre, a BJP MP from Akola, at the centre's inauguration. Taori was also present at the function.
Dhotre admitted that though MPs received funds for development works in their constituency, "such an idea to set up a computer centre did not strike me." With 10 computers and an internet connection, this is the first such training centre in the region containing nearly 100 villages. The courses will be taught in three shifts daily.
In April, Taori, who was born to a cotton farmer in Ghuikhed, decided to set up the centre after a visit to Pandharkavada village to distribute saris and blankets to 200 women, whose husbands had committed suicide due to debt, said an activist. Vidarbha Jan Andolan Samiti chief Kishore Tiwari who helped in Taori's efforts said, "At that time, he (Taori) had expressed a desire to set up computer training centre and industrial training institutes. Land acquisition for the institutes has been done".
He said that for the last five years, Taori, the group managing director of Hasan Juma Backer Trading and Contracting Co. LLC, has been engaged in providing free education to tribal children of the backward Melghat region in Amravati district.
---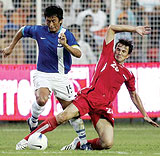 Goan Expats want State to kick in Mini NRI Football World Cup
In a country where cricket is so ingrained in the social fabric that it dwarfs every other sport, Goan expats are rooting for the state to host a mini non-resident Indian (NRI) football 'World Cup'.
The idea, which was first mooted in 2001 is now slowly finding supporters, especially amongst the Goan community settled in the Gulf, which is aggressively backing the concept.
"Football holds great interest among expatriates in Kuwait. Qatar, Dubai and Bahrain and they also conduct proper league tournaments. Not too sure about the rest of the world, but for sure teams will participate as players who are taking their vacation during that time of the year will represent their countries," said Julio Cardozo, a Goan settled in Kuwait who is the chief promoter of the concept.
When Bruno Coutinho, a former captain of the Indian football team, Arjuna Award winner, visited Kuwait last month, Cardazo, along with several other friends bounced the idea of Goa hosting a regular football World Cup for NRIs. Hailing from the famous beach side village of Calangute in Goa, Bruno Coutinho who currently holds the position of Jt. Director of the Sports Authority of Goa (SAG) is a true soccer icon and a source of inspiration to all Indians and Goans in particular.
"Actually, a few years back, 2001 to be precise, a mini World Cup was organized in Goa and it was initiated by a friend from Goa. Team s from Kuwait, Qatar, Dubai, Britain and Bahrain and a veteran's team representing India participated. It was a moderate success," Cardozo said, explaining how the concept was birthed.
"The concept would be to have NRI teams participating from the USA, Canada, Britain, Kuwait, Oman, Qatar, Bahrain, Dubai, among others, in a league-cum-knock-out tournament in December-end or January-beginning. Invitations would have to be sent to the prominent associations representing Goans in these countries. SAG would have to support in terms of grounds and referees. Some funds from the Government would also help," Cardozo said.
Paraguayan footballer, Cardozo, feels confident that if the rules and regulations are clear and the invitations go out from the Goa government, the tournament can be a huge success. "Important matters, like who is an NRI, would have to be considered, as I remember the last time there was some cheating with teams fielding players based in Goa who originally worked in the Gulf," he further said.
Whether kicking a ball into a net is a superior sport to bowling it and/or whacking it with a cricket bat is a question that is difficult to answer in Goa, which has had several teams like the Dempo Sports Club, Salgaocar Sports Club and Churchill Brothers top the national football league championships. Chief Minister Manohar Parrikar has recently declared football a state sport.