SONEPAT THE NEXT GURGAON IN MAKING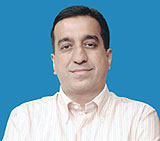 Pranav Ansal, Vice Chairman & MD Ansal API
Sonepat, situated on the proposed KMP (Kundli-Manesar-Palwal) expressway, is just 45 Kms from Central Delhi and is so strategically located that it has the potential to become another Gurgaon.

Sonepat is a hotspot and a spurring destination which is about to bustle with mega developments soon. The general economic development and prosperity in the city is evident from the tremendous change in its landscape by way of upcoming luxury villas and bungalows, modern apartments, commercial complexes and business centers. Sensing the imminent need for providing housing to the already exploding adjoining areas of north Delhi like Rohini, many real estate companies are lining up mega townships and malls in this region. We at Ansal API had foreseen this trend coming and hence forayed into this region as early as year 2003-04(please see the details of our projects in sonipat in the annexure).Kundli is the heart of Sonepat and as per the plan for the NCR; it has been earmarked as a priority town for Delhi Metropolitan Area (DMA).

With so many townships planned in the region the government needs to address the issue of public transportation by providing better means of road transport. In addition, the possibility of extension of already operating Delhi Metro needs to be evaluated. Alternate roads for inter and intra connectivity of the region needs to be looked into on urgent basis. The pace for ongoing work on KMP Express Way needs to be accelerated. Improved connectivity will bring in the economic drivers and industries resulting in the self sustained model of 'earn and live' in the area. Case in point being phenomenal growth of both gurgaon and noida in the last 5-7 years.

Sonepat can also soon become another 'Educational Hub' with the planning of the prestigious Rajiv Gandhi Education City. However, completion of the project needs a sincere push by the State Government. Another option which can be looked into is to invite private public partnership (based on the PPP Model), to boost and encourage the concept of 'Educational Hub'.

With IT Parks/projects in advanced stages of development in the region, the Sonipat-Kundli region will open a new world of opportunities. The Govt. must welcome the IT bigwigs by offering lucrative incentives to the BPO/IT industry. The region can give Gurgaon a tough competition in terms of offering employment opportunities.

Govt of Haryana needs to be complimented for fast tracking the various schemes and initiatives it has ventured into.

To cater to the growing demand for houses, we at Ansal API have launched number of initiatives.

Ansal API's – Sushant City, Kundli is a World Class Township spread over an area of 250 acres (approx) and is a mini city in itself. It would house office/ commercial centres, banks and post office, telephone exchange, electricity distribution system, power back, fiber optic network and e- connectivity, rain water harvesting, medical infrastructure, club, shopping complex, multiplex, food courts, health clubs, branded retail chain stores and other world class amenities.

In addition the Green Escape is another project of Ansal API that is created with a vision of an awe-inspiring city-within city that will delight its residents with its cosmopolitan amenities. Green Escape is spread on an area of over 30 acres.

Ansal API is also coming up with the concept of Commercial-Cum-Office space in Kundli region. Roman Court is an office address that would well be pride of any business card. Ansal Highway Plaza is the retail space offered by our group heralding the retail revolution in kundli. Star attraction of the mall is its Revolving restaurant & a Hotel built par excellence.