Earth Infrastructure Ltd.
Powering a Greener future
Since its inception in 2010, Earth Infrastructure Ltd has pioneered innovative green projects. The company promises to unveil innovative energy efficient and eco-friendly buildings with a diversified product mix writes Yogesh Sood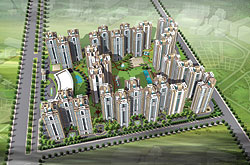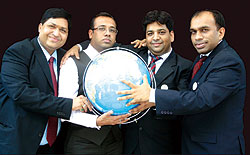 Earth Infrastructure is one of the fastest growing companies in Real Estate Industry and is poised to tap the hidden opportunities in this rapidly growing market in India. Known for its innovative and green projects to serve planet Earth with energy efficient and eco friendly developments, Earth Infra is the first developer to have initiated the green building technology in Northern India and offers the most innovative and diversified product mix, comprising residential, commercial, IT Parks, retail and soon they are going to step in hospitality sector too. All the projects of Earth Infra will be green and LEED Certified. Earth Infrastructure has long partnered with internationally acclaimed architects and design consultants including Eigen, UK and Cervera & Pioz from Spain. It is an eminent developer with vast customer base.

Directors at Earth Infrastructures Ltd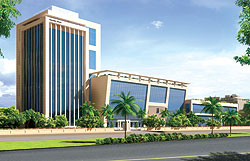 Mr. Avdhesh Goel (FCA, AICWA, ACS).
An aware learner. Mr. Avdhesh Goel has worked tirelessly to put Earth Infrastructure Ltd. on the map of Indian Realty Sector, turning opportunities into success. His outlook has helped him in shouldering many additional responsibilities alongside his professional calling. He has brought radical changes in business strategies professionalized the entire group and as redefined the internal system and has been instrumental in acquiring many proprieties in the National Capital region. He has also been involved in may care partnership with prestigious and leading infrastructure companies. AC takes pride in deeds well done and in the zest of creating new goals. He is also a Certified Manager professional for IIFT. His vision is to make Earth Infrastructures Ltd. A global organization, whose very name spells trust and commitment.

Mr. Atul Gupta (Director) born with a hunger to excel. Mr Atul Gupta is a symbol of driver and performance. An expert in numerous management methods, he influence that internal and external dynamics of the organization synergizing them with success. Principled, yet open to fresh thought and ideas, he has always used emerging practices and business models for rapid growth. He is also the founder of Uttkarsh, an NGO that works for the aged and the special abled.

Mr. Vikas Gupta (Director)
A reputed marketing specialist. Mr. Vikas Gupta has fulfilled the expectations of the customers and has also managed to build a unique corporate identity for the organization. An innovator he implements his vision with sheer perseverance and hard work established player in the reality industry, he is known for giving value for money to the customers. He zeal and enthusiasm has earned him the image of a youth icon and team player. Mr Gupta has also made various understanding contributions to many American and European counterparts. An entrepreneur and planner has created multiple choices for the customers, in the realty sector and institutional segment, reaching the pinnacle of success by sheer hard work vision and determined spirit.

Mr. Rajnish Mittal (Director) being an expert in impression Management he has worked wonders for the companyís public image. Mr. Mittalís pioneering strides towards relationship endeavors, such as corporate assets and legitimizing long term competitive advantages, has helped in getting the company maximal social recognition.

Philosophy
Innovation beyond Imagination, We believe in making the finest elements of urban living through our magnificent experience in real estate business for over a decade period with a commitment of high-quality construction.

Vision & Mission

Vision: To be the most innovative and trusted brand in real estate industry by adopting new technologies with a focus on green and eco-friendly construction to fulfill the expectations of the customers.

Mission: To ensure complaint free operations with total customer satisfaction by resolving customerís issues with utmost attention and speedy services round the clock. Earth would be effortful and creative to identify and deliver something new, matching the state of art up gradation in the Realty sector, all around the globe.

Strengths
Focused portfolio with high visibility of cash flows. We have a well defined, strategically focused portfolio and high visibility of cash flows from our ongoing projects. We also have a successful track record of optimizing cash flows. We are proud to say that we are a 0 debt company.

Response & Adaptability
A key strength is our efficient use of capital and ability to respond to changing regulatory and economic environment with imagination and speed. This strength, the experience of our management team and its understanding of the NCR real estate market helped us achieve business momentum.

Experienced leadership and management team

Our Directors has more than 15 years of experience in the real estate development Business. Its vision and leadership have been responsible for the direction and growth of our business. Other members of our senior management team have extensive experience in various aspects of the real estate development industry and/or their respective functions. We believe that the experience of our management team and its understanding of the real estate market in India have enabled us to grow and scale up our operations even though we only started operations in 2010.

Projects at Earth Infrastructure Ltd.

Earth Towne: Earth Towne was the first project launched in 2010 by the company. Earth Towne is the residential project located at Plot No4, Sector 1, Greater Noida. It has been fully sold out and has the investor of about 1800 investors. The project offers 1,2,3 and 4 BHK Apartments. The project is going to be LEED certified and would be green and energy efficient residential project. Earth Towne features a wide spread of 19 acres lush green landscapes, full of water bodies, dry balcony, lily ponds. 70% percent of the total area will be green. It will be featured with all the basic luxury amenities for a complete living like gymnasium, swimming pool, outdoor games, shopping area, nursing home and club house.

Earth Sapphire Court: Earth Sapphire Court is an ready to use plug n play office concept located at Knowledge Park V, Greater Noida. It offers the fully furnished office spaces of unit size 290, 450 and 750 sqft area. It is going to be a sustainable Building which will be energy efficient and eco-friendly in nature. Owning your office space at Earth Sapphire Court will save you from the hassels, investment and effort you have to put to set and operate an office. It will be furnished with all necessary items which you require to start your working, from furniture to electronic items and interior. It sample office is located at Elegnace Tower, Jasola, New Delhi. Own a space here for your dream office. The area for the project is about 5 acres.

Earth Copia: Earth Copia is a residential project located at Dwarka Expressway at Sector -112, Gurgaon. The project offers the 3 and 4 bhk apartments. Earth Copiaís each apartment is tastefully carved out to create adequate living space for the whole family as well as a corner for an individual pursuit. Earth Copia is a prestigious residential project in capitalís neighborhood with 70% greenery to maintain harmony with nature. It is equipped with all modern facilities like gymnasium, club house, jogging track, shopping area and many more world class feature for a comfortable living. The total project area is about 16.5 acres land.

Earth Techone: After the rocking success of Earth Sapphire Court, Earth Infrastructures has launched Earth Techone, located at Plot No. 1, Techzone, Greater Noida on Yamuna Expressway. It offers Studio apartments, furnished and unfurnished office space and retail space. It is a three in one concept. As located at Techzone on Yamuna Expressway , it is going to witness a very high speed growth in near future as here your business will enjoy enviable benefits of being surrounded by world class universities Like Gautam Bussha University, various IT Campuses, as well as important destinations like Knight Safari, Gautam Racing Circuit, Amusement Park and Jewar Airport. This project is being developed on the land of about 15 acres.

Earth Studios: Earth Studios is an ideal destination for the oneís private space. It offers you with an ultra modern fully furnished apartment for your comfortable and private living. It is well connected and brilliantly located at Yamuna Expressway at Earth Tech one where the same would get advantage of being surrounded by important destinations of Greater Noida like Gautam Buddha University, Knight Safari, F-1 Buddha Race Circuit, Amusement Park and Jewar Airport. Your investment here will fetch you great returns.

Earth Express One: Earth Express One is strategically located at Techzone, the most futuristic business corridor of national capital region. Here your business will enjoy strategic location in terms of connectivity with unmatched accessibility, convenience and proximity to important destinations like Gautam Buddha University, Knight Safari, F-1 Buddha Race Circuit, Amusement Park and Jewar Airport. It introduces you to shape your dream shop in to the realty. This commercial plaza os very much part of ambitious business park, Earth Techone. The upper ground floor of Earth Express One offers an open and vibrant retail arena with well organized blocks connected with wide corridors. In addition to the convenience of ample space and basement parking for cars, it offers a food court, cafes, Mutiplex and fun zone.