Amrapali Group
Building Better India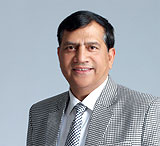 Anil Sharma, CMD, Amrapali Group
Amrapali Group has dominated the real estate sector for over a decade since its inception. Under the dynamic leadership of its CMD, Dr. Anil Kumar Sharma, who is himself an accomplished Civil Engineer from IIT Kharagpur and Vice President of Confederation of Real Estate Developer's Association of India (CREDAI), Delhi-NCR, the Group has succeeded to carve its value-based vision on the stone of realty. Having built marvels in residential, commercial, IT parks and nearly every challenging infrastructure space that requires world-class attention, it has expanded into several states of the country. This pan-India presence is reflected in Group's more than 44 highly rated projects in nearly 21 Indian cities. World Cup cricket team's captain M.S. Dhoni is the Brand Ambassador of prestigious real estate Amrapali Group. Still the kind of presence and hold that this Group enjoys on the skyline of Delhi and Noida, in particular, is startling. Without compromising with the affordability factor, the group is known to use the best construction materials and is famed for delivering projects on time. The top-class team of professionals, and access to modern technology, give a great advantage to the group known for valuing customer satisfaction as supreme turnover. Lucknow, Bareilly, Vrindavan, Muzaffarpur , Purnia , Jaipur , Jodhpur, Udaipur, Kochi, Indore and Bhilai besides Delhi and National Capital Region (NCR) are the cities where Amrapali Group has a strong presence. Dream Valley, Leisure Valley, Centurain Park, Leisure Park, Golf Home, Princley Estate, Silicon City, Platinum, and Zodiac are some of the projects of Amrapali that are coming up in NCR region throwing up an sterling opportunity to own a dream home at Amrapali's. The Group is today a vibrant conglomerate having expanded vertically and horizontally into new areas such as Film Production, processed food products, hotels and hospitals. The real estate major has entered into a strategic collaboration with the globally acclaimed brand in the hospitality sphere – Inter Continental Hotels Group for setting up six world-class Holiday Inn Express Hotels in India. These top class inns are slated for the cities of Noida , Jaipur, Kochi ,Udaipur , Indore and Patna. Beautifully incorporating ethnic and modern touch, these inns are poised to be a trendsetter in the hospitality domain. Responding to its own social outlook, the group has entered into the field of education and runs an Engineering college and a management institute, and plans to open more world class education centres in the country in near future.

About Project

Every person dreams to own a luxurious and modernized apartment to experience sensory lifestyle dotted with a contemporary expression of evergreen landscaped beauty. Amrapali Group has come forward to make this dream come true. The group brings to you Amrapali Hanging Garden Noida, spacious and magnificent 2/3/4 bedroom apartments in Sector 107, Noida which bestow you a rare experience of peaceful and modern living. Amrapali Hanging Gardens, a unique master plan which have well-ventilated rooms, spacious bathroom equipped with superior quality fittings, modular kitchen.

The project "Amrapali Hanging Garden Noida" emerged as lavished living apartments which come with outstanding architecture, modular interiors, composed and secure residential surrounding in the heart of Noida city, sector 107. Interiors of these premium apartments are designed keeping in mind optimum daylight provision, utmost security and safety provisions and best living infrastructure.

Indulge and delight yourself in the natural green landscaped with refreshing fragrance of exotic flowers. The project is beautifully characterized by the greenery which enhances the beauty of smartly designed Amrapali Hanging Garden Noida.