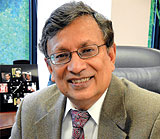 Harsh Bhargava loves creating jobs. In fact, it became such a passion that in 2000 he set up a company called I Create to further his cause. Not many people with his kind of background would have ventured where he went. An MBA from Harvard Business School, Mr Bhargava is the President of Bankworld Inc (www.bankworldinc.com), a top Metro Washington DC-based international management consulting company, which is leading economic development projects in several emerging market countries throughout the world. Bankworld has done work in over 70 countries, including India.

I Create which is Mr Bhargava's joint venture with Dr Aruna Bhargava, has its Global Headquarters in Washington DC, USA.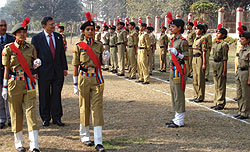 How I Create came into being is an interesting story, tinged with tragedy.
In 1999, Mr Bhargava was visiting India from the US. The Kargil war was going on, and the army had advertised for 120 positions. Over one hundred thousand young men showed up for the jobs. A riot broke out, the police opened fire and three young men died — three young men who had come looking for jobs to support their families. The idea of I Create was born in his mind.
The Bhargavas had lived in the US for over 30 years. Their children were grown up. They decided to start an organisation that would help create jobs and job creators or entrepreneurs through entrepreneurship training. I Create's first operational centre was set up in Kolkata in 2000 in a programme partnership with New York-based Network for Teaching Entrepreneurship (NFTE).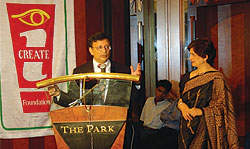 "My best wishes to I Create for success in the mission of creating millions of job creators in our country during the next decade"—thus reads a message from Dr APJ Abdul Kalam, former President of India.
The Bhargavas quote Mohandas Gandhi who said if you have a good cause, people pop up from the pavement to join you. How true. Over the past 12 years, in addition to various highly accomplished and very successful individuals such as Dr Purnendu Chatterjee, Desh Deshpande, Vishwa Prakash, Siraj Bora, Kirit Desai, Deepak Mayani and Anuja Khemka, who have sponsored I Create programmes in different parts of the country, various corporations/foundations have lent their support to I Create. These include Motorola, Merrill Lynch, AT&T, Hans Foundation, Tata Trusts, Sehgal Foundation, Air India, Bankworld and Bank of America.
Over the past 12 years, I Create has trained 35,000 youth and women from disadvantaged communities in entrepreneurship and trained over 1000 trainers throughout India. This has led to the creation of close to 1400 entrepreneurs throughout India.
Create has been recognized as a leader in grassroots entrepreneurship. Its work has earned the following awards:
US Indian American Chamber of Commerce Award for Best Social Entrepreneurship 2007
Merrill Lynch Award for Propagating Financial and Entrepreneurial Education among Youth in India 2005
Network For Teaching Entrepreneurship (NFTE) New York Best International Partner Award 2007.
None of this would have been possible without the background, experience and qualifications Mr Bhargava gained over the past decades. As the head of international divisions of a US corporation, Mr Bhargava set up businesses in over 60 countries around the world in the 1990s. He is the winner of the US President's "E" Award for Excellence in International Business.

Bankworld is a prominent consulting firm engaged in financial sector strengthening and modernization, private sector development and public sector reform throughout the world. It has provided technical assistance and training to dozens of central banks, commercial banks, non-bank financial institutions, and other financial sector regulators in all functional areas. Selected areas include policy, legal and regulatory reform, institutional establishment, strengthening and modernisation of all financial sector institutions, on and off-site supervision, restructuring, anti-money laundering, IT/MIS for automation of reporting and workflow; MSME access to finance, product development and marketing for the growth of financial services to MSMEs.

Bankworld has implemented small to multi-year, multi-million dollar projects in over 70 countries in Africa, Asia, Eastern and Central Europe, nearly the entire former Soviet Union, the Middle East, Latin America and the Caribbean on behalf of USAID, the World Bank, IFC, Asian Development Bank, FIRST Initiative, and through direct engagement with private institutions and governments.

Before going to the US, Mr Bhargava worked with Tata Motors in India, as an Administrative Officer. He is the past president of Rotary International, New Jersey, and has been written for in many newspapers and magazines such as The New York Times, SPAN etc.

Mr Bhargava has vast management and training experience and has trained the trainers in entrepreneurship and management in several countries including India and the US. He has designed and written entrepreneurship training manuals. He has taught management subjects at Indian and US universities, including Lehigh University's Global Institute and Wharton University International Business Club.