CRIME


NRI moves Delhi HC for Rs 15,000 crore as compensation
Octogenarian British citizen and Indian national Nirmaljit Singh Hoon has moved the Delhi High Court seeking Rs 15000 crore as compensation in a fraud case.

Hearing his petition yesterday, Justice Ajit Bharihoke issued notices to the Reserve Bank of India and Income Tax authorities to reply by September 29.

Arguing for Mr Hoon, his counsel RK Kapoor submitted before the judge that his client was denied rightful shares of his company, value of which runs into more than Rs 15000 crore.

According to him, Hoon owned a company Hungerford Investment Trust Ltd, about 2,256 shares of which were forged, duplicated and auctioned without serving a notice to Mr Hoon by some RBI officials with connivance of some IT officials.

Although the original shares are still in Hoon's possession, the forged shares were treated by the buyer and the board of directors as genuine and thus Mr Hoon lost ownership of his own company.

According to the petitioner, turnover of the company was Rs 1 crore a day. Although the petitioner has successfully been getting the court judgements, the petition mentions, the ownership of his company was yet to be restored with the petitioner.

Therefore, Hoon prayed the High Court to take into account the years of denial at the rate of Rs 1 crore a day and award the compensation of Rs 15000 crore and order restoration of ownership of the company.
---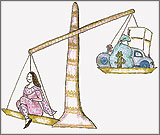 Four of family including NRI husband booked for dowry harassment
On a complaint filed by a woman of local Guru Teg Bahadur Nagar, the police have registered a case under Section 498-A of IPC against four persons in her in-laws.

The complainant Poonam Rani had stated in her complaint that she was married to Sukhdev Singh of Sudhamajra in Balachaur in May 2003.A couple of days after her marriage, her in-laws started pressing her for dowry. At the time of marriage, her husband had returned from Dubai and after marriage, he again made a plan to go to Italy.

In this, she helped him with Rs 50000 after getting the same from her parents, said the complainant. She further alleged that she was constantly harassed by her in-laws during the six years her husband remained in Italy. On his return, she started living separately with his husband. However, after sometime when his husband again went to Italy, her in-laws again started harassing her. Fed up with the constant harassment and pestering at the hands of her in-laws, she submitted an application to the SSP who further asked SI Gurmeet Kaur, in-charge Women Cell, to investigate the matter. On the recommendation of the report of IO, the police have registered a case against four persons-her husband, her parents-in-law and her sister-in-law (jethani).
---

NRIs should be cautious of fraudsters
The steep rise in the value of the Indian rupee against the dollar in the past four months is giving way to a new type of informal money remittance system.

Unofficial agents are luring customers offering steep discounted rates. They promise to remit money to India at relatively cheaper rates than money exchange houses. As the rupee-dirham exchange rate has been hit it is mainly the lower-income class who are using such services.

"The promised money will be remitted to the Indian address exactly one month after receiving the cash in the UAE," said a source familiar with the informal money remittance service that is spreading to various labour camps and middle class pockets in Sharjah, Dubai, Ajman and other emirates.

"The customers targeted by the group are mainly from the Malabar region of Kerala," said the source. How will the agents generate so much profit within a month is a moot question, but it should raise new alarm bells after several money chains have duped thousands of non-resident Indians. Many customers are vulnerable as they do not get any receipt for the dirhams paid. And in the absence of receipts they cannot take any legal action nor file police complaints if the informal money remittance agents were to disappear.

However, as the exchange rate is very poor, many Indians continue to opt for such services.

"I have coordinated the remittance of money by several workers from a labour camp in Sharjah. They are all happy because their families have received money one month after making the payment here," said an agent working in Sharjah. He said the agents and sub-agents too get their commission for canvassing business.

Yet another source spoke about the risk involved. "The agents and subagents will come and collect money from the customers' doorstep, but they don't give any receipts. They constantly change their mobile numbers, too. The informal network of money remittance may be offering attractive deals, no doubt. But they can also disappear with a huge amount. Since the money remitters do not get any receipt, they will be helpless."
---


CRIME - MONEY CHAIN FRAUD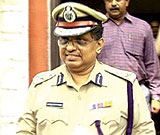 Jacob Punnose, DGP, Kerala
7 money chains, multi-level marketing firms siphoned off over Rs 10 billion from NRIs

About 160 NRIs paid more than Rs1 million each to book suites with Apple a Day Property, according to reports.

Many Non-Resident Indian investors who have been allegedly duped by dubious money chain companies and builders are taking legal action to retrieve their investments and prevent occurrence of such schemes. After two major money chain rackets from South India have been busted by the Indian investigators and their senior officials arrested, a number of NRIs in the UAE have come out with complaints against such companies that were covertly operating and mobilising business through a wide network of agents and subagents.

Seven dubious money chains, some operated by police officials in the South Indian state of Kerala, have been operating under different names in the Gulf countries, canvassing business from NRIs, through a marketing network using friends, relatives and other acquaintances.

According to Jacob Punnose, Director-General of Police, Kerala, seven money chain and multi-level marketing firms have siphoned off more than Rs10 billion from various sections of people in Kerala, including NRIs, in the past couple of years. The current investigation is focused on Bizzare Global Group of Companies that duped several thousand investors, by promising to set up a chain of supermarkets. The NRI victims are mainly from Kerala, Tamil Nadu, Andhra Pradesh and Karnataka.

Bizare Group attracted investment from NRIs for a chain of supermarkets that they planned to set up. Many people have invested from Dh10,000 to Dh100,000. The company has established a chain of network marketing agents who convinced the investors giving three promises – safety, confidence and steady income flow. Bizzare Group planned to open 140 supermarkets in different parts of South India and for each supermarket they collected money from 1,200 shareholders, many of them from the UAE, Saudi Arabia and other GCC countries, victims have said. .

The group collected money, but never built the supermarket chain. The agents convinced investors that once 400 shareholders purchase share in the supermarket project, the required land would be bought. One of the NRIs who lost money in the scheme, said they were told that "construction work for the market would start after the next 400 investors put in money and the market would become fully operational after the remaining 400 share holders join the project."

The viability of supermarket was promised because all the 1,200 shareholders would become customers, ensuring regular increase in sales volume and profitability.

Many NRI investors have purchased several share units each valued at Rs16,500 (Dh1,400) and the number of victims totals several hundreds. Investors from particular NRI pockets such as Malappuram, Vayanadu, Trichur and Calicut are the main victims who were lured to the money chain business through other NRI agents.

NRIs have invested in these schemes, when they went on vacation and attended special "study classes" organsied by money chains in star hotels.

"These money chain agents have collected money from NRIs in all emirates in the UAE. They have been active in other Gulf countries too," said sources familiar with the schemes. According to Kerala Police, about 100,000 investors have lost heavily in the dubious money chains and the initial loss is estimated to be Rs1,000 crore.

The group promised good investment scheme in a supermarket chain. They promised income from weekly promotion schemes (100 per cent), royalty income of Rs7,000 to Rs15,000 per month, yearly dividend, repurchase income, monthly incentives of 30 per cent of the total monthly purchases.

Meanwhile about 130 NRIs from the UAE have lodged police complaints in Kerala against promoters of Apple A Day Properties, a builder who has conducted marketing road shows in various hotels in the UAE and collected money promising to sell flats, but did not deliver them.

Promoters of Apple A Day Property have surrendered to police and the state government promised NRIs that a special investigation team will be send to the UAE for further inquiries. They have formed an "Apple A Day Properties Victims Group," in the UAE to fight the case in India. This group of NRIs in the UAE have served legal notices and police complaints against a property developer and approached the Indian Government and a consumer court in India seeking to track down promoters of an Indian construction company that allegedly failed to deliver five star apartments with seven star facilities, two years after the promised date.

The company owners have surrendered to the police and are in judicial custody for further investigation. A group of investors in the UAE who have addressed the media with their grievances said: "In 2007, Apple a Day Properties launched Seven Star Furnished Suite Apartments and a couple of other high profile projects in the UAE and marketed it among NRIs through a major advertisement campaign. The promoters had promised that the 7-star suites at Nedumbassery would be completed for delivery by April 30, 2009. About 160 NRIs had paid the property price worth more than Rs1 million each to book the property. Many of them have obtained bank loans to purchase the property," said Abdul Kader, an Abu Dhabi-based businessman.

The promoters had promised that the 7-star suites at Nedumbassery consisted of about 200 units with average price of Rs1.2 million each. Investigation are on to find the agents who worked for the schemes.
---
ECONOMIC OFFENCE

NRI fined $34 million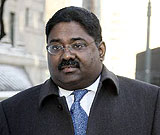 Raj Rajaratnam
An Indian-origin former analyst accused of providing confidential company information in the Raj Rajaratnam-led insider trading scheme, has been fined USD 34 million for his role in the scheme.

Deep Shah, who was with credit ratings agency Moody's, is currently believed to be in India. He has failed to "appear, answer or otherwise defend the Securities and Exchange Commission's action," the Commission has said.

Judge Jed Rakoff in the US District Court for the Southern District of New York ordered that Shah was liable to pay a USD 24.6 million fine and USD 9.9 million in restitution plus interest.

The SEC had filed its action against Shah on October 16, 2009, which alleged that hedge fund company Galleon, its chief Raj Rajaratnam and Deep Shah engaged in a widespread insider trading scheme involving hedge funds, industry professionals and corporate insiders.

A resident of New Jersey at the time, Shah was employed at Moody's as a lodging industry analyst. SEC alleged that Shah violated federal securities laws by tipping an individual investor Roomy Khan about material and non-public information related to the July 2007 acquisition of Hilton Hotels by the Blackstone Group and the March 2007 acquisition of Kronos by Hellman & Friedman.

Khan traded on the basis of this information and also tipped others. Khan and others paid Shah cash for the inside information he gave them.

Shah left Moody's in late 2007 or early 2008 and fled the country to avoid facing the insider trading charges. Khan pleaded guilty in 2009 to criminal conspiracy and securities fraud charges and has been cooperating with the government's investigation.

Rajaratnam was convicted in May of insider trading and conspiracy. Prosecutors have recommended a maximum term of 24 and a half years when he is sentenced next month. The probe into the Galleon insider trading case, one of the largest in the country's history, has lead to more than two dozen arrests and 21 guilty pleas.
---
GRAFT

NRI first to be charged under new UK bribery act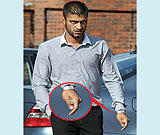 An Indian-origin clerk in a British court who was filmed apparently accepting a 500 pounds bribe has become the first person to be charged under the new Bribery Act.

Munir Patel, 21 has been charged with taking a bribe from a defendant while he was employed at a court in east London. He is also accused of misconduct in a public office and perverting the course of justice at Redbridge Magistrates' Court in Ilford, according to a BBC report.

He was arrested after The Sun filmed a man apparently accepting 500 pounds to keep a traffic penalty off a legal database. He will appear at Southwark Crown Court in south London on 14 October.

"I am satisfied there is sufficient evidence to charge Munir Patel with requesting and receiving a bribe on 1 August intending to improperly perform his functions," said Gaon Hart, a lawyer at the Crown Prosecution Service. He said: "Patel has already been charged with misconduct in public office and perverting the course of justice. He still faces these charges, which relate to other alleged misconduct during his employment." The Bribery Act, which came into force on 1 July, made it illegal to offer or receive bribes, and to fail to prevent bribery.

---
FLIGHT

Minister Ravi promises flight from Delhi to Kozhikode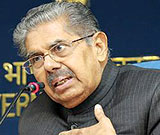 Union Minister of Civil Aviation and Overseas Indian Affairs Vayalar Ravi has said that steps would be initiated to start a new flight service between Kozhikode and New Delhi.

Speaking during the presentation of P V Sami Memorial Industrial and Socio-Cultural Award at the Tagore Centenary Hall, the minister further said direct service connecting Delhi with Kozhikode would bring some respite to the growing travelling woes of the people.

He also said that the recently introduced Kozhikode- Thiruvananthapuram- Kochi-Agathi aircraft will help in bringing better connectivity between different places in the state.

Terming P V Sami a business man who never propagated neo-liberal ideas, Vayalar Ravi said that Sami had worked for the welfare of the entire society. It is his hard work and endowment that helped Sami to establish the business empire that we are seeing today, he added. Later, he presented the award to NRI industrialist P Mohamed Ali alias Galfar Mohamed Ali.
---
VISAS

Pakistani Christians, Buddhists now eligible for long-term Indian visas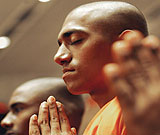 Indian-origin Christians and Buddhists from Pakistan are now eligible for long-term Indian visas, which could also later render them a permanent resident status.

An order for including Christians and Buddhists in the list of Pakistan's minority communities eligible for long-term Indian visas was issued earlier this month, Christian Today reports.

The Union Home Ministry announced the decision following a request from the Office of the Commissioner for NRI affairs in Goa, the report said.

Goa's Commissioner for NRI affairs Eduardo Faleiro's had requested to include Christians in the list following requests from a number of Pakistani nationals of Goan origin who wished to return to Goa and acquire Indian citizenship, it added.

In a letter to the Home Ministry, Faleiro informed the Centre that many Goans, especially Christians had migrated to Pakistan in search of jobs before India's Independence in 1947.

"Christians constitute a significant minority community in Pakistan. The minister for minority communities who was recently assassinated in Islamabad was himself a Christian," Falerio was quoted as saying in his letter.

"May I request you to kindly include Christians in addition to Hindus and Sikhs as members of the minority communities in Pakistan for the purpose of long-term visa," he added.
---
LANGUAGE

'Rajasthani' language to get constitutional recognition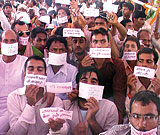 All India Rajasthani Bhasha Manyata Sangharsh Samiti (AIRBMSS) has written a letter of thanks to President Pratibha Patil and Minister of State for Home Affairs for their positive response on the committee's demand for Constitutional recognition of 'Rajasthani' language.

A delegation of 15 representatives led by Rajya Sabha MP Abhishek Manu Singhvi and Prem Bhandari met the President at Rashtrapati Bhawan in August. Singhvi is also the national president of AIRBMSS while Bhandari is global coordinator of AIRBMSS and media chairman of Rajasthan Association of North America.

Rajasthan Association of North America has also supported Rajasthani Bhasha Manyata Sangharsh Samiti's demand. Home Minister for state Jitendra Singh has also supported the demand and held meetings with the representatives of Rajasthan House in this regard.

Meanwhile, Devi Singh Shekhawat, husband of President Pratibha Singh Patil, has also shown his solidarity with the demand saying he was "also a part of the delegation."

All India NRI Rajasthani Assembly president MLA Raj K Purohit, Vice Chancellor of JNVU Prof Bhanwarsingh Rajpurohit, VC of Bhagwan Bhagwati Varsity Prof Naresh Dadhichi were also present during the meeting including other eminent personalities from the state.
---
SMARTCITY

Kerala CM inducted into SmartCity Board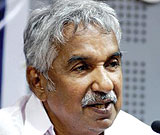 Taking into consideration the importance of the SmartCity project and the need for speedy decisions, the project monitoring committee decided to induct Kerala chief minister Oommen Chandy as a special invitee to the SmartCity Kochi board of directors. Kerala ports & excise minister K Babu and Dubai-based NRI businessman MA Yusufali have also been made special invitees.

The decision was taken at the project monitoring committee meeting of SmartCity Kochi held in Dubai on Sunday. The meeting was chaired by Ahmed Humaid Al Tayer, member of supreme fiscal committee of Dubai government, and attended by Abdul Latheef Al Mulla, vice chairman, SmartCity, and group CEO Tecom, M A Yusuffali, vice chairman of Norka Roots, Government of Kerala, and Baju George, managing director, SmartCity, among others. It also reviewed the progress of the project and set a timeline for the first year's activities and allotted the required funds for the same. The work on the Pavilion of SmartCity Kochi, designed to showcase various technological advancements, will begin on September 29. This would also have the office of the administrative and project management team of the project.

"As per our project plan, the work of the headquarters building will commence of November 19 and the rest of the work would be implemented in a time-bound manner," said Abdul Latheef Al Mulla, vice chairman, SmartCity, and Group CEO Tecom, Dubai. "The decisions taken are very important and will further boost the effective implementation of the project in a mutually beneficial manner," said Baju George.
---
JANMASHTAMI

WATFORD celebrates with fervor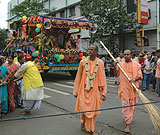 Thousands of devotees in the UK attended a two-day Janmashtami festival in August celebrating the birth of Lord Krishna, at the Bhaktivedanta Manor in Watford town. Believed to be the world's largest Hindu festival outside India, up to 72,000 people took part in the Janmashtami festival, which featured hundreds of children dressed up like Lord Krishna, with their faces painted blue, many carrying flutes and wearing peacock feathers in their hair.

Another highlight included a flowered walkway through the spiritual gardens and woodland.

The site was donated to the Hare Krishna movement by former Beatle George Harrison in 1973.

The entire festival was run by 1,500 volunteers from the community. Srutidharma Das, President of the manor, said celebrations of faith were important. "The Janmashtami festival is a festival of peace in what are troubled times...Ahimsa is a very important belief in Hinduism and the cow symbolises peace and prosperity in society. When the relationship between humans and cattle is correct everything in the world is in harmony," he said. Das said there is an imbalance in society. He said these festivals reiterate people's values and make them into better people. "We can integrate but still have our culture. We have to follow the laws of the land, but following our culture will enhance the fact that we are part of Britain," he underlined.

As pilgrims entered the huge festival site, they passed through the new farm complex which has been recognised as a blue-print for compassionate and sustainable farming which will change the way people think about how their food is produced. Farm manager Stuard Coyle said people are beginning to care more about what they consume and how it got to their plate.

"The belief in the old adage, 'you are what you eat' shows the change in people's awareness that they are beginning to care more how food and drink is produced," he said.

Janmashtami was also celebrated at the Shri Venkateswara (Balaji) Temple in Tividale in West Midlands. The temple is set in a 21.5 acre site, with a number of different shrines and other facilities and it has grown over a 10-year period to become physicall the largest South Indian temple precinct in Europe. Leading London-based NRI hotelier Joginder Sanger played a key role in building the Balaji Temple, by raising necessary funds for the project.
---
REAL ESTATE

NRI Investments Big

The Indian real estate sector has been seeing huge investment from non resident Indians (NRIs) and Overseas Citizens of India (OCIs) who have now started applying online and checking out top ranking brokers to buy homes and properties across India. The organizers are building properties comparable to the rest of the world to cater to the growing demand from overseas Indians. Most of these are premium properties with amenities not seen anywhere else.

Many RE companies in India are multinationals, and, therefore, are capable of producing replicas of integrated properties found in countries such as the US and UK. Their target clientele are the NRIs and everything is created with their requirement in mind.

Participation of foreign banks

NRI investment in RE has become more lucrative with major foreign banks in India and financial institutions funding this sector in India. Rise in demand for quality properties for housing and the upswing in the hospitality and hotel industry in India have brought a number of such institutions in direct competition to invest in this sector. There is also a boom in the stock prices of RE companies.

The Indian Government has relaxed many rules and regulations regarding NRI investment in real estate to attract more investment from this sector. It is also pumping in more money in the real estate sector in India. The government has also updated the property tax act, the rent control system and the land ceiling regulations and made them more investor friendly for NRIs wanting to invest in this sector. There is further liberalization of foreign exchange regulations to get more NRIs into buying, selling and investing in this sector.

Government measures

Among the many progressive measures taken by the government to promote demand and investment in this sector are allowing 100% FDI in townships, housing, built-up infrastructure and construction development projects through the automatic route, subject to guidelines as prescribed by DIPP.

It has also allowed 100 per cent FDI under the automatic route in development of Special Economic Zones (SEZ), subject to the provisions of Special Economic Zones Act 2005 and the SEZ Policy of the Department of Commerce.

Returns have also skyrocketed for private equity players who have found an excellent business opportunity in real estate over the last few years. For NRIs it is profitable to invest in real estate and see property prices appreciating over the next two or three years.

According to the data released by the Department of Industrial Policy and Promotion (DIPP), housing and The real estate sector attracted a cumulative foreign direct investment (FDI) worth US$ 9,405 million from April 2000 to January 2011 Compared to US$ 1,048 million during April-January 2010-11.

This includes construction of cineplex, multiplex, integrated townships and commercial complexes etc.
---
NRI ELDERLY

Kerala wants NREGA help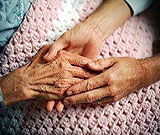 There may not be any apparent connection between the NREGA and the NRIs. But the Kerala Government, faced with the issues of lonely parents of NRI population in the state, wants to link both and has requested the Union Government to bring elderly care too within the ambit of the job guarantee scheme.

The state's unique case was presented by Kerala Chief Minister Oommen Chandy and Rural Development Minister K C Joseph who were here to meet Union HRD Minister Jairam Ramesh.

According to the Kerala Government's demand list, both elderly care and home nursing too must come within the ambit of the NREGA taking into consideration the state's growing issues with the lonely elderly population. The percentage of aged people in Kerala is the highest in the country and the estimates indicate that by 2020 it is expected to go up to 21 per cent of the total population. And with the increasing cases of migration, the number of lonely senior citizens is also increasing. The state government wants to use the available work force to cater to this segment of the population too.

"Geriatric care and palliative are two of our demands which have been submitted to the government to be included in the ambit of NREGA. The Government is quite serious about the issues of elderly and has brought the special case of Kerala before the attention of the Union Government," state Rural Development Minister K C Joseph has said. According to him, Jairam Ramesh was quite responsive to the state's demand.
---
PROPERTY FRAUD

Jalandhar man held for trying to sell NRI's house

In a case of land fraud, resident of Jalandhar Gurinder Singh, was arrested for preparing fake documents for selling the house of NRI Chatur Singh Bajwa from UK in August.

Police have also booked another NRI Avinder Singh Kahlon for arranging fake general power of attorney (GPA) for accused Gurinder. Accused Gurinder was sent in police custody for two days.

The complaint told police that accused had tried to sell his house in Sector 10 to some other person, after arranging fake documents including GPA. SI Naveen Sharma said GPA was sent from UK but other documents were arranged in estate office, Sector 17.
---
Diaspora Business: SPECIAL REPORT
INDIA AND TRINIDAD AND TOBAGO
FORGING CLOSER TIES
Mr Deo Gosine
Chairman of the India Trinidad and Tobago Chamber of Industry and Commerce, Mr Deo Gosine, made some valid points at Port of Spain recently. His audience included Minister for Overseas Indian Affairs Vayalar Ravi, Indian High Commissioner Malay Mishra, Trinidad and Tobago ministers Stephen Cadiz, Surujrattan Rambachan, Chandresh Sharma, Rupert Griffith and of course leading members of trade and industry from both the countries.
Some of the major points he made include:
• Secretary General of the CARICOM Edwin Carrington advised all member nations to look closer to India for increasing trade and commerce.
• We should be adding to our traditional partners of US, UK and Canada to start establishing a new relationship with the largest democracy and an emerging super power.
• We know that Incredible India is halfway around the world, but India has more in common with us, other than a mutual love for curry.
• India has a democratic Parliamentary form of Government, an established judicial system, language commonality and more.
• ITTCIC urges you to take a closer look at the new India, an India which is an IT superpower, an India which is acquiring more international patents per year than all the Arab Countries combined, an India with more than 300 million person entering middle class, an India which will be graduating nearly one million engineers per year, an India which is developing IT and Process Controls for every type of industry, an India which has no intention for hegemony around the world and the list goes on. But what is important, India has a billion plus consumers with the need for every type of goods and services imaginable in large quantities and it is up to us to help India fill those needs.
• What we are seeing here is an opportunity for a healthy two way trade. Trinidad and Tobago is a natural gas rich nation and as such opportunities exist for us to sell LNG. Fertilizers, Petroleum Products, Gas Downstream products like plastic, feed stock, asphalt and the asphalts products.
• In manufactured goods India can be a source for our consumer goods, agricultural machinery, transportation equipment, hardware. API pipes, valves and fittings, computers and more. India has developed its agricultural industry to the point of self-sufficiency using small holdings concept and today India can be a proven supplier of this knowhow.
• In Small and Medium size enterprises, India has developed and perfected these concepts which can be emulated in all of our Island States.