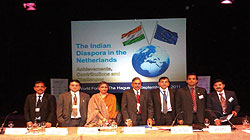 OIFC Business Session at 'Indian Diaspora Conference' in The Netherlands (L-R) Mr. P. N. Prasad, Mr Virat Diwanji, Ms. Sujata Sudarshan, Dr. A Didar Singh, Drs. Rajindre Tewari, Mr Arun Gupta, drs. Vipin Moharir
| | |
| --- | --- |
| Overseas Indian Facilitation Centre (OIFC) in association with the 'Foundation for Indian Diaspora in Europe' and the Ministry of Overseas Indian Affairs (MOIA) organized a 'Business Session' on Sunday, 25th September 2011 in The World Forum, The Hague (The Netherlands). The Business Session was a part of the one-day 'Indian Diaspora Conference' being organized by Foundation for Indian Diaspora in Europe (FIDEU). The conference had a theme titled "The Indian Diaspora in Netherlands: Achievements, Contributions and Challenges". 400 participants, mostly business leaders and professionals from India and The Netherlands, participated at the conference. | Participants at the OIFC Interactive Session |
The objectives of the OIFC led Business Session was to apprise the strong Indian community in The Netherlands with the investment opportunities in India and expand their economic engagement with India.

This session enhanced understanding and strengthened the relations between the various sections of the Indian Diaspora in the Netherlands; increased participation and visibility of the Indian Diaspora in the Dutch social, cultural and political spectrum; broadened and deepened the ties with India in various fields; worked as a catalyst to further the cause of economic and cultural cooperation between India and the Netherlands.

The Business session was chaired by Dr. A Didar Singh, Chairman OIFC and Secretary, Ministry of Overseas Indian affairs (MOIA). Drs. Rajindre Tewari, President GOPIO Netherlands and Secretary-general Foundation for Indian Diaspora delivered the introductory remarks on the session as the moderator. The session included insightful presentations by Ms. Sujata Sudarshan, CEO, OIFC, Mr Virat Diwanji, EVP & Head – Branch Banking, Business Assets and NRI banking, Kotak Mahindra Bank Ltd, Mr. Arun Gupta, Partner, Corporate Professionals, Advocates & Solicitors and other participating dignitaries from The Netherlands that included Mr. P. N. Prasad, CEO, SBI Benelux and drs. Vipin Moharir, Director, Nintec Ltd.

The session's presentations/lectures/discussions were about the position of Indian Diaspora in the Netherlands and its relation with India. Further, the progress made by the Indian Diaspora in the Netherlands so far and the measures to enhance it has been well addressed.

The interactive session with the audience after the presentations was engaging and had full participation from all attendees. The session chairman concluded the business session with his observations and remarks.

OIFC, as a way-forward, are planning similar Business sessions to expand the economic linkages between the Global Indians across the globe and in India. OIFC will continue its interaction with the delegates, who attended the Business Session, to strengthen its interface and reach out to the Indian diaspora.