INFRASTRUCTURE


U-M Law School to help grow India's infrastructure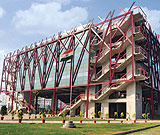 A five-year, trillion-dollar effort by India's government to improve its infrastructure will get a boost from a joint financial law and policy research center established last year by the University of Michigan Law School and one of India's premier law schools. The Jindal Global Law School (JGLS) of O.P. Jindal Global University agreed this week with India's Infrastructure Development Finance Company to develop courses, workshops, and joint research projects through the Michigan-Jindal Centre for Global Corporate and Financial Law and Policy, established by the two schools in 2010. The centre, located at O.P. Jindal Global University just outside Delhi in India's national capital region, is dedicated to producing world-class research in its field. The infrastructure initiative will be led by professors Vikramaditya Khanna of Michigan Law and Charles Maddox of JGLS, two leading academics studying Indian corporate and financial law. "This is another important milestone for the Michigan-Jindal Global Corporate and Financial Law and Policy Centre," said C. Raj Kumar, vice chancellor, O.P. Jindal Global University and dean of Jindal Global Law School. "It provides a unique avenue for teaching, research, training and capacity-building initiatives for the study of infrastructure law and policy." The deal with the Infrastructure Development Finance Company Limited—India's leading integrated infrastructure finance player, providing end-to-end infrastructure financing and project implementation services---puts the centre in the midst of a huge development boom. IDFC has been an integral part of India's development story since 1997, when the company was formed with the specific mandate to build the nation. The agreement also goes two ways—as early as next month, for example, IDFC will be helping develop curriculum and lend teaching expertise for an intensive course on infrastructure development and project finance being held at JGLS. Ultimately, that work will lead to the development of a series of courses and executive workshops designed to help educate people around the world on how to contribute to the construction of India's infrastructural backbone.
---
BUSINESS

Kamlesh Mehta makes it big in Nassau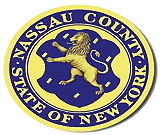 An Indian-American with interests in media and the diamond business has been promoted as Director of Business and Economic Development of Nassau County in New York state — one of America's wealthiest counties. The first Indian-American to hold the top business job, Kamlesh Mehta's primary role is to provide support to existing businesses that are facing economic difficulties and create opportunities to attract new business enterprises. Mehta had joined the county administration as Deputy Director in the Office of Economic Development in January 2010 when County Executive Edward Mangano took charge in Long Island following a surprising victory over the two-term incumbent. Mehta has interests in media and the precious stones trade and is on the boards of diverse businesses. Born and brought up in Beawar, Rajasthan, he started his diamond business in Mumbai before moving to New York in 1986 to expand it. In 2008, Mehta delved into media by founding "The South Asian Times". In less than three years, it has become one of the most read U.S.-based Indian newspapers with presence in both print and online formats. The Business Resources Group of Nassau County's Legislative Chambers has honored Mehta with a Life Time Achievement Award and the National Federation of Indian American Associations has conferred upon him the Excellence of Services award.

Original stays, Officer winces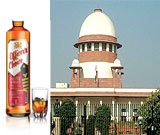 Liquor baron Kishore Chhabria's Officer's Choice Whisky suffered a setback with Supreme Court dismissing its plea to reject the trademark registration of rival brand Original Choice in a seven year-old dispute. The private equity backed Original Choice, a trademark of Bengaluru-based John Distillers, emerged as a challenger in recent years selling 11 million cases annually. The Chhabria firm approached SC after lower court and Intellectual Property Appellate Board (IPAB) upheld the rival's trademark registration, citing that the opposition was time- barred and incomplete. The Chhabrias had launched court battles to stall the brand, which they alleged was 'passing off' on the popularity of Officer's Choice Whisky, which is projected to be the largest selling Indian whisky with 20 million cases in the current year. Officer's Choice is the flagship brand of Kishore Chhabria's privately held Allied Blenders & Distillers Private Ltd (ABD). The apex court said the petitioner can approach IPAB with rectification proceedings to readdress the grievance, which must be decided on merit within four months. The Chhabrias, who waged well-chronicled corporate battles with their rivals through the eighties and the nineties, are unlikely to give up on their relatively new challenger easily. A spokesperson for ABD declined to comment. Rectification is a remedy available to challenge the trademark after it is certified, with the onus of proving brand infringement on the petitioner. Incidentally, three years back, the Delhi High Court dismissed a plea of Allied Blenders & Distillers to stop the brand Original Choice on charges of 'passing off' alleging similarity in name and packaging'. Original Choice is the fifth largest Indian whisky with significant presence in the southern states, which account for bulk of the branded alcohol sales in the country. PE firm Gaja Capital acquired a stake in John Distillers which owns this brand — and majority owned by Florida-based NRI investor Paul John. Officer's Choice sells at a premium of nearly 10-20 % in major markets The list of top five Indian whiskies includes United Spirits' Bagpiper and McDowell's No.1 apart from Pernod Ricard's Royal Stag. The whisky segment forms almost 70% of the domestic alcohol consumption estimated at 240 million cases (of 9 litre each) and growing in double digits.
---
TRAVEL

Luxury In Trains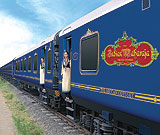 Tour and travels firm Travel Corporation (India) Limited (TCI) on September 14 launched its luxury train — The Indian Maharaja-Deccan Odyssey — which will cover multiple destinations across India. "This is a key initiative in the hugely potential Indian domestic market in sync with TCI's considerable equity in luxury leisure travel," the company said in a statement. "The Indian Maharaja-Deccan Odyssey is a perfect blend of heritage, opulence and hospitality making for a truly exotic experience for the discerning Indian traveler at a price specially launched for the Indian domestic market," it added. The exclusive itinerary includes the world heritage sites of Ajanta and Ellora, Taj Mahal, Agra Fort and Fatehpur Sikri. The train also halts at Ranthambore, Udaipur and Jaipur. With seven-day all-inclusive itineraries, customers may choose to travel in Silver, Gold or Platinum class. While for Gold and Platinum class travelers, private chauffeur-driven cars will conduct sight-seeing, Silver class travelers would get a luxury coach and would be assisted by English speaking guides. The train has 21 climate-controlled suites including 11 aesthetically appointed guest coaches featuring panoramic windows, twin cabins, channel music, telephone and round-the-clock dedicated valet service. It also provides services such as spa, functional gymnasium, all day dining with a master chef and a bar. The key highlight of the services is that all the guest services, including housekeeping and butler service, is being provided by the Taj Group of Hotels and Palaces.
---
BANKING AND FINANCE

Canadian Bank serves in Punjabi-Gujarati-Telugu-Hindi-Marathi-Urdu-Bengali-Tamil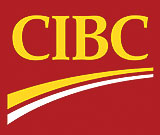 Canadian Imperial Bank of Commerce (CIBC), a leading Canadian financial institution, offers service in Punjabi, Hindi, Telugu, Marathi, Gujarati, Bengali, Urdu and Tamil in many of its over 1,100 branches. CIBC, whose history goes back to 1867, was ranked fourth among the world's strongest banks by Bloomberg Markets magazine. With about 11 million banking and business clients and market capitalization of $30.7 billion, it has offices across Canada, USA and around the world. Hindu statesman Rajan Zed, in a statement in Nevada (USA) today, commended CIBC for providing services in various languages of India and backing various Indian cultural a and religious festivals/events, saying that "it was a step in the right direction". Rajan Zed, who is President of Universal Society of Hinduism, further said that in view of increasing diversity, other Canadian financial institutions should also offer services in various immigrant languages. To help newcomers to Canada establish their first Canadian banking relationship, CIBC, headquartered in Toronto, offers a "Newcomers to Canada Plan". With a focus on youth, education and health, CIBC claims to have invested about $34 million in communities across Canada in 2010. Charles Sirois is Chair of its Board while Gerald T. McCaughey is President.

NRI deposits in Indian banks grow by $1.2 billion in Q1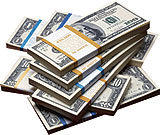 Deposits placed by non-resident Indians with banks in India grew at a steady clip in the April-June 2011 period, growing by $1.2 billion, against $1.1 billion in the corresponding period last year. Attractive interest rates on NRI deposits as compared to the deposit rates prevailing in the US, Euro zone and other advanced economies are the prime reason for the build-up in these deposits, according to bankers. Moreover, workers' remittances were steady at $6.784 billion in the reporting period, against $6.414 billion in the corresponding quarter last year. A portion of this money could have been invested in NRI deposits, said a public sector bank official. As on June-end 2011, NRI deposits stood at $52.898 billion, accounting for 16.7 per cent of India's total external debt of $317 billion, according to the Reserve Bank of India's statement on India's External Debt. Short-term NRI deposits (up to one year maturity) accounted for 82 per cent of the total NRI deposits.
---
MEDICAL SCIENCE

NRI explains how body's alarm clock works
A study led by an Indian-origin scientist has found an explanation to why we wake up each day in the morning even when the alarm clock isn't making jarring noises. The researchers at the Salk Institute for Biological Studies have identified a new component of the biological clock, a gene responsible for starting the clock from its restful state every morning. "The body is essentially a collection of clocks," said Satchindananda Panda, an associate professor in Salk's Regulatory Biology Laboratory, who led the research along with Luciano DiTacchio, a post-doctoral research associate. The biological clock ramps up our metabolism early each day, initiating important physiological functions that tell our bodies that it's time to rise and shine. Caption: A view of a section of the Salk Institute campus
---
REAL ESTATE

Developers hope for NRI-boost to real estate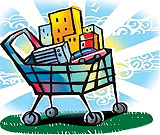 Gujarat Institute of Housing and Estate Developers' (GIHED) upcoming annual property show is expected to become a major draw for NRIs as the event is happening during Navratri. "We have received many inquiries from NRIs from the Middle East, the UK and USA," said GIHED secretary Dipak Patel. He said US-based Gujaratis have shown keen interest in buying properties in Ahmedabad. According to Patel, many Gujaratis settled in the USA are looking to invest in properties before 2013 considering that transfer of funds from USA is going to be taxed later. Industry sources said NRIs consider Ahmedabad as a more stable market compared to other Indian cities. In some pockets, prices increased amid slowdown. "Prices declined 20% in cities like Mumbai, Hyderabad, Bangalore and Delhi after October 2008 till mid 2009. But, Ahmedabad was a study in contrast," said Nirav Kothari, resident director, Jones Lang LaSalle (JLL). Builders in Ahmedabad, according to Kothari, also did not face any debt pressure unlike their counterparts in other cities. Tata Motors stepping into Gujarat with the Nano project also attracted investors that include around 10% of NRIs. According to him, there has been great demand for preleased commercial properties from NRIs. Such properties can yield returns ranging from 12% to 20% on investment, which they would not get in their respective countries. Property consultant Kishor Dedhia said high-end properties in residential segment in western part of the city would be a major attraction for NRIs. Overseas inquiries are pouring in after the Ford and Peugeot announced projects in Sanand, said Dedhia, adding that entry of corporates like Godrej, Adani, Tata and Arvind are also luring them. Builder Sanjay Jain said that on an average 15% to 20% bookings in high-end apartments and bungalow schemes come from NRIs. Apart from proposed tax on fund transfer, new jantri rates would offer more transparency in property deals to NRIs, said Jain. Janak Shah, a Chicago-based banking professional, who visits Ahmedabad during Diwali, said, "I heard about the property show. This time I made it a point to visit during the event to understand the property market and investment opportunities in and around Ahmedabad."

---
CRIME AND PUNISHMENT

UK clears NRI's extradition to South Africa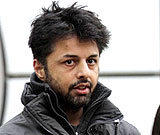 Shrien Dewani
Britain has approved the extradition of Indian-origin Briton Shrien Dewani, who is alleged to have masterminded the murder of his wife Anni during their honeymoon to South Africa in November last, a sensational case that hogged international headlines. Home Secretary Theresa May approved his extradition to South Africa where he will stand trial for the murder of his Indian-origin Swedish wife. The couple had married in a Bollywood-style wedding in India. Dewani, 31, denies any involvement in the death of Anni, 28, and had mounted legal attempts to prevent his extradition to South Africa. A judge had earlier ruled that he could be extradited but Theresa May had to approve the move. Dewani has 14 days to lodge an appeal against the decision. "The home secretary, having carefully considered all relevant matters, signed an order for Shrien Prakash Dewani's extradition to South Africa. Dewani now has the opportunity, within 14 days, to appeal to the High Court against the decision of the district judge and/or the home secretary," a Home Office spokesperson said. Anni, from Sweden, was shot after a cab the couple were travelling in was hijacked in the Gugulethu township in South Africa. Shrien was unharmed but Anni'sbody was later found in the abandoned car. At Dewani's extradition hearing in August, District Judge Howard Riddle said the "court must consider the strong public interest in honouring our extradition treaty".



Robbers loot NRI after tying him up in house
An NRI was looted in Boparai Kalan village near Nakodar. According to police officials, robbers raided NRI Jagdish Singh's house in the village around midnight on Wednesday. When he heard some whispering and noises, Singh woke up but was overpowered by the armed robbers who tied him up and then searched his house at ease for around four hours. He had come from UK a few months back. The NRI told police that he could free himself in the wee hours on Thursday and then informed the villagers. The robbers took away his Scorpio vehicle, a revolver, Rs 30,000 cash, some foreign currency and several other valuables which were lying in the rooms of other family members, who were away. Jalandhar SSP (rural) H S Mann visited the place, along with other officials. Dog squad and finger print experts have been pressed into service to help the police.

France lauds Indian "hero" killed by Paris thief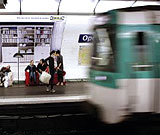 The story of an Indian immigrant who died on the Paris underground—shoved onto an electric rail—after trying to defend a French woman from a thief has prompted an outpouring of support in France, where he is being hailed as a hero.

Tales of common heroism are not typical fodder for French newspapers but the case of Rajinder Singh has been met with exceptional passion amid rising public anger over pick-pocketing, with two French groups offering on Wednesday to pay for the cost of flying his body back to India. Singh, a 33-year-old delivery man born in India, was commuting home from work late last Thursday when he noticed a man trying to steal a mobile phone from a woman on a metro train running through northern Paris, a police source told Reuters. When Singh, who came to France seven years ago from his native Punjab and was known to family and friends as "Babu", tried to intervene, the attacker pulled him off the train, fought with him and then shoved him off the platform onto the tracks where he was electrocuted by the live rail. "This is the first time I've seen such a strong reaction to the story of a death in our pages," said Antoine Barret, editor of the daily Le Parisien's online edition, where Singh's death was first reported last Friday. An article describing Singh's simple life on Tuesday, titled "Babu, hero of the metro" drew more than 700 comments, with many readers offering to raise the 5,000 euros ($6,638) it would cost to send his body back home to India. "What's really unusual is that we had people calling the newsroom all day yesterday to ask, 'how can we help?'," Barret said. "This type of hero tale is more popular in the United States, but the reaction to this has been quite uncommon." On Wednesday two groups—a foundation linked to France's RATP rail authority and Eclip's, an airborne corpse delivery service—said they would work together to ensure that Singh's body was returned to his family in Punjab. "We have offered to ferry the body home at zero cost and are working with the RATP to organise the transfer," a spokesman for Eclip's, which is based near Paris' Charles de Gaulle airport, told Reuters. "It seemed the least we could do." The man suspected of having pushed Singh, a 23-year-old of Egyptian descent, was arrested on Tuesday evening at a bar in the Pigalle neighbourhood, police said.



NRI husbands lose passports for wife harassment
The Regional Passport offices across the country have constituted a women complaint cell for Non Resident Indians (NRI) . Based on a complaint from the spouse the office will confiscate the husband's passport. The highest number of complaint was recorded in Jallandhar. We have so far received 198 complains and seized passports of 59 people in these cases. We are working on other cases and will take action on them soon," Parmeet Singh Regional Passport Officer said. National Commission for Women has a NRI cell. The NRI Cell was formally inaugurated on the 24th of September, 2009. It deals with complaints received from India and abroad resulting out of cross country marriages wherein there is any deprivation of women's rights or there is grave injustice to women. Since its inception 350 cases have been registered. The issue of feasibility of dual passport to women who marry NRIs/PIOs was taken up with Ministry of External Affairs and Ministry of Law and Justice. However under existing Passport Act, 1967 the same is not feasible, the MEA has assured the following: if a wife is harassed and deserted and is without her passport and if the original passport is valid and the husband has that in his custody, she can make an application to the Passport Office and a new passport will be given after verifying passport particulars from original Passport issuing authority.



NRI held in UK for visa fraud 'lessons'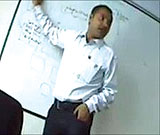 Britain's immigration officers have launched an investigation after an Indian-origin lecturer at a college was covertly filmed advicing students how to cheat at MBA exams and exploit loopholes to obtain visas. Lecturer Surya Medicherla was filmed giving students tips on how to cheat in exams and how to deceive the United Kingdom Border Agency at the Rayat London College. A BBC undercover investigation showed Medicherla warning students not to be complacent about the UKBA while completing degree formalities before applying for the Post-Study Work visa, which is to be phased out from April 2012. He says in the film, "In some corners of your heart you are so happy because you are getting your postgraduate diploma. You are not really bothered about what you are going to write but these things will infuture prove very costly so at least remember the subjects."
---
AWARD AND RECOGNITION

Daijiworld's Rons Bantwal Conferred Vishwa Kannada Award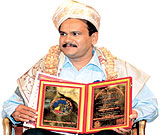 Kannadiga Patrakartara Sangh Maharashtra founder honorary secretary and Daijiworld.com correspondent Rons Bantwal was conferred the Vishwa Kannada Award at the Eighth World Kannada Cultural Convention in Bahrain recently. He was draped with a shawl and presented with a 'Mysore peta' and a citation by Karnataka NRI committee vice-president Captain Ganesh Karnic and renowned Kannada litterateur Dr Doddarange Gowda who presided over the programme. Rons Bantwal is a popular journalist based in Mumbai, who has been serving as the Maharashtra state bureau chief for Daijiworld.com. At present, Rons is also serving as correspondent/news editor for various other publications. Rons Bantwal, who has completed 25 years of service in the field of journalism, set up a concern named Ronida Press Media about 17 years ago. He has since transformed this concern into a private limited company under the name, 'Ronida Press Media Private Limited', of which he is the chairman and managing director. He is also the founder honorary general secretary of Kannadiga Patrakartara Sangha Mumbai, honorary secretary of Jayasrikrishna Parisara Premi Samiti, a non-government organization, convener of Federation of Mumbai's Canara Catholic Associations, and managing trustee of Christians United Movement of Karnataka (CUMOK).



NRI neurosurgeon from Sweden chosen for Marmarou Award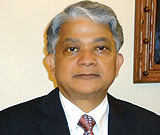 Professor Hari Shanker Sharma, currently working in Uppsala University Hospital, Sweden as Director of Research, Central nervous system (CNS) Injury and Repair since 1988 has been selected to receive the coveted US Neurosurgeon Dr Antony Marmarou Award of 2011. The award follows a rigorous selection process and confidential voting by the board of the trustees and scientific advisory council of International Brain Edema Association. The award will conferred during the XVth Brain Edema 2011 Conference to be held between October 22-24 in Tokyo, Japan. Dr Sharma and his team from Uppsala University meticulously showed that brain swelling occurs when the blood-brain barrier (BBB), a barrier within the blood vessel lining restricts the entry of water and proteins into the brain under normal conditions, is broken down. Dr Sharma's research using light and electron microscopy further show that if this BBB is tightened by use of drugs, antibodies of growth factors, swelling of the brain could not occur even after sever trauma. This research of Dr Sharma and his team is finally recognized by the Brain Edema Society comprising largely neurosurgeons. On this fundamental discovery and contribution by Dr Sharma as a team leader in brain edema field the Brain Edema Society wanted to honor him.
---
POLITICS

Punjab politicians wooing NRIs
The ruling combine of Shiromani Akali Dal and the Bhartiya Janta Party is taking many steps to prevent the main opposition party Congress and the People's Party of Punjab (PPP) from winning over the influential NRIs of Punjab. Steps to woo NRIs The NRIs are a formidable force in whole of Punjab but play a significant role in deciding the fortune of candidates from the Doaba area of Punjab. The ruling combine fears that it might have lost some grip in this particular area of the State. Perhaps with this aim in mind, the government circulated the draft bill for establishing an NRI commission in the state on Monday afternoon. Several officials of the state, who are aware of the matter, informed the media that initially it was decided by the Cabinet to introduce the Right to Service Act only but the government circulated the draft for this bill also on Monday. The government has revealed its intentions of setting up the Commission earlier this year when it promised it during the Pravasi Bhartiya Diwas in June. The timing could not be better for the bill as this is the time of the year when most of the NRIs visit back home during vacations. The NRI Commission is the latest step proposed for the welfare of the NRIs after we had a ministry for the NRIs, special police stations for them and NRI Sabhas and Courts. NRIs have significant influence The opposition Congress is trying hard to snatch the NRI belt of Doaba area and the PPP founded by the Manpreet Badal, the estranged nephew of the Chief Minister, Prakash Singh Badal is also trying hard to woo the NRis. —Courtesy: livepunjab.com
---