Many of those who attended the maximum INDIA festival, a cornucopia of cultural events celebrating India at the John F. Kennedy Center for the Performing Arts in Washington, D.C., from March 1 to 20, found they shared the same mixed emotions of delight and despair. The reason: It was virtually impossible to experience every one of the dance, musical and theatrical performances, film showings, panel discussions and exhibitions of a vast array of visual arts, textiles, pottery, jewelry and even cuisine. And even if you had put your life on hold and devoted full time to the festival, you would come away knowing that you had barely sampled the stunning richness and diversity of art and culture from India.
The Kennedy Center presented more than 50 separate performances, events and exhibitions by 500 artists in cooperation with the Indian Council for Cultural Relations.
"This will be a once-in-a-lifetime opportunity to see many internationally acclaimed masters of the many classical dance styles on our stages," Kennedy Center President Michael Kaiser said in a pre-festival interview. "From the quiet sounds of the sitar to the raucous blaring of rock bands, we'll present a panoply of the great music and musicians of India."
maximum INDIA was the center's biggest program of the year. It marked the culmination of the center's five-year exploration of the arts and cultures of the peoples along the legendary Silk Road, including Japan, China and the Middle East.
It was also the end of a 12-year plan to feature countries from Asia, Africa and Latin America, says Alicia Adams, Kennedy Center vice president for international programming and dance. The festival offered a number of panel discussions on Indian film and literature with distinguished actors, filmmakers and writers, including one marking the 150th anniversary of the birth of Nobel laureate Rabindranath Tagore. Worlds of dance
The showstoppers were its remarkable lineup of dance performances. "It became impossible to exclude any of the great divas of the many styles of Indian dance," Adams says.
Two stars of very different traditions of Indian classical dance—Madhavi Mudgal and Alarmel Valli—performed together in "Samanvaya: A Coming Together." Mudgal is a leading exponent of Odissi. She has revived the form and expanded audiences through education and workshops as well as her own performances.
Valli is a dancer and choreographer in the Bharatanatyam tradition. "Now, as always, there are many gifted dancers from India," wrote a New York Times critic, "but Alarmel Valli is a paragon."
Daksha Sheth, among the first woman soloists in the martial dance form Chhau, combined many different dance traditions in a contemporary dance-theater work called "Sarpagati: The Way of the Serpent," which is a landmark piece in modern Indian dance.
"Over the years, I trained in several martial art forms from all over the country, and out of this I evolved my own language in dance," she told India Today.
Two dance companies from outside India performed, reflecting the cultural strength of the Indian diaspora. Ragamala, based in Minneapolis, Minnesota, is a leading practitioner of Bharatanatyam dance. From Washington, the Dakshina / Daniel Phoenix Singh Dance Company reflects the different identities of young South Asians by combining traditional forms with modern dance.
"We did a lot of research and attended many performances to make the choices that would give audiences an overview of the culture," says the Kennedy Center's Adams.
Theater and music
Washington's National Symphony Orchestra gave three performances. One was a composition written especially for the festival by composer and tabla player Zakir Hussain. He performed on the tabla with the orchestra under conductor Christoph Eschenbach in music that combined ragas, Sufi kalam and Christian church music.
Vatsala Mehra, known as "the ghazal queen," performed, as did "the raga pianist," Utsav Lal. The Kennedy Center's smaller Terrace Theater hosted contemporary rock, jazz and other music that blended different genres. Among the performers: guitar, violin, bass and vocals by Emergence from Tamil Nadu; tabla player Suphala; jazz from Indo-Pak Coalition; drummer and composer Sunny Jain; and music producers DJ Rekha and Panjabi MC.
A musical and theatrical highlight was "The Manganiyar Seduction" by a Sufi sect from Rajasthan, under director Roysten Abel. The 43 musicians were seated in 36 stacked red cubicles that became illuminated individually and collectively as the music unfolded in an unusual multimedia experience.
Cultural Exchanges
The festival's curator, Alicia Adams, explains that the Kennedy Center works to bring the best arts and culture from anywhere in the world for the audience to enjoy, both in Washington, D.C. and around the United States. "Programs like maximum INDIA provide an opportunity for cultural exchange, and the Kennedy Center becomes something of a de facto ministry of culture here in D.C., working with governments from around the world," says Adams. "Bringing in artists from India and elsewhere exposes us to the broad diversity that exists in these cultural realms, so eventually we can include them in our regular programming like our dance series, or chamber music series, to get them up on our main stages." Adams enjoyed researching for the festival, including six trips to India to immerse herself in the culture for a better understanding of the diversity, complexity and origins of Indian arts. While selecting the performers and planning the program wasn't easy, Adams admits with a smile, "The biggest challenge was organizing those visas for our 500 artists and performers coming here from India."
—Jane Varner Malhotra
"The lyrics are all Sufi couplets, and it's all going out to the universe or God," Abel said in an interview on National Public Radio. "The performance is something of a hybrid—not exactly a concert, not exactly a theater piece, but something designed to illuminate and make the audience feel the music of the Manganiyars." Film, literature and exhibits
Along with film showings, actors and filmmakers from Bollywood and elsewhere appeared for panel discussions on the Indian film industry and the portrayal of women in film. They included actresses Nandita Das, Shabana Azmi and Sharmila Tagore; film directors Adoor Gopalakrishnan and Ketan Mehta; and film scholar Dilip Basu.
Actor Naseeruddin Shah and his Motley Theatre Group performed three theater pieces based on the short stories of writer Ismat Khanum Chughtai.
Another panel explored the relationship between Mohandas K. Gandhi and Rabindranath Tagore through their letters and articles. The tension between literature and politics brought together three very different writers: commentator and novelist Nayantara Sahgal, novelist Salman Rushdie and British-born journalist and writer William Dalrymple.
Exhibitions of contemporary art ran throughout the Kennedy Center's halls and galleries, featuring displays of the color and variety of the Indian sari, the pankha or hand fan, and magnificent gems and jewelry from Jaipur's Gem Palace.
Announcing the maximum INDIA festival in New Delhi, in November 2010, U.S. Ambassador Timothy J. Roemer said, "These people-to-people ties are what bind our two countries together."
—Courtesy SPAN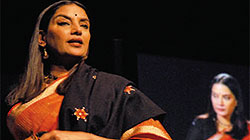 Actress Shabana Azmi
---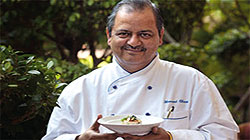 Chef Hemant Oberoi
---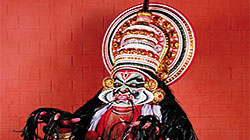 A member of the Kerala Kalamandalam Kathakali Photograph courtesy Kalamandalam Kathakali
---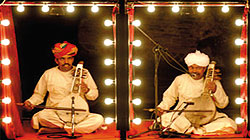 Manganiyar Musicians
---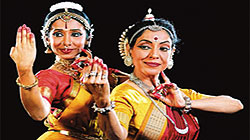 Dancers Alarmel Valli (left) and Madhavi Mudgal
---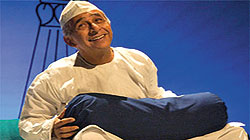 Actor Naseeruddin Shah Photograph courtesy Motley Theater / Kennedy Center
---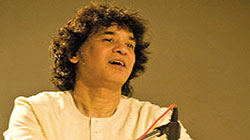 Tabla player Zakir Hussain
Photograph by Susana Millman
---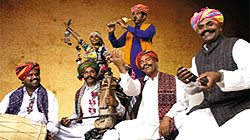 Rhythm of Rajasthan
---
The Nrityagram Dance Ensemble Photograph courtesy Nrityagram Dance Ensemble
---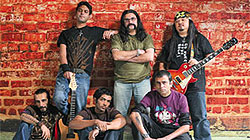 Rock band Parikrama Photograph courtesy Parikrama
---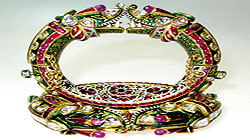 Bracelets set with diamonds and rubies from Jaipurís Gem Palace
---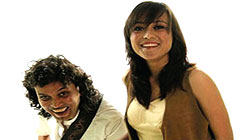 The blues band Soulmate Photograph courtesy Soulmate
---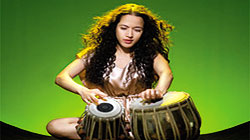 Tabla player Suphala Photograph courtesy Suphala
---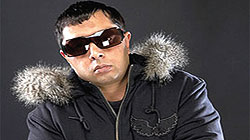 Rapper Panjabi MC
---