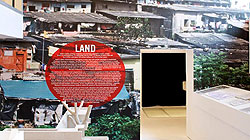 A chandelier made from used plastic bottles; a homemade smokeless stove; a canopy made from old oil tins; a truck assembled from spare parts, water pump engines and wooden carts. These are all examples of people making do, using skill and ingenuity to make their lives better, in spite of meager resources.

This innovative spirit is showcased at an exhibition at the Center for Architecture in New York City. Titled "Jugaad Urbanism: Resourceful Strategies for Indian Cities," it focuses on designs by the people of New Delhi, Mumbai, Ahmedabad and Pune and brings a new perspective to designing for life in cities.

The Center for Architecture "wanted to do something on India and we decided we wanted to represent the fast-changing Indian city in some manner," says exhibit curator Kanu Agrawal. "At the same time, we wanted to make the exhibition palpable, something that visitors could experience…without being lost in large master plan proposals.

"The term jugaad, says Agrawal, "means different things to different people, but we used it to refer to a clever, innovative fix." Various jugaad activities help in shaping the urban realm—they can range from everyday domestic rituals to master plans which affect the whole community.

The exhibition features products, prototypes, models, videos, photographs and drawings. It juxtaposes homemade solutions with ones made by artists, designers and NGOs, showing how the two respond to a resource-constrained environment and can build off of one another to improve city life."In the show, I wanted to see how the creativity of citizens is translated by designers, architects, engineers, planners, governmental and non-governmental entities into inventive strategies for sustainable urban growth," says Agrawal.

On through May 21, the exhibit is organized by resource: land, water, energy and transportation. The land section includes a housing strategy for Pune, a community center planned for a slum resettlement in New Delhi and a study of chawls in Mumbai. The water section features a scheme for community toilets in New Delhi and the energy section displays a solar-powered streetlamp, a portable home light and a set of smokeless stoves.

Photographs courtesy Center for Architecture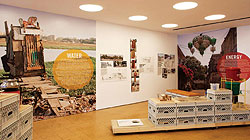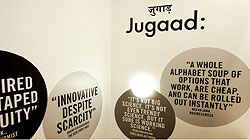 A view of the exhibit, "Jugaad Urbanism: Resourceful Strategies for Indian Cities"

Definitions of jugaad by journalists and commentators placed on a wall at the Center for Architecture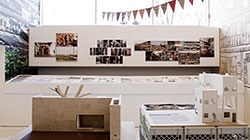 The exhibit features products, prototypes, models, videos, photographs and drawings and is organized by resource: land, water, energy and transportation
The transportation section presents a photo essay on skywalks in Mumbai, drawings and photos of the Janmarg Bus Rapid Transit system in Ahmedabad and a solar-powered rickshaw. "Not all the work included in the exhibition was seen as a panacea to urban problems or a 'good solution.' Some respond to the market, while others represent the way some municipal bodies respond to urban growth. Some are elegant and efficient, while others seem cobbled together rather hastily to cater to an urgent need," says Agrawal.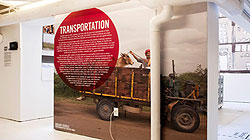 Asked to choose a favorite from the exhibit, Agrawal picks the e-charkha—"an energy generating spinning machine, as an example of contemporary jugaad thinking." Besides its symbolism and the obvious reference to Mohandas K. Gandhi, it is multifunctional and can empower communities. "The energy from the machine powers a transistor radio and a small lamp with a decorative plastic shade. At the same time, there is something quirky about it which gives it that added twist. I think of it as a contemporary ode to the Gandhian ethos of making-do with less," he adds.
Talking about his experiences of curating the exhibit, Agrawal says that he was able to see creativity and innovation at the grassroots level and also the strife and struggle that many people face every day. "For example, a trip to a slum resettlement colony at the frontier of West Delhi revealed the paradoxes of infrastructure—it receives good electrical supply but there is no indoor plumbing...people live on tiny plots but there are no sewer systems, nor sufficient clinics, and so on."
A series of related programs also complemented the exhibit. These included symposiums on informal settlements and low income housing in India, a weekly series of documentaries and Bollywood movies that focus on life in contemporary India.
Solekshaw, a solar-powered rickshaw, developed by the Durgapur, West Bengal-based Central Mechanical Engineering Research Institute. The institute is a constituent establishment of the Council of Scientific and Industrial Research
Photograph courtesy CMERI
R.S. Hiremath, inventor of the e-charkha Photograph courtesy Flexitron
A canopy made from old oil tins in New Delhi Photograph by SUNDEEP BALI
Mumbai's skywalks help to relieve pedestrian traffic at street level
Photograph © Vinit Nikumbh, UDRI Research Fellow
"Together, the exhibition and programs aim to educate both local and international audiences about the critical issues of growing cities," explains Margaret Castillo, president of the American Institute of Architects New York Chapter. "While Mumbai may seem a world away from New York City, the lessons learned from its empowered citizens and designers can be applied to rapidly expanding cities with similar issues, such as Rio or Guangzhou. Object-based, small-scale urbanism proves that good design has the power to make the world a better place."
Over 600 people showed up for the opening in February and the response has been very enthusiastic, says Agrawal. "The show's relevance to an American audience has often cropped up," he says. "My answer has been that while it can help understand the shortage of resources and the dynamics of growth, it also demonstrates that problems as well as solutions and ideas are global. We need a sensitive, thoughtful and examined approach irrespective of location."
—Courtesy SPAN