After the abolition of slavery in 1848, the French masters in Guadeloupe had to find new workers to save their plantations. They decided to import workers from India after the good results they obtain with this labour in Reunion Island.

From 1854 to 1889, 93 ships brought more than 40000 Indian workers to Guadeloupe coming from both South India (70%) and North India (30%).

The contract was for 5 years after which they could take another assignment or go back home but the French made them they stay in Guadeloupe as it was a huge cost for them to send them back.

How they got integrated in Guadeloupe
In Guadeloupe, the workers were isolated and not accepted by the rest of the population. The French knew that if they got associated to the former slaves, they could create a lot of troubles. By dividing the population they could keep the control of the island.

Those Indian were forced to give up their culture, traditions, languages and religions:
● Children born in Guadeloupe had to be named with Christian names and become Christian. Considering that the last name of their parents was modified in the registration process, their name lost the "Indian flavour".

● Hindu marriages were not considered as official and thus not recorded. The women were then considered as single and if they had a child, the father's name would not always be recorded.
Fortunately, there was a resistance to this and secretly, they tried to maintain their cultures as much as they could, for that they had to forget their diversity and be united:

● the caste system disappeared

● the Muslim rituals got mixed with the Hindus

● the North Indian traditions got integrated with South Indian traditions

A new Indian society got created, different from the society in India, different from the other islands around.

Even though they had to forget about their origins, they were not given any identity, they were citizens of nowhere. The first generation of descendants born in Guadeloupe couldn't relate to India and were not French citizens. It is only in 1923 that they acquired French citizenship, thanks to Mr Sidambarom who fought over two decades to ensure its possibility.
| | |
| --- | --- |
| | Minister Vayalar Ravi inaugurates a plaque during a visit to Guadeloupe in May |
Integration of Guadeloupe in French society
Since 1946, Guadeloupe ceased to be a colony and became an overseas French "district" just like Martinique, Reunion Island and French Guyana. It depends on the French government policies. There is a dedicated ministry for the overseas French district and territories and also local governments.
The French language was the main language to be spoken, even creole was kind of banished, without mentioning Hindi, or Tamil which almost disappeared.
The Indian society was struggling like the other parts of the population, trying to adjust and far from India, after trying to become Guadeloupeans, they had to become French people, speaking French and having a French education.
In terms of numbers, which is difficult to define now, we could say that Indian descendants in Guadeloupe represent more or less 10% of the population i.e. 40,000 people. They were lost among the other communities and with the time, there are more and more intercultural relationships. However some families tried to maintain if not the language, some religious and cultural rituals.
Coming back to the roots – the challenge of the 4th/5th/6th generation
More than 150 years after our family departure from India, it's difficult for us to define our identity, our cultures and to come back to our roots. We know that we have Indian origins but somehow we are Guadeloupean and even French.
But we live now in a French society that is not always fair with the descendant of immigrants whoever they are, and sometimes considers them as 2nd grade citizens. This creates lots of issues in our island where the descendants of slaves and indentured labours still feel that they are ruled by the French people rather than being part of France.
So our need to claim proudly that we are not 2nd grade citizens, that we come from a huge country, has slowly emerged. After feeling ashamed of being foreigners, there is a feeling of pride. Five years ago, there were very few cultural associations promoting Indian culture in Guadeloupe. Now, it has dramatically increased, many events are organised, more and more people learn Hindi or Tamil and there is a real wish to create bridges with India.
Most of the descendants of indentured labours who travel in India want to deeply explore this great country and to learn from it. More than that, without rejecting our Guadeloupean and French identities, they want to be officially recognised by India as People of Indian Origin.
The French rulers didn't maintain reports and records so we don't have any Indian passport for our ancestors, emigration papers, list of names, etc…which makes the application to the PIO card impossible. In order to allow us to apply for it, historian Leela Gujadhur Sarup made a proposal to the Government of India, asking them to consider this issue and let us prove our ancestors identity with documents from France such as death certificate or marriage certificate.
A petition has been signed in Guadeloupe, Martinique and Reunion Island to support this proposal. Thanks to His Excellency Malay Mishra, the Indian High Commissioner to Trinidad, I just had the honour to meet Shri Vayalar Ravi, Minister of Overseas Indian Affairs to give him the petition and I hope we will have the Government's full attention on this subject.
I do believe that unless we know our identity and are proud of our origins, we can't stand up on our feet and fight to build a better society to live in. And this is, I guess, what our ancestors were expecting when they travelled so far from home.
Many died, some committed suicide or left for nearby islands to escape the maltreatment but the majority stayed and made the choice to fight and settled in Guadeloupe. We should take this energy as a heritage from them, not only their culture. We should stop behaving like victims of History in order to move forward to be part of India's future, along with all the Indian diaspora from the Caribbean.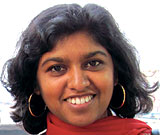 Christelle Gourdine

Christelle Gourdine, born in France, is from the 4th generation born outside India. Her family left Kolkata and Pondicherry 150 years ago to work as indentured labours in Guadeloupe, French West Indies. She began travelling in India few years ago and feels like at home everywhere. From 2006 to 2008, she wrote articles on www.indeenligne.com, a French website promoting Indian cultures, an opportunity for her to meet Indian VIPs. Feeling more and more attracted to India, she started her family tree both to know about her roots and to apply to the PIO card and got assistance from eminent historian researcher Leela Gujadhur Sarup. Thanks to this initiative, she discovered the inspiring story of Ganga and translated it in French. Her own book "Au rythme des tambours sacrés" about her roots searching in India was published by India Empire in January 2011 and received excellent feedbacks from the French speaking diaspora. Graduated in corporate finance, she has been working at the French bank BNP Paribas as a Coach in Lean Management and developed a growing interest in social issues. She is a member of "BNP Paribas Mixcity", an association promoting Women Empowerment in the bank and of "Nos quartiers ont des talents", an association sponsored by French companies which aims to coach students from the suburbs of Paris. After 14 years in the financial world, she felt the need for a more meaningful life and has decided to work on women's issues in India. This is a paper she presented at the Indian Conclave at Port of Spain, Trinidad and Tobago in June 2011.