CATC, Allahabad the training establishment of Airports Authority of India is 'Alma mater of air traffic controllers & communication engineers'. This institute is not only unique, for it is the only one of its type in the whole of the country and more importantly the expertise is not available at any university, even the best of the technical institutes.

Allahabad has the pride of operating the First Airmail in the world on 18th of February 1911. A Frenchman Henri Pequet flew to Naini, 8 KMs from Allahabad, at 40 mph at an altitude of 130 feet with the airmail. The whole journey lasted 27 minutes.One of the recipients of the first airmail was King George V of England.His secretary wrote to Commander Sir Walter George Windham, who accompanied the cargo, big cases containing dismantled plane parts, "The King desires me to send you his thanks for the letter he received from India, bearing the inscription "First Aerial Post", which will be an interesting addition to His Majesty's stamp collection".

Gp Capt Devinder C Mehta, Advisor (MR), AAI
In the review of civil aviation in India in the year 1948 the Director General of Civil Aviation, Mr N. C. Ghosh, had disclosed that between July 1st 1947 and June 30th, 1948 the number of flying hours, distance flown, and passengers and freight carried had increased than the previous year considerably. On the question of training facilities for pilots, engineers and other technical personnel it was decided to establish a flying training school and air field school at Allahabad (excerpts from FLIGHT magazine November 25th, 1948).
CATC came into existence at its present location in Allahabad in 1948. It functioned under Ministry of Communication until a separate Ministry of Civil Aviation and Tourism was created in 1950s. Those days, the establishment was known as Civil Aviation Training Centre and it imparted training in various technical aspects of aircraft operations -- flying, aircraft maintenance, air traffic control, navigational and communication equipments, operational procedures.
Organizational Structure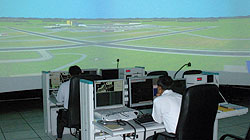 CATC is headed by a Principal and duly assisted by Chief instructors in ATC and CNS streams. The CI's spearhead the training activities in their respective fields, supported by instructors of their respective disciplines who are drawn from the active air traffic controllers and CNS personnel working at the airports. The instructors so selected are the ones who possess the skills for instructional work & have successfully undergone an instructional techniques course - a course certified by International Civil Aviation Organization (ICAO).
Functioning
ATC School
The aim of air traffic control service is to facilitate safe, orderly and efficient movement of aircraft. To carry out his duty, the air traffic controller should have
● A thorough knowledge of aircraft separation standards specified by ICAO
● Knowledge about the performance characteristics of various types of aircraft
● Comprehension of the effects that rough weather conditions and obstructive terrain conditions in the flight path has on the safety of flights
● Information regarding availability of CNS facilities en-route and terminal (and more importantly, the skill to use these CNS facilities for providing service)
● Skill to analyze quickly potential risk situation for flights and organize precautionary rescue steps
● Skill to communicate instructions to the pilots in aviation English clearly.

CNS School
A communication medium is needed for Air Traffic Controllers to pass their instructions to pilots and pilots to keep ATCO's updated with their positions as calculated by their on-board navigation equipments. These communications are predominantly in voice mode. Modern techniques use data mode also for this communication. The most reliable radio used for this purpose is Very High Frequency band AM radio.
Modernization of CATC
CATC estate has a sprawl of about 100 acres. Till mid 90's, barracks of World War II era accommodated the class rooms, and other associated buildings.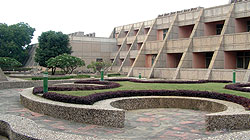 In 1993, ICAO helped CATC in setting up a Course Development Unit (CDU) in CATC. An ICAO appointed expert Course Developer assisted a number of instructors of CATC in producing STPs, thereby themselves becoming TRAINAIR certified course developers. Accordingly, till date CATC, has developed STPs in various ATC and CNS topics for universal sharing and has both imported and exported STPs.
New Institute Premises
The conditions for UNDP assistance for development of CATC required that CATC should have a modern building. A new institute complex was constructed during the period 1992-96 at a cost of Rs.35 crores. Salient features of this complex are:
● Centrally air-conditioned modern classrooms and laboratory buildings
● an instructors' block for seating the 75 plus faculty members
● an air-conditioned library building to facilitate 50 readers
● an air-cooled hostel block to accommodate 300 trainees, which includes a separate block to accommodate 28 lady trainees
● a gymnasium, facilities for indoor games and TV viewing
● a cafeteria building with a seating capacity of 100
● an air-conditioned seminar hall with seating capacity of 50
● an air-cooled auditorium with a seating capacity of 350
● guest house with 11 air-conditioned rooms and a common pantry
● A swimming pool, a cricket ground, a football ground, a basketball ground and a volleyball ground
● A new hospital block with facility for outpatient treatment, limited in-patient treatment as well as minor operations

Recent Developments
Improvements have been continuously carried out in CATC. During the period 2006-2008
● The number of procedural ATC laboratories was increased from 5 to 12, enabling simultaneous training of 144 ATC trainees, thus more than doubling up the capacity from 60 to 84.
● A visual aerodrome control tower simulator costing Rs. 25 crores was installed during 2007, enabling additional intake of 12 ATC trainees. Thus over a period of few years, the capacity for ATC training at any given time has increased from 70 trainees to 175.
● In CNS school, new equipments were added and laboratories were revamped andaugmented to increase the trainee intake from 50 to 100.
● All the classrooms, hitherto not treated for acoustic performance, have been modified for proper acoustics, proper lighting and sunlight control.
● Availability of computers for instructors and trainees has been enhanced multifold.
● Internet facility has been made available to all instructors, and internet café established in the library for the use of trainees.
● Hostel rooms for senior trainees were air-conditioned.
● The cafeteria hall was revamped with proper lighting, air-conditioning and new furniture.
● Gardening area has been enlarged and fountains added to provide better aesthetics to the institute area.

All these resulted in increase of turnout of trainees from 400 (during 2005) to 600 (during 2008).
Training activities of CATC, Allahabad
ATC courses
Ab-initio courses
24 weeks for fresh Junior Executive (ATC) trainees 13 weeks for Aerodrome Control and 11 weeks for approach control. Nominal batch strength 12.
50 weeks for trainees inducted at Manger (ATC) level :– 14 weeks Aerodrome Control, 14 weeks for Approach Control and 14 weeks for Area Control with two breaks of 4 weeks each for on the job training at airports. Nominal batch strength 12.
Area Control courses
8 weeks for executives who have successfully undergone Aerodrome and Approach Control courses at CATC. Nominal batch strength 12.
Radar controlled Approach Procedures (RCAP)
8 weeks for those executives who have 5 years of experience in ATC and have Approach and/or Area Control rating for one year. Nominal batch strength 10.
Search and Rescue Course
5 weeks. Executives with 5 years experience in ATC are eligible. Trainees are picked based on aptitude. Nominal batch strength 10.
Procedure for air Navigation Service Operations (PANS OPS)
● 5 weeks. Executives with atleast 5 years experience and holding all ATC ratings are eligible. Trainees are picked based on aptitude. Nominal batch strength 8.

Conclusion
The facts and figures elucidated above clearly bring out the Uniqueness of the institution and also, the tireless efforts put in by AAI in churning out professionals. Therefore, it would be evident that we at AAI are well prepared to face any contingency & face all challenges upfront, as we implicitly follow the maxim "When the going gets tough, the tough get going".