TRIVANDRUM AIRPORT GETS AN IMPRESSIVE INTERNATIONAL TERMINAL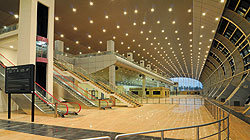 THE NEW TRIVANDRUM INTERNATIONAL TERMINAL
By Gp Capt Devinder C Mehta, Advisor (MR), AAI
Thiruvananthapuram, the capital of Kerala (God's own country), is located on the west coast of India near the extreme south of the mainland. Referred to by Mahatma Gandhi as the "Evergreen city of India", the city is characterized by its undulating terrain of low coastal hills, busy commercial alleys and renowned beach of Kovalam. Trivandrum Airport came into existence in 1935. The first International flight was operated in December, 1977. Trivandrum Airport was declared as an International Airport on 1st January, 1991.

Trivandum International Airport sits on 628.08 acres of land and is located 12 kms from the city centre. It has one runway (14/32 - 3398 x 45m), two aprons (19 parking bays (4 Code E & 15 Code D) and 5 aero-bridges). The Airport has CAT 1 Instrument Landing System for RW32, High Intensity GLS, 3 Terminals (International, Domestic and New International Terminal). The Airport is licensed by DGCA.

The airport is connected by national highway 47 and the nearest main railway station is Trivandrum Central Railway Station, which is 5 Kms away. The existing terminal building is 8 kms away from the Trivandrum Central Railway Station. The airport is 6 kms from city centre while the existing terminal is 12 kms from City Centre. The airport is situated in a strategically ideal area where multimode of connectivity is feasible in future. As we have railway lines passing close and a waterway (Parvathy Puthanaar) which will soon connect the airport to Kovalam a famous beach resort and tourist destination. The airport is licensed by DGCA.

Existing Terminal Building

There are two separate Terminals for handling International traffic and domestic traffic with a total area of 9,000 sqm covering ground and first floor. The International Terminal has a peak hour passenger capacity of 800 (400+400) and the domestic terminal 500 (250+250) for both arrival and departure passengers put together. The airport parking lot can accommodate 250 cars. The existing International Terminal has 24 immigration counters and 12 customs counter which will be shifted to the NITB.

New International Terminal Building (NITB)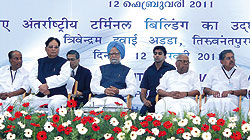 The New International Terminal Building at Trivandrum Airport designed as Steel Tubular shape structure having two portals connected with a tope enclosure in a wave shape. It is a very unique architectural feature constructed at a cost of Rs 289 crores. The building is designed for peak hour passenger capacity of 1600 (800+800). It has an area of approx. 32,200 sqm with facilities like Central Air Conditioning System, Baggage Handling System compatible with in-line X-ray Scanning compatible System, Escalators, PA System, Flight Information Display System, Close Circuit TV for surveillance, Check-in counters with provision for Common Use Terminal Equipment (CUTE) and Glass Aerobridges with visual docking system. The NITB is equipped with 30 check-in counters, 26 Immigration counters and 11 customs counters. The airport parking lot can accommodate 750 cars and 20 coaches. The NITB was inaugurated by Dr. Manmohan Singh, the Hon'ble Prime Minister of India on 12th February, 2011. Whilst dedicating the NITB to the nation, the Prime Minister appreciated the good work being done by AAI in building state-of-the-art, world class airports and thereby bringing about perceivable change in the aerial landscape of airport infrastructure.

Expansion Plans

120 Acres of land has been demanded from the State Government for the expansion plan of Trivandrum Airport. The NITB has been constructed on the 38 acres of land which has been released by the State Govt. The new Domestic Terminal and other related facilities will be constructed once the State Govt. releases the remaining 82 acres of land.

Air Traffic Management (ATM)

Trivandrum Airport is one of the major airports in South of India. It plays a major role in the world aviation map connecting and controlling about 9 International Air-routes, 8 Domestic Air-routes and provides approach control service to 8 major and minor aerodromes. A Terminal Area Control Centre (TMA) is established with 250 Nautical Miles lateral limit around Trivandrum Airport and vertical limit of ground to 46,000 feet. Trivandrum ATC is provided with all type of modern facilities like DVOR, ILS CAT-I, ASR, ARSR (MSSR) for air navigation.

Aeronautical Equipment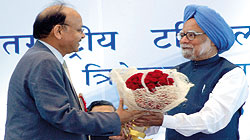 Trivandrum Airport is equipped with Doppler VHF (Very-High-Frequency) Omni directional Range (DVOR), DME (High level), Instrument Landing System (ILS) - CAT-1 for Runway 32, a modern Voice Communication System, a Digital Airport Terminal Information System (DATIS), Digital Voice Tape Recorders (DVTR), a Dedicated Satellite Communication Network (DSCN) and a Remote Work Stations (RWS) system for Aeronautical Fixed Telecommunication Network (AFTN) messaging. VOTV is also having an INRES installation as part of the prestigious GAGAN Project (GPS Aided Geo Augmented Navigation Project). Trivandrum is also one of the major Area Control Centre in southern region of India. ASR / MSSR (Airport Surveillance Radar/ Monopulse Secondary Surveillance Radar) is also available for surveillance of air space around Trivandrum Airspace. A massive project to modernize ATS automation and replacement of ASR/MSSR is on hand.

Other Operations

In addition to Civil Operations, Trivandrum Airport also caters to IAF & Coast Guard for their strategical operations. IAF have an exclusive Apron to handle all their operations. Trivandrum Airport also caters for M/s Rajiv Gandhi Academy for Aviation Technology who are carrying out pilot training.

Cargo

The cargo activities are carried out through Kerala State Industrial Enterprises (a Govt. of Kerala undertaking). The cargo warehouse is located within the Airport premise which has capacity to import 20,400 MT & export 26,400 MT per annum. In 2010-11(upto Dec'10) it has achieved 14135 MT of Import Cargo and 21216 MT of Export Cargo. Facilities and equipment include fork lifts, conveyors, weighing machine, X-ray machines for screening of both imports and exports along with a strong room. KSIE is also in the process of developing one satellite import cargo facility on temporary basis at the NITB for perishable export cargo handling till their final master plan is implemented for developing a huge cargo warehouse in 15 acres.

Security

Trivandrum Airport has advanced security equipment including X-ray baggage inspection (X-BIS), Explosive Trace Detection Systems (ETDS) and provision of in-line baggage screening system at the NITB, state of the art Closed Circuit Television (CCTV), Flight Information Display Systems (FIDS) and Public Address (PA) systems, as well as an Interactive Voice Response System (IVRS) for flight information, are there for passenger convenience.

Ground Handling

M/s Global Airports & Ground Services(P) ltd. (Emirates, Ethihad, NACIL-Air India), KCIC (NACIL-Air India), Universal (Kingfisher, Island Aviation), Décor Drapes Aviation Service(P) Ltd. (Jet Airways, NACIL-Indian), Avisys Solutions (P) Ltd. (Kingfisher), Airport Ram Handling & Terminal Services (P) Ltd. (Island Aviation), Vijaya Labour Contractors India (P) Ltd. (Qatar Airways) & Alicia Hospitality Services (Indigo) are providing Ground Support Services for various airlines. At the NITB Bhadra International & AI-SATS have plans to operate.

Fire Service

Trivandrum Airport is equipped with an Airport Fire Service (AFS) with CAT 8 and on request CAT 9 facilities. Ambu-Lift and first-aid units are available for any emergency. The fire service is equipped with the modern ACFT of Rosembaur make. Three ambulances are also available.

Commitment to Quality

Airport has been assessed and comply with ISO 9001 : 2008 for providing, maintaining & operating infrastructure facilities for domestic & international passengers comprising of Air Traffic, Ground Flight Safety, Fire & Rescue, Security, Passenger Terminal Management & other ancillary support services for smooth civil aviation activities.

Airport is also assessed and comply with ISO 14001:2004 for provision of Environment Friendly Management Services.

Connectivity

12 International airlines (Air India, Kuwait Airways, Oman Airways, Emirates, Qatar Airways, Etihad Airways, Srilankan Airways, Air Arabia, Jet Airways, Island Aviation-Maldivian, Silk Air, Tiger Airways) and 4 Domestic airlines (Air India, Kingfisher, Jet Airways & Indigo) operate from Trivandrum Airport, which handled 19,323 aircraft movements.

Trivandrum International Airport is connected to:-

International Destinations
Dubai, Abu Dhabi, Doha, Sharjah, Muscat, Dammam, Colombo, Male, Bahrain, Kuwait, Singapore & Kuala Lumpur.

Domestic Destinations
Mumbai, Cochin, Chennai, Bengaluru & Delhi.