KIDDIES CORNER
Gini and Jony, a trendy and premium kid's brand, has announced the arrival of its Spring / Summer collection '10 in Mumbai. The various designs featured in this season help kids enjoy the warm summers, with light fabrics, bright colors and delightful themes from around the world. The target age group is 0-16 years. The product range includes t-shirts, shirts, jackets, trousers, cargos and jeans for boys and Capris, dungarees, skirts, co-ordinate tops, and Jamaicans for girls. Besides, there is a complete range for infants. The brand also sells accessories, belts, eyewear and footwear. The price range is between Rs 399 and Rs 2,999.
---
Health & Beauty
Boom in Personal Care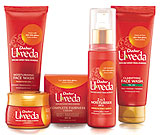 Personal Care in India, a recent market insight report published by Datamonitor, estimates that in the year 2008 the personal care sector in India was worth approximately USD 5.6 billion, with hair-care, feminine care, skincare and make-up being the key markets. Individually, each of these markets demonstrated unique growth patterns. "The high growth rate in the hair-care market is mainly driven by the increased penetration of hair-care products such as shampoos in rural areas, through the advent of small pouch packaging," says Pravin Adik, Datamonitor analyst and author of the report.
The Indian personal care sector has evolved rapidly in the last few years, moving from basic to functional to specialized products. While consumer and industry trends continue to evolve in India, increasing consciousness on beauty and favorable demographic factors have opened up greater avenues for the Indian personal care sector. The inherent strength of the Indian economy and the growing young population can also be termed important contributors in widening the scope of the sector. "The growth rate in relatively small markets such as feminine care is mainly driven by the increasing disposable income of the Indian female population, coupled with the increasing awareness of health and wellness," adds Adik. Looks like Young India is ready to shine, and glow.