In an effort to ease the process of investing into the country, the Overseas Indian Facilitation Centre (OIFC) has developed the Investment Toolkit. The Toolkit serves as a simple, practical and stage-wise investment guide for Global Indians wanting to invest in India. The OIFC itself is a public-private partnership organization between the Ministry of Overseas Indian Affairs (MOIA) and the Confederation of Indian Industry (CII).
The Toolkit provides an end-to-end investment solution and is customized to the needs of the potential diaspora investors. It delineates the existing gamut of investment policies and procedures. It also indicates the range of compliance requirements as well as clearances required based on investment preferences indicated by the investor.
India: A Compelling Market

India's USD 1.2 trillion economy grew at 7.4 per cent in the fiscal year 2009-10 (April to March). It has been indicated by Indian Prime Minister, Dr Manmohan Singh, that the economy will grow by 9 per cent in 2010-11.
India is among the fastest growing economies in the world with the last 5 years recording an average of over 8 per cent growth. If one considers the period since 2000-2001, the average per annum GDP growth rate at the all-India level increased substantively from 5.6 per cent for the period 2000-2001 to 2003-2004 to 8.9 per cent for the period 2004-2005 to 2007-2008. The economy weathered the global slowdown and grew at 7.4 per cent in 2009-10. Growth has been supported by a strong domestic demand and a competitive export strategy.

SNAPSHOTS OF MOST PROMISING SECTORS IN INDIA

Education

India's educational system is amongst the largest in the world. According to the Union Minister for HRD, Mr Kapil Sibal, the Government of India has enhanced its focus on education in the XI Five Year Plan, which aims to set up 30 central universities, 8 IITs, 7 IIMs, 10 NITs and 20 IIITs, among others. The government has spent US$ 95.7 million for setting up of new polytechnics during 2009, covering 175 districts. Under the Sarva Shiksha Abhiyan (SSA), 288,155 new schools have been opened till September 2009. Further, an initiative has been undertaken to supply free text books to 90.5 million children.
The IIMs in the country are investing more than US$ 40.5 million each for rebuilding their infrastructure. A delegation of Committee on Institutional Cooperation (CIC), which represents America's top universities, visited India recently and met HRD Minister, Mr Kapil Sibal. Almost 12 US universities are contemplating tie-ups with Indian universities.

Energy

The use of three conventional energy forms, that is coal, oil, and gas will continue to remain high at least in the next few decades, according to the 'National Energy Map: Technology Vision 2030' of The Energy and Resources Institute (TERI). Gas is a preferred option for power generation as well as fertilizer production. The report also predicts that if the Indian economy grows at a pace of 6.7 per cent, commercial energy requirement would increase to about 1579 million tonnes of oil equivalent (mmtoe) by 2031, while it would increase to 2123 mmtoe if the economy was to grow at 8 per cent.
Cumulative production of crude oil between April 2009 to February 2010, was 30,730 million tonnes (MT), while cumulative refinery production was 146,205 MT during the same period. Natural gas production during that period was 42,784 million cubic meters, an increase of 42.5 per cent over the corresponding period last year.
Petroleum exports were worth US$ 26.5 billion in 2008-09. The petroleum and natural gas sector has attracted cumulative FDI worth US$ 2,616 million from April 2000 to January 2010, according to the Department of Industrial Policy and Promotion (DIPP).
Healthcare

The healthcare industry in the country, which comprises of hospital and allied sectors, is projected to grow 23 per cent per annum to touch US$ 77 billion by 2012 from the current estimated size of US$ 35 billion, according to a joint report by Yes Bank and an industry body.
Another Ernst and Young and an industry body report says that the Indian wellness services market currently estimated at US$ 2.5 billion is expected to grow at 30-35 per cent over the next five years. While rejuvenation services such as spas, alternative therapies, ayurveda treatments and beauty services are expected to grow by 30 per cent, fitness comprising gyms and slimming centres are expected to grow by more than 25 per cent.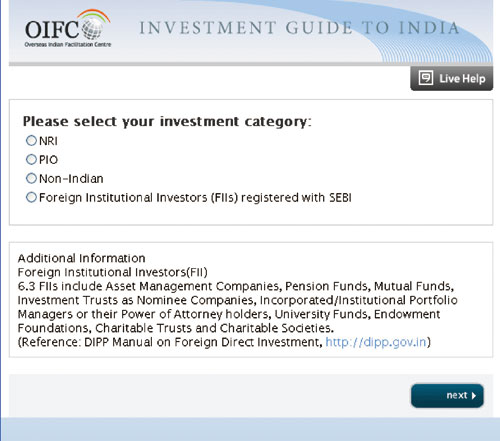 Infrastructure

According to investment banking company Goldman Sachs, India's infrastructure sector will require US$ 1.7 trillion investment in the next 10-years. With a view to streamlining and simplifying the appraisal and approval process for public private partnership (PPP) projects, a Public Private Partnership Appraisal Committee (PPPAC) has been constituted under the chairmanship of Secretary, Department of Economic Affairs with Secretaries of Planning Commission, Department of Expenditure, Department of Legal Affairs and the concerned Administrative Department as its members. The project proposals are appraised by the Planning Commission and approved by the PPPAC. Until December 2009, the PPPAC had approved 144 projects involving an investment of Rs. 1,30,915 crore.

Information and Communication Technology (ICT) in India

Software Development, IT-Enabled Services and Telecommunications have emerged as niche opportunities in India through joint efforts of the Government and the industry. India has now the advantages of skilled manpower base, active and healthy competition amongst states in attracting investment in infrastructure as well as designing IT solutions in areas such as e-governance, e-learning, e-commerce, entrepreneurship, software exports growth and a large potential in the domestic market.
The Indian IT-ITES market is expected to revive in 2010 to grow at 15 per cent to touch Rs 120,666 crore (US$ 26.2 billion) compared with Rs 104,906 crore (US$ 22.7 billion) in 2009, according to IDC. The Eleventh Plan targets Internet and broadband subscribers to rise to 40 million and 20 million, respectively, by 2010.
The key thrust areas are:

· Multi-purpose smart cards with PKI protection
· Health informatics and telemedicine network
· Collaborative ICT research in language technologies/ next generation internet technologies, bioinformatics, nanoinformatics
· Telecom Infrastructure and equipment

The Toolkit is available online at http://www.oifc.in/Investing-in-India/Investment-Toolkit