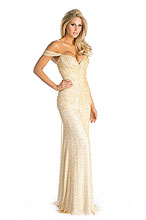 You were going to win the Miss USA 2010 title by the proverbial mile…and then came the question on Arizona's new law to curb illegal immigration. You perhaps almost wished that you didn't have to answer that one at that particular point, yet obviously you couldn't pass. What was racing through your mind at that moment in time? Did you think you might be in a spot of bother? (even though you didn't show it)
In that moment, you have no time to "think" ...You either have an opinion on the issue or you don't...you simply go with what you know!! Being the informed America and independent thinker that I am, I happened to know exactly how I felt on the issue. With that said, it wasn't difficult for me to answer the question. I feel that if you know who you are, what you believe, and why you believe it, then no question can stump you.

(On a side note, what I think a lot of people don't realize is that the question was not, "Do you agree with the new Arizona Immigration Law." The actually question was whether I felt that it should be mandated federally or by the state. I answered the question directly by saying that I was a believer in State's Rights. I DO believe in a state's right to mandate laws as they see fit. However, I finished my statement by clarifying that while I'm against illegal immigration, I am also against racial profiling, so I see both sides of the issue. By saying that, I feel that I took a stance, yet was non-offensive and diplomatic in that stance. I simply was true to my integrity.)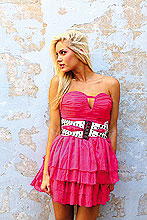 While you've acknowledged that an Arab-American winning an important beauty pageant for the first time is good for America, do you feel that beauty pageants could do without politically-loaded questions that can put contestants in a spot?
Yes, I do feel pageants could do without politically polarizing questions. For me, the job of Miss USA is about being a community servant and championing charitable alliances (breast and ovarian cancer research, the USO, etc.) ...so it seems a bit incongruous that they would ask politically controversial questions. I understand why they do it. A.) I think it's important to know what's going on in your nation. B.) It's a business and controversial questions created good ratings, create publicity, etc... but at the same time, I wish the questions were more personality driven or more about the job you are vying for, and that is representing your country as Miss USA. (Something I miss about traditional pageantry)

For me personally, the vision of Miss USA is someone who unites, not divides, and someone who represents ALL of America, not just half of America, so being asked a question that was bound to offend someone put me between a rock and a hard place. Miss USA should be all inclusive. And truthfully, I feel that I am that. If you were to view my circle of friends, you would see that they come from every background, every ethnicity, religion, and orientation. I
literally have friends from across the globe, and I love that. My entire life I've had a strong appreciation for the world around me and I believe that one of my strongest gifts is compassion, which gives me empathy for the masses.

On another side note, with all the mudslinging in politics and problems facing our nation, it would have been nice to have a night free of political rancor.

If you were to re-answer that question, and I'm sure you must have played it back and forth in your mind by now a few times, would you have done it differently?
(Well first off, I wouldn't have to replay the question in my mind because every radio and television show I have been on has done that FOR me. haha...) But no, I would not answer my question any differently. Truthfully, I don't know how else I could have answered the question. I don't believe in being wishy-washy, therefore I took a stance on the issue. However, I feel that I did that in a non-offensive manner, by stating that I was also against racial profiling, seeing both sides of the issue. I was true to myself and true to my integrity. I would much rather lose, while staying true to myself than win by being "politically correct."

Your response about illegal immigrants shows that you are conscious and acutely aware that the law can be quite a double-edged sword, it may or may not unwittingly end up in racial profiling…
Correct. You see, Washington had been ignoring the issue for quite some time, and Arizona, especially being a border state, had the right to address the issue and take matters into their own hands. And again, as you said, it truly is a double edged sword from every angle.
America is a melting pot and a nation of immigrants, which I personally love, but I also feel we are a nation of laws. I would welcome immigrants with open arms, I just think that if they want to live in America permanently, they should do that the proper way. Many states are in debt because illegal immigrations are costing them within their hospitals and schooling systems. That is certainly an issue.

Also, I know Arizona, along with the other border states have suffered a great deal of crime, violence, and drug cartels. At the same time however, I feel many of the illegal immigrants are coming to America to ESCAPE the drug cartels and created a better life for them and their families. That is why this is such a complicated issue. (All the more difficult to answer within a 20 second time span with millions of people judging you under a microscope)

You did mention that you grew up admiring the likes of Indian queens like Sushmita Sen and Priyanka Chopra, and also there's this fascination with India. Where does it stem from?
I can't tell you how much I admire these incredible women! When I first heard Sushmita Sen's speech when she gave up her crown as Miss Universe, I was given goose bumps. Still to this day, every time I replay it, I am inspired. Just the sound of her voice reveals what an empowered woman she is. The Miss India Pageant is blessed to have such a strong and influential woman running the organization. As for Priyanka, she too, has been an incredible inspiration. She has the face of an angel. As far as a fascination with India, my entire life.

I have been fascinated with other countries and cultures. I love meeting new people and going new places, experiencing new cultures, tasting new foods...etc etc... That is one reason I would have loved to be Miss USA, is as a launching pad to do so. (Even more so Miss Universe) ....I've been that way my entire life, even as a child. Someday, I plan to travel the world!!) Hopefully soon I will make it to India!

Any plans of visiting the Land of a Billion?
I would LOVE to visit India. I just need the opportunity to present itself, along with the financial backing, and I'd be there in a heartbeat. I'm looking forward to someday passing through the Gateway of India like Gandhi, making my way through the antique shops within the "Thieves Market," exploring the fascinating museums and beautiful beaches, and of course seeing the Taj Mahal in person!! It would be my great honor to immerse myself in the astounding diversity of people, landscapes, sights, and sounds. India's vibrant culture is sure to inspire anyone who has the privilege of visiting.

When not on the ramp, you are known to be a very versatile volleyball player. Are there plans to pursue a career in that sport?
Yes, I love sports. I played everything growing up, but I fell in love with the game of volleyball and went on to play collegiately. No, I do not want to continue playing professionally, but it's a wonderful pastime in the summer. Volleyball is a great way to fellowship with friends and the perfect way to stay in shape while doing something you love.

You are a Sports Media major which is such a fantastic area really. Which way is that part of your career shaping up?
Thank you, I attend Oklahoma State University, which is actually the only school in the nation that offers the major. I still need to finish school, but I would love to work as a sideline reporter for ESPN. I was recently approached to do some on camera work for the NBA's Oklahoma City Thunder this season. I am definitely looking forward to the opportunity.

Winning and ending up very close to winning are part of every contestant's life. Is there a message you might have for those who look to be running away with the crown, and then for reasons beyond their control get to be runner-up?
Absolutely.

Well my advice would be not to make it your life...and to always have a plan B. My dad taught me if plan A falls through, always have a plan B,C,D,E. Winning Miss USA would have been an incredible stepping stone and honor for me, but it wasn't do or die necessarily. Thankfully, I am very scholastically and professionally active, so I knew that crown or no crown, I would be successful regardless.

Sure it stings a little bit to be so close, but I feel that so much of life is about perspective. One of my favorite quotes is, "Perspective is about being grateful for the things you have and for the trouble's you don't" ...Having the positive perspective that I have definitely helped me realize how blessed I was and what an incredible honor it was to have placed 1st runner up!!!

Also, keep in mind that to flagellate your mind with condemning words or thoughts is destructive so don't try to ask yourself what you could have done differently or fog your mind with "What ifs".... Just happily accept it, count your blessings, and proudly move on to the next chapter in your life.

Two other pieces of advice I might add: One is to find what you're passionate about and go do it. Harold Whitman said, "Don't ask what the world needs. Ask what makes you come alive and then go and do that, because what the world needs is people who have come alive." Another piece of advice I would give is to never stop believing in yourself!!!! Always believe in your merits, believe in your caliber and believe in your worth!!! EVERYONE has something about them that's exceptional. Bring out what's extraordinary about you for others to see and appreciate.

Do you see success at a beauty pageant as a stepping stone to other larger accomplishments in life? If yes, then in your case what are those?
Without a doubt. I think that is one of the biggest reasons young women enter beauty pageants. I would say that the majority of those young women are go-getters, with tenacious spirits to take on the world. Beauty pageants not only create exposure, but they become a stepping stone in what you learn and take away from the experience as well. I think a lot of pageantry, for me at least, is about self discovery...

I am the Morgan I was before, only a more confident, improved version. For example... My posture has improved dramatically. I am even more aware of the world around me.

I have acquired better nutritional and exercise habits. My vocabulary has increased.

My people and interview skills have increased. I'm far more confident today than I was 6 months ago when I won, and I know who I am and who I'm becoming. (All of these things not only help in pageantry, but help in your career, your future, and your life!!)

And in case you didn't know, Halle Berry was 1st runner to Miss USA. And as far as my future plans go ... I have been blessed with an innumerable amount of opportunities. I'm at a point in my life now where I have to decide which options I would like to pursue and what direction I would like to take for my future.

As far as plans in the immediate future, I would love to relocate to a place where I can finish my education and pursue the entertainment industry all at the same time. At this point, I an incredibly open minded to where life takes me next, but am certainly interested in continuing to pursue modeling, acting, and hosting. At the moment, as you know I am majoring in Sports Media within the school of journalism and broadcasting. If I don't pursue the previous things, then career wise I would love to work as a sideline reporter for ESPN or pursue any kind of job that would allow me to travel the world. I would really enjoy becoming a traveling journalist for National Geographic or something of that nature.

*A quick thanks to all of my fans out there. YOU are exactly what has made this experience so special. I can't say thank you enough for the love and support you have showered upon me. God bless you all!*