YOUNG AND ASPIRING
Founded in 2009, the Global Young Indian Professionals and Students (GYIPS) is a group aimed at developing a strong community of young Indian professionals and students around the world. This community of young men and women would like to use their knowledge skills and expertise to not just move forward professionally, but also in making a contribution to India's political, social and economic development.

Today, the GYIPS has over 750 members worldwide, and chapters in several cities including New Delhi, Mumbai, Bengaluru, London, Washington DC, New York, Boston and San Francisco. Other chapters are on the anvil. Members are drawn from a very diverse range of professional and academic disciplines such as law, engineering, IT, Media, management, public policy, banking, and urban design. The range of organizations and academic institutions represented within the organization spans a broad spectrum.

Says Shikhil Suri, co-founder of GYIPS, "The richness of our organization generates very interesting opportunities for our members to collaborate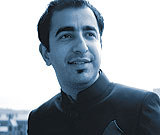 with each other. For example, recently, one of our members working for a social media firm in Singapore was able to connect with another member who was part of a mobilization campaign in India. They were able to work together on a project that utilized social media to mobilize youth in India. This is exactly the kind of collaboration we hope to facilitate."

INDIA EMPIRE caught up with Anirudh Suri, Founder, GYIPS who's from the Harvard Kennedy School of Government and the Wharton School, University of Pennsylvania. Currently he's on a project with the Ministry of Information and Technology in New Delhi.
What is the thinking behind setting up of the GYIPS?
The idea for GYIPS emerged during a discussion with friends and colleagues. All of us, young Indian professionals living all over the world, felt that there was a need for our community to develop a stronger network and create a platform for discussion and action.
For too long, we had heard the refrain amongst young Indians working or studying outside India: "I actually want to eventually go back to India". Similarly, within India, the youth, disenchanted with the system, have yearned for change but not known how to bring about that change.
I thought that an organization like GYIPS could bring these young Indians together and help channel their energy and expertise in the right direction. So we formed GYIPS in mid-2009 with two major goals in mind: one, promoting the professional development of the members of this network; and two, facilitating their contribution to tangible projects that would promote the social, economic and political development of India.
| | |
| --- | --- |
| "Within the last year, our membership has grown to over 750 members worldwide and chapters in several cities such as Delhi, Mumbai, Bangalore, London, Washington DC, New York and Boston" | |
What is its current outreach?
Within the last year, our membership has grown to over 750 members worldwide and chapters in several cities such as Delhi, Mumbai, Bangalore, London, Washington DC, New York and Boston. We have a core team comprised of 7-8 young Indian professionals and graduate students who are spread across these cities.
Our members come from a very diverse range of professional and academic disciplines such as law, engineering, management, public policy, banking, media, and urban design. Similarly, the range of organizations and academic institutions represented within our organization spans a broad spectrum.
We are also working in partnership with several groups and organizations around the world. For example, in January this year, we organized an event in Mumbai in conjunction with Confederation of Indian Industry (CII) – Young Indians, Indian Merchants' Chamber – Young Leaders Forum, Harvard Business School Club of India, and the American Alumni Association. At this event, a visiting delegation of students from Harvard University's Law, Business, Government, and Medical Schools interacted with young professionals from Mumbai.
Similarly, we organized an event in Boston along with the Harvard India Club and the America India Foundation's New England Young Professionals Chapter. Similar events are being planned in different cities around the world where we have active chapters.

What is the vision that you have for GYIPS for moving things forward?
I envision GYIPS as serving as a platform for greater active engagement of young Indians in the shaping of our country's future. India's demographic dividend will not be realized unless we put in place the appropriate structures and mechanisms for the youth of India to collaborate with each other to promote India's development. GYIPS seeks to provide that structure and platform to young Indians around the world.
GYIPS will have a two dimensional organizational structure. One, we will have geographic chapters based in different cities and towns; and two, we will have thematic taskforces that will structure opportunities in particular fields such as foreign policy, education and healthcare. While there will be a core committee to guide the organization's efforts at the global level, I expect the different chapters and taskforces to function in a decentralized manner to advance the goals of the organization. This decentralized structure will allow GYIPS members to tap their own entrepreneurial energy for the benefit of the country.

What are the major activities you plan to undertake?
One of the major initiatives we plan to undertake is to help institute a Fellowship for young Indians to work in the Government at the Central and State levels. In the last few years, there has been a greater desire amongst young Indians to make a difference in the governance of the country, whether it be through working in the government, in politics or in an NGO focusing on grassroots reforms. Through this fellowship, the Management and Leadership Fellowship in Government (MLF), we hope to channel the energy and expertise of young Indians in a very meaningful way to promote effective governance.
As we envision it, the fellows would be associated with different ministries and departments of the Government for a period of two years. This fellowship, much like the White House Fellows Program in the U.S., would serve as an excellent platform for young Indians to actively learn and participate in the policy making process. At the same time, it would be a great launching pad for them to pursue careers in different sectors of their choice, armed with a much better understanding of how the government and polity of India functions.
In addition to this fellowship, GYIPS plans to organize events around the world that bring young Indians together while also giving them the opportunity to discuss issues of importance. We also eventually plan to establish a Mentors Program, under which established, successful Indians would serve as mentors for GYIPS members.

Since one of your objectives is to find more opportunities for young, overseas Indians in governance in India, which are the major ministries and state Governments that you are working with at present?
Our goal is find opportunities for young Indians in governance, no matter where they are currently based. So whether they are in Bhopal or Boston, we want to help them find ways to engage with each other and with institutions in India.
We hope to structure the right opportunities for Fellows to work in a wide range of agencies, PSUs and ministries such as the Planning Commission, the Ministry of Communications and IT, the Ministry of Environment and Forests, and the Ministry for Human Resources Development as well as State Governments around the country.
If any young Indians are interested in being part of the GYIPS network, they can contact us at globalyips@gmail.com