Jailbird IITian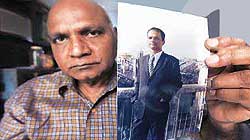 Misplaced confidence can get you in jail. This is the story of Vikram Buddhi, 38, an IIT-ian, who was sentenced on December 11 by an American district judge to 57 months in prison. Buddhi realized the hard way that it is not easy to get away after you've threatened the President of the United States of America and others, over email. He was sent to prison after being arrested in April 2006. The period of his sentence will include the period spent in jail during trial.
District Judge James T. Moody announced the sentence after he found Buddhi guilty of making internet-based threats to then President George Bush, the then vice president Dick Cheney, their wives and the then secretary of defence Donald Rumsfeld. As it turned out the act was not of a person gifted with plenty of intelligence. And certainly not intelligent enough to outwit the US Secret Service.
Buddhi was also found guilty for an internet-based threat to destroy buildings by fire or explosives. He was convicted by a jury in June 2007 on eleven counts during an indictment. The former Purdue University PhD student will have to spend an additional three years in 'supervised release' under a probation officer, the court ruled.
The US Secret Service, which investigated the case had received information that a person posted a threatening message directed towards Bush and others on a financial website message board. That and other related postings were eventually traced back to Buddhi.
Buddhi who represented himself during the sentence hearing after firing his lawyer, said earlier that he was given the short end of the stick, and claimed the trial had been unfair. Before the sentencing Buddhi submitted to the judge that he had got 'ineffective assistance' of the counsel and said it was the 'gravest error of justice'. A day before he was sentenced, Buddhi fired his lawyer Arlington Foley for not discussing the case properly, and said would involuntarily represent himself at the hearing.
Ensure due process: India to US
India has requested the US to ensure that due process of law is followed in hearing the appeal of Vikram Buddhi, an IIT alumnus who is in jail in the US for posting hate messages against former US president George Bush.
"It is seen that Mr Buddhi has been tried and convicted through a US court process. The matter is presently sub-judice, and we have requested the US government to ensure that due process is followed," external affairs ministry spokesperson Vishnu Prakash said.
"This we continue to seek," he stressed.
The Indian Consulate General in Chicago has had consular access to Buddhi and is closely following his case, the spokesperson added. Buddhi, who was pursuing a Ph.D at Purdue University, Indiana, was sentenced by a US court to 57 months imprisonment on December 11 for sending threatening emails to several US leaders, including Bush.
He is presently under detention in the Metropolitan Correctional Center in Chicago. Parents of Buddhi have protested against their son's trial, calling it a total miscarriage of justice. Buddhi has decided to file an appeal in the appellate court in Chicago against the verdict.
---
Saran gets 12 years in jail, to pay US$ 68 million
An Indian-American man has been sentenced by a US court to 12 years in jail and ordered to pay US$ 68 million for his involvement in an elaborate internet scam that obtained a whopping US$ 200 million by illegally selling addictive medicines to cyber customers and drug users.
Rakesh Jyoti Saran (47) of Arlington in Texas was sentenced on December 11 to 144 months in federal prison, said US Attorney James T Jacks of the Northern District of Texas. He was also asked to pay US$ 68 million in restitution.
Saran, the last defendant to be sentenced in this case, pleaded guilty to one count of conspiracy to commit healthcare fraud and other federal offences, two counts of mail fraud and one count of conspiracy to distribute controlled substances. He has been in federal custody since May 2009..