Hijacker deported to India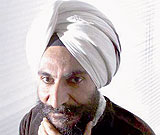 On January 26, India's Republic Day, Canada deported the mastermind of the 1984 Indian Airlines hijacker to India.

Parminder Singh Saini, 46, who took refuge in Canada 15 years ago and faced deportation to India, was put on the plane back to India. Saini was escorted by officials of the Canadian Border Security Agency (CBSA) to Toronto airport to board an India-bound flight on a one-way ticket.
On July 6, 1984, Saini, leader of a group of five Sikh militants, hijacked an Indian Airlines flight from Srinagar to Delhi with 255 passengers on board. The flight was taken to Lahore. The hijack drama ended after a 17-hour stand-off, with the hijackers surrendering to the Pakistani authorities.

After a trial in Pakistan, Saini was sentenced to death by a Lahore court. But the death sentence was commuted to life term. He was released after 10 years and asked to leave Pakistan.