Instead of "Oh, Hell!" as the initial reaction on landing at Delhi Airport, the new response from overseas Indians could well be "Oh, God!" when they land at the swanky New Delhi's Indira Gandhi International Airport. Earlier, when overseas Indians arrived from the west from New York, Toronto and London; or from the east from Beijing, Hong Kong, Singapore, Bangkok, Kaula Lampur and Dubai; they would get a culture shock on entering Delhi airport.
Instead of the low ceilings with flickering tube lights, erratic air conditioning, mouldy carpets and bland walls; now the arriving NRIs will be greeted at Terminal Three orT3 by soft, natural lighting, colourful murals, squeaky clean washrooms, and proceed silently on moving walkways to reach the immigration hall.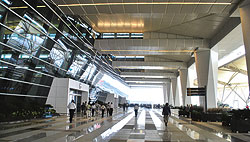 They may well be awed at the sheer size and the stunning sculptures of 'mudras' or postures of feminine hands fixed over golden discs. Under these 'mudras' are 95 immigration counters with smartly dressed officers in gray blazers and blue ties to process their passports. Depending on your passport as a diplomat, an Indian national, a foreigner or an overseas Indian, you will be directed to the right counter. If the arriving overseas Indians have a PIO or an OCI Card, they can be cleared quickly at special PIO-OIC counters.
Once you move out from passport control to the baggage claim concourse, your bags are most likely to be moving on one of the 14 conveyor belts waiting to be picked up. If you have nothing to declare, you slide through customs and enter the arrivals hall. A host of services are available in this huge concourse, ranging from taxis, car rental, hotels, currency exchange, telephones, shopping, a food court and lots more.
By the end of this year, you can ride the air conditioned direct Delhi Metro Airport Express (DAME) link from this airport to the city centre. In less than 30-minutes ride on this most modern rapid transit system in the world, you will be in Rajiv Chowk (Connought Circus) and change for any other Metro station on the network. Or you can take a taxi to take the eight-lane highway with numerous flyovers to reach the city centre in less than half an hour.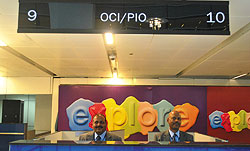 The state-of-the-art, fully integrated new terminal extends over 5.4 million square feet. The humongous steel and glass T3 has 78 gates or aero-bridges, 97 automatic walkways or Travelors and five-level baggage screening system with a capacity to handle12,800 bags per hour, 215,000 square feet of retail space and parking for 4,300 cars in a multi-level building connected to T3 with covered walkways.
T3 has nine parking slots for the world's biggest double-decker Airbus A380 plane, six more than London's Heathrow. Covering 20 acres, T3 is the largest public building, with a length of 1.2 kms from end to end, constructed since India's independence in 1947. T3 was completed in just 37 months compared with the 45 months China took to build the terminal in Beijing before the 2008 Olympics. Costing $2.8 billion, it can handle 75 planes in an hour with the latest the latest CAT-III runway landing system and 97 moving walkways. It was built by south India-based GMR Group with Germany's Fraport and Malaysian Airports. T3 is an outstanding example of India's public and private partnership as the construction company, GMR, and the Delhi International Airport Authority interacted with over 55 government and semi-government organisations and yet managed to complete the project in record time. T3 has the capacity to handle 34 million passengers per year.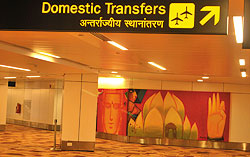 T3 makes good use of natural light and is designed to be energy efficient and environmentally friendly terminal with nearly one million plants and trees planted in 70 acres around the structure. Electricity in T3 will be partly fueled by municipal waste. It has the latest IT system to meet the passenger needs. T3 ranks among the top ten in the world. In addition to Delhi, new airports have been built for Mumbai, Bangalore, Hyderabad, Chennai and Pune, among others.
"An airport is often the first introduction to a country. A good airport will signal a new India, committed to joining the ranks of modern industrialised nations," said India's prime minister, Manmohan Singh, at its opening of the swanky Terminal Three (T3) of the Indira Gandhi International Airport in July after seven days of religious ceremonies involving 300 priests.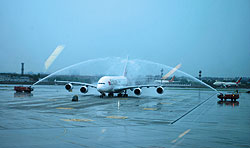 Catching your outbound flight will also be smooth unlike the harrowing experience in the past when you arrived at the entrance gates to what looked like a crowded bus station and to grab a trolley amounted to a free for all. Once you enter one of the eight gates, you no longer have to stand in one of several queues to have your baggage X-rayed before check-in. The long waiting at check in counters and immigration control is no more. No long wait for checking in as T3 has 168 check-in counters. What's more, check-in counters can be switched from one airline to the other if there is rush for a particular flight. What's more, the same counter can be used by a domestic airline in the morning and an international one in the evening. For immigration, you have 95 counters to process your passport.
If you are going on a non-stop flight to US, your security checks will take less time because T3 will be India's first terminal to have enclosed boarding gates in a completely sanitised area for these flights with facility to screen both passengers and their cabin baggage just before they enter the aerobridge to board the aircraft. Only a few terminals like London Heathrow and Frankfurt have such special arrangements to accommodate US security concerns after the 9/11 attack in New York. Security in Terminal 3 is thorough. Fifteen x-ray systems and around 3,000 security cameras have been installed with a master control room. Security also includes a baggage system containing a detector that can identify hidden explosives. If your flight is delayed or cancelled, you can watch live matches at the Delhi Daredevils Bar or rest check in at a 100-bed hotel is right within this complex to rest or catch up on sleep.
All these facilities were amply tested with the first Air India non-stop flight from New York and later with the first commercial flight of 512 passengers in the world's most modern and biggest twin-deck airliner, the Emirates A380 Airbus flight. Both flights had a special welcome with water canon making a spray arch as they parked at they docked.
"An airport is often is the first introduction to the country. A good airport would signal a new India, committed to join the ranks of modern industrialised nations," the Prime Minister said at its inauguration in early July. This is one symbol of a new India that will make every overseas Indian proud.