In October 2009, President Barack Obama attended the annual Diwali celebration at the White House that had been started during the George W. Bush administration. With more Americans of Indian descent rising to leadership positions in the United States government, this occasion took on special significance for those who celebrate the festival.
SPAN recently caught up with two Indian Americans who began working at the White House last summer in the Office of Science and Technology Policy.
Kumar Garg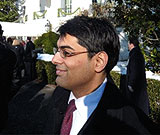 Born in New Delhi and raised in India, Britain, and the suburbs of New York City, Kumar Garg is on a one-year White House fellowship, looking at ways to improve science, technology, engineering and mathematics education, and how science and technology relate to education generally. He graduated from Yale Law School in 2008 and went on to help students and parents from underserved schools in litigation against the state of Connecticut.
The president has made science and math education a top priority, and recently introduced the Educate to Innovate campaign. The public-private partnership brings together government organizations, professional associations, businesses and universities to help American students excel in math and science. "We're looking at new research showing how very young children pick up complicated math concepts at ages we didn't realize they'd be receptive. This changes the approach to teaching, and we look at where this could lead us. We also explore new technologies for learning: computers in classrooms, smart boards, online courses, learning at your own pace, learning at home, downloadable courses. We consider new, effective strategies and how they scale across the country."
Garg, 28, says he has had the opportunity to interact with the president a few times when his issue rises to the level of an event, or a policy decision is being made and there's a briefing. "It's a huge privilege," he says.
"It's professionally rewarding to work on something that the president cares so much about, that has consequence, and also to work with colleagues who care so deeply and are so capable," Garg notes, adding that in his group there's a healthy mix of addressing what can be done quickly, within a year, and also what can be done for the bigger, long-term challenges of the next 10 to 20 years.
After he arrived in June, Garg attended a planning meeting for the Diwali celebration and was surprised to find a room full of about 40 Indian Americans. "And there were a lot more who were stuck in meetings and couldn't make it. Honestly, I was surprised by the large Indian community working at the White House," he says. The people he meets are deeply passionate about many different issues, supporting the president and his agenda in different ways. "They are passionate about the president, and clearly the Indian American community is taking an active role in citizenship and public service."
Garg found the Diwali celebration very touching. "There were 100 to 50 people there, with a priest, and the president lit the first lamp. He also signed an executive order establishing an advisory commission on Asian Americans, which was a big deal. Of course, my parents wanted to hear every detail," Garg says.

Sridhar Kota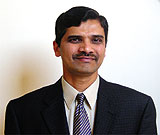 A professor of mechanical engineering at the University of Michigan for 23 years, Sridhar Kota is working on a one-year fellowship at the White House as assistant director for advanced manufacturing. He helps to identify strategies and policies that strengthen the U.S. manufacturing base, a top priority of the Obama administration. Kota, 50, also looks at the role of the federal government in enhancing manufacturing competitiveness in existing industry, and promoting new markets based on emerging technologies.
"The government spends a lot of money on basic research through various agencies, and the value of that is you have great research results from American labs and universities. But if you don't capitalize on that research, other countries will. The question is how to provide a domestic pathway from the lab to the market," he says.
Kota grew up in Hyderabad, Andhra Pradesh and at 20 went to the United States to earn his Ph.D. in engineering at the University of Minnesota. There he met his wife, Usha, who had immigrated from India at age 6 and moved to Minneapolis, Minnesota, where her father was a professor. Since 1980, Kota has lived in Ann Arbor, Michigan. He travels home most weekends from Washington, D.C. to be with his daughter and wife, who works at a hospital.
"In addition to my teaching, I've worked in the automotive and aerospace industries, and I've developed product ideas of my own. I'm passionate about manufacturing, because if you don't manufacture, it's hard to innovate," he says. Kota's division brings together the U.S. Department of Defense, the Department of Energy, and the National Science Foundation to share what each organization is doing and come up with a roadmap to find gaps in manufacturing and fill them.
He didn't make it to the Diwali celebration. "Honestly, I was just buried in my work. I didn't even know it was happening till the next weekend when I read about it in the paper!" he laughs. Being apart from his family during the week, he typically works 14 hours a day, goes home to his apartment, eats, opens his laptop, and falls asleep.
"There's no end to this work but it's exciting," he says. "I am working on policy recommendations that actually make a difference. It's a great opportunity for me, and it broadens my perspective. I'm now looking at trade policy, exchange rates, why things are made here versus overseas. I can view it all from the highest level perspective."
Even though he's swamped with work, he has noticed quite a few Indian Americans around the office. "There are more in this administration than I thought, leaders like Aneesh Chopra, the chief technology officer, Vivek Kundra, the chief information officer, and Arun Majumdar, leading the Department of Energy's research and development. As an Indian American, that's something to be proud of, for sure."
—Courtesy SPAN