Editor's Desk
At this point in our history, the words of one of America's finest Presidents, John F Kennedy, sit well on Indo-Bangladesh relations: "Geography has made us neighbors. History has made us friends. Economics has made us partners, and necessity has made us allies. Those whom God has so joined together, let no man put asunder." H.E. Syed Muazzem Ali, High Commissioner of Bangladesh to India, reiterates that things are indeed on the right path. A former foreign secretary himself, High Commissioner Ali declared his allegiance to Bangladesh while he was serving in the Pakistan Embassy in Washington DC in 1971. At that defining moment in his country's history he became a founding member of the Bangladesh Mission in the American capital city and remained active in the lobbying process for political support for Bangladesh's independence movement. In this cover interview he tells INDIA EMPIRE magazine that since assumption of power for the second time in 2009, Prime Minister Hasina has brought a change in mindset in pursuing bilateral ties with India. Likewise, he says that Prime Minister Modi has also expressed his keen desire to promote bilateral cooperation following his historic visit in June 2015 to Bangladesh, and wants to take ties to newer heights. He also quotes President Pranab Mukherjee's words at a lecture in November 2015 where he termed Bangladesh-India relations as the best ever since 1974.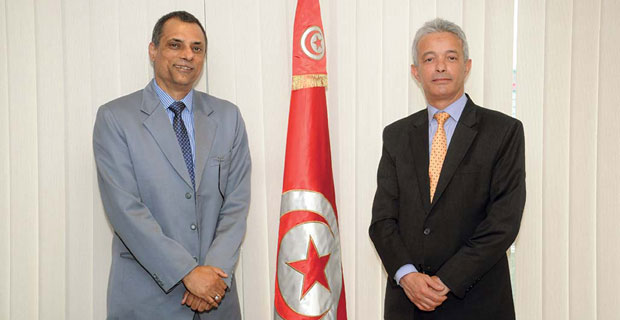 Editor with Ambassador of Tunisia, H.E. Nejmeddine Lakhal
Happily, fostering ties further will be the presence of many Bangladeshi cricketers at the forthcoming Indian Premier League. It is a high point in Bangladesh's cricket history as well, with the team registering its very first Test win overseas in March. It happened to be Bangladesh's 100 Test match and they beat Sri Lanka at the P Sara Oval in Colombo. Another moment of joy for them has come with Shakib Al Hasan gaining No. 1 spot as an all-rounder across all three formats—Test, ODI and T20I. This rare accomplishment makes Bangladesh's rise in world cricket even sweeter.
Not an immediate neighbor, but albeit a close one on the western side, is Afghanistan. The country has turned its attention in a major way at empowering women across all walks. In our February 2017 issue we carried an article titled Fighting Taliban with Music, not Guns. The protagonist of the story was Negin Khpalwak, a 20-year-old from Kunar in eastern Afghanistan. Negin leads an all-female orchestra called Zohra that brought the curtains down at the World Economic Forum in Davos in January 2017. Zohra is an ensemble of 35 girls aged between 13 and 20, some orphans and many from impoverished families. The orchestra remains a beacon of hope for aspiring women in Afghanistan. Music was banned during the Taliban's repressive regime between 1996 and 2001 and is still frowned upon in much of Afghan society, tightly segregated by gender. So what Negin and Zohra do is outrageously brave.