KNOW INDIA PROGRAMME
The 26th Know India Programme (KIP) will be held by the Ministry of Overseas Indian Affairs (MOIA) between December 23, 2013 and January 12, 2014. The partner state is Odisha. This particular KIP will synchronize with the Pravasi Bharatiya Divas—the global event for overseas Indians—in New Delhi. The last date for receipt of nominations for the KIP is October 30, 2013.

Earlier in fiscal 2013 – 2014 MOIA conducted the 24th KIP in partnership with the state of Uttar Pradesh (April 25, 2013 – May 15, 2013) and the 25th KIP in partnership with the state of Punjab (August 29, 2013 – September 18, 2013).

The first ever KIP—then known as the Internship Programme for Diaspora Youth—was held between December 20, 2003 and January 12, 2004 with Delhi as the partner state. At that time the Ministry had not been established. The second KIP was held between December 27, 2004 and January 15, 2005 under the aegis of the MOIA with Andhra Pradesh and Maharashtra as partner states. Till date 761 diaspora youth have participated in 25 KIPs.

The KIP is usually a 3-week long internship programme conducted by MOIA with a view to promote awareness on India, and the country's socio-cultural diversity, all-round development, emergence as an economic powerhouse, a centre of higher learning and education, as well as ongoing developments in various fields such as infrastructure and IT.

The programme includes stay at a prominent University / College / Institute, activities related to youth, visiting industries, visiting a village, exposure to Indian media and film industry, awareness about India's Constitution, its political processes, interaction with NGOs and organizations dealing with women's affairs, exposure to Yoga, calling on high dignitaries including the President of India, Minister for Overseas Indian Affairs, Minister for Youth Affairs and Sports, Minister for Women and Child Development, visit to places of historical significance and attending cultural programmes. It is open to youth in the age-group of 18-26 years.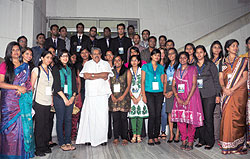 Minister for Overseas Indian Affairs, Mr Vayalar Ravi, seen with a KIP group
STUDY INDIA PROGRAMME
The 2nd SIP is scheduled to be held in India between October 23 and November 19, 2013. The duration of the programme is for four weeks. The SIP initiated by the MOIA is another means of enhancing India's engagement with the diaspora youth. The objective of the scheme is to enable overseas Indian youth, i.e. foreign citizens of Indian origin in the age group of 18-26 years, to undergo short term courses in the nature of summer schools in order to familiarize them with the art and culture, heritage, history, economy and development of India. They aim at providing an opportunity to the overseas Indian youth to better understand and appreciate contemporary India, foster closer ties with the land of their ancestors and enhance their engagement with India.

The 1st SIP was organized between September 25 and October 23, 2012 at the Symbiosis Centre for International Education, Pune. Nine youth of Indian origin hailing from Malaysia, Fiji, South Africa, Trinidad and Tobago participated.

The participants for the SIP are selected based on recommendations received from Heads of Indian Missions around the world. Selected participants are provided with full hospitality in India for the duration of the Programme. This includes costs towards boarding, lodging, local transportation and course fees. In 2013, concerned Indian Missions / Posts will reimburse 90% of the cost of air ticket by economy class (direct flight) to the participants on successful completion of the programme by them.

The Scheme as envisaged will initially be implemented in partnership with select Indian Universities / Institutions of repute. The course would include:
a) Academic content which would facilitate understanding of contemporary India and its development, political and financial systems, economic, social and administrative structures.
b) Cultural content which would help the participants in the Indian experience with exposure to Indian history, arts, handicrafts, dance, music, cuisine, languages and age-old traditions.
c) Visits will be organised to different institutions, industries of importance and rural areas to allow the participants to gain first hand exposure to India.