The British Sikh Association (BSA) hosted its most memorable Annual Dinner at the SAS Radisson Portman Hotel, Portman Square, London W1H 7BG on September 26, 2013. It was to pay tribute to Drummer Lee Rigby who was brutally murdered in a terrorist attack on May 22, 2013. Homage was also paid to the armed forces for the supreme sacrifices they pay for the protection of our liberty. The Guest of Honour was Sir Bernard Hogan-Howe QPM, Commissioner of the Metropolitan Police Service and Chief Guest Mr Sukhdev S. Sidhu, Minister Coordination at the Indian High Commission, UK. Special Guest, Shri Madan Mohan Mittal, Minister for Social Security and Development of Women and Children, Health and Family Welfare and Parliamentary Affairs of the state of Punjab who was awarded the Jewel of Punjab Award.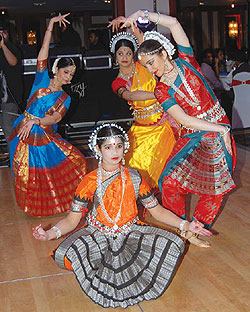 Dancers of Bharatiya Vidya Bhavan with their amazing performance
Over 450 elite guests attended this glittering dinner which included: Mr Richard Harrington MP, Member of Parliament for Watford and Vice Chairman of the Conservative Party; Ms Chloe Smith MP, Member of Parliament for Norwich North and Parliamentary Secretary for the Cabinet Office, Mr Paul Uppal MP, Member of Parliament for Wolverhampton South West; Major General Bob Nitch, General Officer Commanding Support Command; Commodore Andrew Cameron, Chief Executive of the Charity Combat Stress; Lt. Col. Bob Christopher, Commander of the Central Volunteer Head Quarters Royal Artillery and Woolwich Station; Mr. Simon Woolley, Director of Operation Black Vote; Mr Ramniklal Solanki CBE, Founder and Editor in Chief of the Asian Media Marketing Group; Mr C.B. Patel, Chairman and Editor of Asian Business Publications Ltd., H.E. Mrs Asta Skaisgiryte Liauskiene; Lithuanian Ambassador to the United Kingdom.
The event started with a spectacular dance performance by the Bharatiya Vidya Bhavan group who gave guests a flavour of traditional Indian dance with their array of bright and vibrant colours. A mesmerising two-part performance was provided by the 'The Band of the Royal Life Guards' who gave a strong presentation and a infused a great sense of British pride. The performance left the audience spellbound.