Minister of Overseas Indian Affairs, Mr Vayalar Ravi and Premier of NSW, Mr. Barry O'Farrell inaugurated the Regional Pravasi Bharatiya Divas 2013 (Overseas Indian Day) at the Sydney Convention and Exhibition Centre. The event was held between Novembe 10 and 12, 2013. The three-day event started on a highly successful note celebrating the achievements of the Australian Indian Diaspora. The Indian and Australian bilateral relationship was a key component within the conference agenda.

Mr Ravi said the Pravasi Bharatiya Divas is an initiative to recognise the 450,000 people of Indian origin in Australia and those in New Zealand and Fiji. India wishes to harness the growing power of its Diaspora, their contribution to homeland India, and the progressing relationship between the two countries, fostered by strong trade and investment links.

Minister Ravi assured overseas Indians that the Government of India would continue to look out for and serve the interests of the growing Indian Diaspora that is more than 25 million around the world. Mr. Ravi said "I am very enthused with the participation and I hope to take back a lot of shared experiences that will help enhance the engagement with overseas Indians." H.E. Mr Biren Nanda, the Indian High Commissioner to Australia, said participation in the event was from all states and territories of Australia and from neighbouring countries including New Zealand and Fiji, attracting about 500 delegates from the Asia Pacific region.

"It was great to see participation from Australians and Indians living in Australia, all of whom are interested in plugging into India's growing relationship with Australia," he said. In his inaugural address, the NSW Premier, Mr. Barry O'Farrell said "Indian community is now the fastest growing ethnic community in the state and the country, and Indian languages are becoming the biggest non-English languages spoken in the country. Hindi and Punjabi are even taught in schools and colleges." The NSW Premier and other Australian Federal Ministers, Senators and MPs commended the immense contribution of the Indian-Australian community. Mr. Scott Morrison MP, Minister for Immigration and Border Protection was representing the Prime Minister of Australia and reinforced the same in his speech.

Australia India Business Council (AIBC) and Overseas Indian Facilitation Center (OIFC) signed a Memorandum of Understanding on this important occasion (see box). Ms Sujata Sudarshan, CEO of OIFC said "The memorandum will help OIFC and AIBC to work closely on bilateral initiatives and people to people networks between Australia and India, thereby facilitating stronger ties between the two countries."

The Confederation of Indian Industry (CII) and AIBC also organised a B2B meet during the conference. The event initiated several important discussions during bilateral business sessions. The sessions were moderated by key business and community leaders on different aspects of India's relationship with Australia and countries in the region including resources, energy, infrastructure, agriculture, manufacturing, skills and education, languages, youth, women in business and culture, among others.
Prominent dignitaries gracing the occasion include Mr Barry O'Farrell, Premier NSW; Mr Jay Weatherill, Premier South Australia; Mr Andrew Robb AO MP, Minister for Trade and Investment; Ms Lisa Singh, Senator for Tasmania; Mr. Mahendra Pal Chaudhry, former Prime Minister of Fiji; Mr Trevor Rowe, Executive Chairman of Rothschild Australia; Former Australian cricketer Steve Waugh; Mr Phillip Bullock, Chair, Skills Australia, The Hon. Mr. K.S. Bakshi, MP, New Zealand, Hon Jeff Seeney MP, Deputy Premier of Queensland; Mr. Shankar Vanavarayar, Co-Chair of CII Family Business Sub Committee, Southern Region and Leader of the CII Business Delegation, Mr. T.K. Manoj Kumar, Joint Secretary, Ministry of Overseas Indian Affairs, Ms. Rani George, Secretary, NORKA Department, Government of Kerala, H.E. Mr. Suresh Shetty, Minister of Protocol and Health, Government of Maharashtra, H.E. Mr. K.C. Joseph, Minister of Rural Development, Planning, Culture and NORKA, Government of Kerala.

Also participating were other prominent academicians, businessmen, media personnel and government officials from Australia and India. The cultural performances during the conference hit the right chord with the audience, as famous artists were flown down to Sydney for this special occasion—Pandit Shivkumar Sharma performed on his Santoor, and Hindustani vocalist Meeta Pandit, sang to an enthralled audience. Shiamak Davar Dance group and Kamahl's performance of The Gettysburg Address were also quite popular with the audience.

OIFC—AIBC sign MoU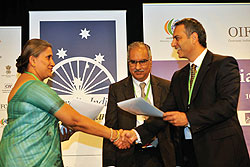 Ms Sujata Sudarshan, CEO, OIFC and Mr Dipen Rughani, National Chairman, AIBC Limited after signing of the MoU to promote increased cooperation and economic linkages with the Indian Diaspora in Australia. HE Mr Biren Nanda, High Commissioner of India to Australia, is witnessing the occasion
The Overseas Indian Facilitation Centre (OIFC) and the Australia India Business Council (AIBC) signed an MoU Associate Partnership. The common objectives are:

1. To acquaint the Indian Diaspora comprising of Non-Resident Indians and Persons of Indian origin with various trade and investment opportunities in India, which could benefit their businesses, and at the same time improve trade and commercial ties between the two countries.
2. The MoU seeks to enhance the economic engagement of the Indian Diaspora in Australia with India. Both AIBC and the OIFC will cooperate to foster a closer networking between its members of Indian origin, with people and organisations in India to expand their economic engagement with India; facilitate visits of delegations of both organisations and support in organising programs, meetings, conferences, facilitate one-to-one interaction between representatives of business and the Governments in Australia and India; support promotional activities of both organisations.
3. The two organisations plan to hold regular dialogue on relevant issues of mutual interest.

Ms Sujata Sudarshan, CEO, OIFC, said, "This is indeed a very significant development towards OIFC's efforts of connecting with the Indian Diaspora. This MoU reaffirms OIFC's commitment to support the Indian Diaspora in making informed choices while deciding to initiate economic linkages with India."

Mr. Dipen Rughani, National Chair, AIBC, said, "AIBC is delighted with its association with OIFC and the opportunity to share its expertise and address the queries of the vast population of the Indian Diaspora based in Australia about investing in India. This collaboration with OIFC will further strengthen our network and knowledge about bilateral trade between the two countries."

For more information on OIFC, please visit: www.oifc.in and for AIBC, please visit: www.aibc.org.au.