A presentation by PIO journalist Jean Regis Ramsamy, Vice President of GOPIO Reunion Chapter and President of Office of Diaspora Initiatives, Reunion Island at the Pravasi Bharatiya Divas, Mauritius in late October. This overseas French department in the Indian Ocean, about 120 km from Mauritius, is a Francophone island with very little penetration of the English language. Mr Ramsamy is one of the few who has for years articulated his island's issues and aspirations before Indian audiences as a regular speaker at the PBD events held in India and overseas destinations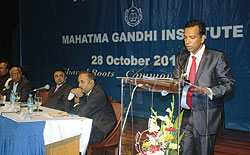 PIO Journalist from the French Overseas Department of Reunion Island, Mr Jean Regis Ramsamy, speaks during a session at the PBD Mauritius
First I should mention, a huge deception after Indian minister cancelled his visit in Reunion. Much has already been said about the expectations of the Indian diaspora. But you know, our case is unique.
Reunion Island is a two thousand and five hundred square kilometers French island in the Indian Ocean - as was Mauritius before 1815. As a French and European territory in the middle of the seas we are part of the South-North trade exchanges. Yet much of the population has an Asian origin, I mean Chinese and, of course, Indian. On a regular basis, on a population of over eight hundred thousand people in the island, let's talk about say 30% PIO in La Reunion Island (of Indian origin).
The main economical resource of the island has long been sugarcane, for which the Indians were recruited: they were about 120,000, mostly Hindus/Tamoul, plus some Muslims (the lads) and Catholics. These workers were to return to India after their contract ended. Some effectively tried to go back to India, but it proved to be very hard. Main reason was lack of ships. Most of the indentured workers chose instead to stay and carry on their life in the island.
None of them abandoned their traditions, their culture, though. Earning a living has nothing to do with forgetting homeland. Here's how some got a permanent residence permit and how their children retained French identity card.
---

Mr Ramsamy with delegates from Reunion Island

---
In la Reunion Island there is a specific word for anyone who is from indian origin: all are called Malbars. The Muslims of the Island are mainly of Indian origin too. They're coined as Z'arabs. Most of them are from Gujarat, that too Surat. A great number settled in the island from late 19th to early 20th century My dear friends, one thing is clear in our minds : we do not want to change our status. We are INDIANS from La Reunion. Like anyone in Diasporas we remain ourselves. The Minister has said some time ago that he wanted the Indians to continue to serve their country of adoption. This is true. Fortunately we do not suffer in our country from INTOLERANCE. This has to be noticed. Indian originating people are full part of the society in La Reunion Island. I feel that we were isolated from India for about 50 years. Half a century during which we lost Indian languages, and contacts with families. As for religion and culture, we have preserved the essence along some specificity. I talked about "a 50 years of cultural shadow" or "50 dark years."

PROGRESS
During the last decades things have changed in the island. We indeed had some important visitors.
• The first move was in 2001 with the arrival of the Singhvi Committee
• Two archaeologists visited infirmaries, our Aaprâvasi ghat (Immigration Barracks) in 2003
• In 2007, following the passage of an emissary from JNU, we created a local ODI, the Office for Diaspora Initiatives
• Since 2008, we officially have a seat at the PBD. It's a lot.
• Many students are interested in the Indian diaspora of Reunion Island, some even coming, on site we may say, while others ask their questions by e-mail.
• In 2012, GOPIO Reunion distributed in New Delhi a special issue focusing on the island of La Réunion edited by Empire India magazine. While I speak to you, our association ODI will be hosting a team of Management Consulting Services Limited, advised by the OIFC, a survey concerning the state of the diaspora in Reunion Island.

ECONOMICS
My expertise field is not in economics. Prime Manmohan Singh announced that a growth rate of 8% for India was an achievable aim. La Reunion is at a rate of 1.2% a year, given our level of development and a tigh relationship with metropolitan France. It is of course the growth of gross domestic product (GDP). Our Chamber of Commerce and its dynamic president Ibrahim Patel, has installed an antenna in Chennai to strengthen our direct cooperation with India. The Region Reunion (La Reunion Island county) insisted for Air Austral to perform a direct line between Saint Denis and Chennai. This must be seen as complementary with Air Mauritius airlines network. Regarding tourism, the local operator IRT has now a permanent representative in Mumbai.

CULTURE
We can say that culture is not endangered, we still have classes for Tamil language, dance schools. Indian culture is revived by frequent visits from groups from India. We need talented groups as visitors to maintain a sufficient level of interest. The singer Unnikrishnan just performed on the island. But you will see that we have not finished in talking about culture.

EXPECTATIONS
In the light of all these factors our requests cannot be the same as those of other Diasporas.

PIO card
Regarding the PIO card, I would not be long. The problem is far well known and will be further discussed during your visit. I still remember a discussion we had with you in Guadeloupe (French West Indies). You kindly reminded us that this problem is also a concern for Indians who are established in the U.S. or elsewhere. But Reunionese teens feel very isolated from this processes. It's the same for the other Indians in Guadeloupe or Martinique (French West Indies).

VISA
Regarding the travel of people between India and the island of La Réunion: here a considerable progress is still to be done. Last April for our conference in La Réunion, we invited five speakers from India. A great effort was achieved for one of the guests who got a visa in 24 hours. Unfortunately, dear Minister, such a case is very UNIQUE. Most of the time, our guests are struggling in their efforts to come to our island. And many give up.
I am speaking very directly because I know that efforts are to be made on the French side either. Thus backups on the side of New Delhi are far from being useless. These visas are not just for conferences : temples directors have the biggest difficulties in recruiting 'gurukals' to serve in the temples of the Reunion island. When there is a Mahakumbishek, you must schedule for several months in advance! What renders our situation so bad is the simple fact that La Reunion Island is outside the Schengen area.

ICCR
Thanks for your visit, we have the opportunity to present our project of India-Reunion Cultural Institute. This project will also meet the aspirations of the Diaspora. I could also tell you that we will like to get an Indian television channel to inform us about things such as Doordashan or others.