Philanthro-preneur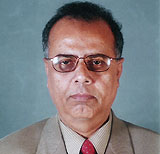 Mridul Pathak's calling card introduces him as a philanthro-preneur who works on the 6Es — Enterprise, Environment, Energy, Entertainment, Education and E-Commerce, and not necessarily in that order. He's a life member and a member of the Board of Trustees of the Cultural Association of Bengal (CAB) in North America that organizes the North American Bengali Conference (NABC). The annual attendance for the conference touches about 10,000, with people registering in from different parts of the USA and Canada. He helped prop up the event's budget from a few thousand dollars to a million dollar-plus within a few years. The next NABC is in Las Vegas in July 2012.

Mr Pathak left India in the early 1970s after doing stints with the Governments of West Bengal and Rajasthan. In 1995, he utilized his experiences in the USA and worked on a PPP model with the West Bengal Government for introducing the first Food Park in India. He also helped in bringing in new technology for producing moulded jute-fibre products that have everyday utility. These products are biodegradable, non-inflammable, recyclable, eco-friendly and have helped generate jobs for women in Bengal and other parts of India.

After emigrating, he put in a decade in Nigeria where he worked with and advised the Government of Rivers State in Nigeria. In this west African nation, his first point of call was Port Harcourt in the Niger Delta where he assisted the Nigerian Government to set up flood control mechanisms, develop land and manage civil works. Here, his philantropreneurial skills propped up, he set up an Indian School, followed it up with an International School—both followed the Indian Government's CBSE curriculum. He was president of the Indian Cultural Association for 12 years in Nigeria.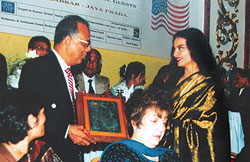 At present, he does consulting on oil and gas in Rajasthan where he's helping firms to explore natural gas and shell gas. The firms are also prospecting base metal and gold in the state. He's also working on coalgas based projects with Australian knowhow in eastern India. His stints as director of energy and geosciences at the University of Utah at Salt Lake City helped in shaping his consultancy businesses. .Mr Pathak has worked in diverse fields such as government (both Indian and foreign), in private (energy sector, Australia), in academics (University of Utah), in the non-profit sector, in the social sector (President of the Indian Cultural Association in Nigeria, Managing Trustee of the influential Cultural Association of Bengal, USA, Life Member of the GOPIO), and in the business and enterprise sector (Patron, Indian American Chamber of Commerce, New York).

He has tried to exhibit a pioneering streak whether founding India School for Indians or international school for expatriates or Indian networking portals (calcuttaonline, banglalive.com, netguruindia, amantran.com etc.), incorporating Durga Puja as a heritage festival in Kolkata, manufacturing jute-fiber base products, replacing plastic equivalent or whether enhancing quality of Indian festivals abroad (North American Bengali Conference—NABC) where 10,000 strong attendees turn up for 3 days and 3 nights.

"The aim," he says has always been to create economic traffic to India from abroad and to help Indians setting foot abroad while pursuing 6E (Enterprise, Environment, Energy, Entertainment, Education and E-commerce).

Two main projects he's focused on are:

The Kalighat Redevelopment Project

It is a non-profit urban renewal and heritage project involving the Government of India, the West Bengal Government, the municipal body in Kolkata, the local community and Mr Pathak's not-for-profit Indian trust, the IFSD (International Foundation for Sustainable Development). The project endeavours to the redevelopment, renewal and rediscovery of a diverse community in the heart of Kolkata. Through investments in core infrastructure, tourist facilities and community-based enterprise, the project aims to improve the lives of local residents and create access for global citizens to a rich piece of Indian heritage. The Kalighat neighborhood, in the heart of Kolkata, is home to one of India's oldest and most sacred temples, Kalighat Kali Temple. Mother Teresa's Nirmal Hriday mission (The Missionaries of Charity) which was established in a building of Islamic origin, and a Sikh Gurudwara are also pillars of the neighborhood, all residing within a half-mile radius. This unique global heritage site is a symbol of multi-cultural harmony and community.

The Kalighat neighborhood, typifies India's inherent openness and tolerance in the way that multiple faiths were welcomed and organically incorporated into what is also one of Hinduism's most sacred sites.

The Kalighat Redevelopment Project aims to transform this neighborhood into a global heritage destination to celebrate its uniqueness and importance. This site is a gateway for Non-Resident Indians and global citizens seeking information about the history of the area, the project aims and progress and a general connection to the region.

The International Foundation for Sustainable Development

The Foundation which has been in operation for more than a decade, run by its founder members, was officially registered as a charitable trust on September 1, 1997. The Foundation promotes the spirit of enterprise & sustainable development.